"(You Drive Me) Crazy" Was Full Of Celeb Cameos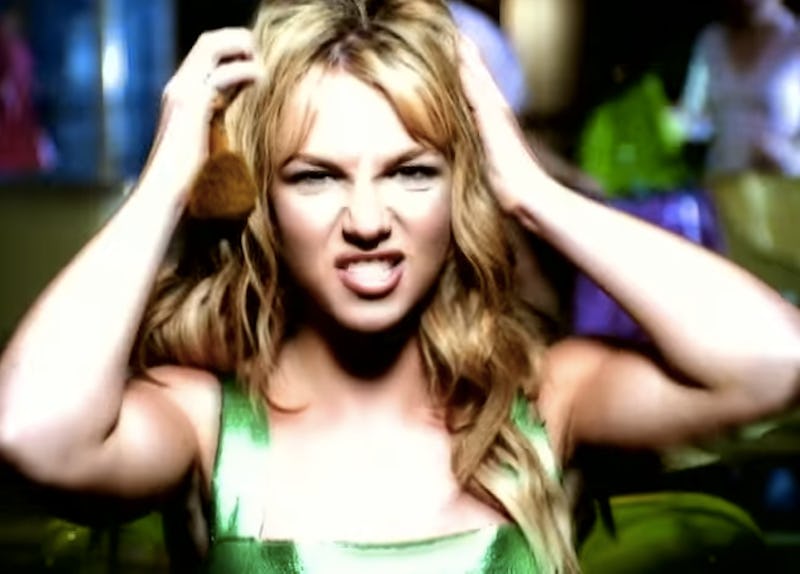 It's hard to believe that over a decade has passed since pop queen Britney Spears released her debut album, ...Baby One More Time in 1999. Since marking herself as a pop culture icon in the late '90s, Spears has continued to dispense addictive ear candy with tracks like 2008's "Womanizer" and her more recent collaboration with Iggy Azalea for "Pretty Girls." The singer's look and sound have evolved over the years, but one thing that remains the same is Spears' irrefutable status as one of the most notable pop stars of our time. Alongside her smash hits, Spears has also supplied us with a plethora of music videos that are worthy of a good binge-watching session. For the sake of nostalgia, let's focus our attention on the raucous dance party that was the music video for 1999's "(You Drive Me) Crazy."
Do you guys remember that video? It was awesome! After revisiting said video after several years, I also became aware of a variety of fun tidbits I had forgotten about. Along with a couple celebrity cameos, Joey Fatone's former stunt double showed up (more on that in a bit), Spears randomly halted the music, and the most delicious milkshakes you've ever seen were paraded around, among other things. Get your sparkly halter tops ready, and check out nine moments from "(You Drive Me) Crazy" that you totally forgot about.
These Delicious Milkshakes
Before Spears and her crew changed into their dance attire, they were carrying trays of delicious milkshakes. It's hard to say whether or not the milkshakes ever got delivered (everyone pretty much just dances throughout the rest of the video), but the image is sure to have you craving something sweet.
Adrian Grenier Was In The Video
Before he was Vince on Entourage, Grenier starred in the 1999 teen comedy, Drive Me Crazy, and the Spears hit was featured on the movie's soundtrack.
Melissa Joan Hart Was Also In The Video
Hart also starred in Drive Me Crazy and appeared in the video carrying one of the aforementioned milkshakes of deliciousness, while also taking a break to dance with the video's DJ.
Wade Robson/Joey Fatone's Former Stunt Double Danced In The Video
That's choreographer Wade Robson busting a move in the white tracksuit. You may also remember Robson as *NSYNC's former choreographer who had to stand in for Joey Fatone after the boyband member was injured during production of their music video for "Pop," as was shown in arguably the best episode of MTV's Making the Video.
Grenier Made An Ambiguous Beverage
Grenier poured green and red liquids into a blender while Hart stood by, awestruck. Sadly, we never got to see the end product.
This Vinyl Record With Spears' Face As The Label
Nice touch.
Spears Randomly Told Everyone To "Stop!"
Just as Spears and her crew wrap up an epic chair dance, Spears yells "STOP!" and the music cuts out. A mere few seconds go by, and the song is back on, with everyone continuing to party as if that super random moment didn't even happen.
There Was A Dance-Off
It's boys versus girls for an epic dance-off, where everyone busts out their most intricate choreography. It's unclear who wins, but I'm assuming Spears and her crew were the champions based on...
This Impossibly High Kick
How is that even possible?!
Images: Screengrab/Vevo (8); Giphy (2)