12 "BBHMM" Memes You Need In Your Life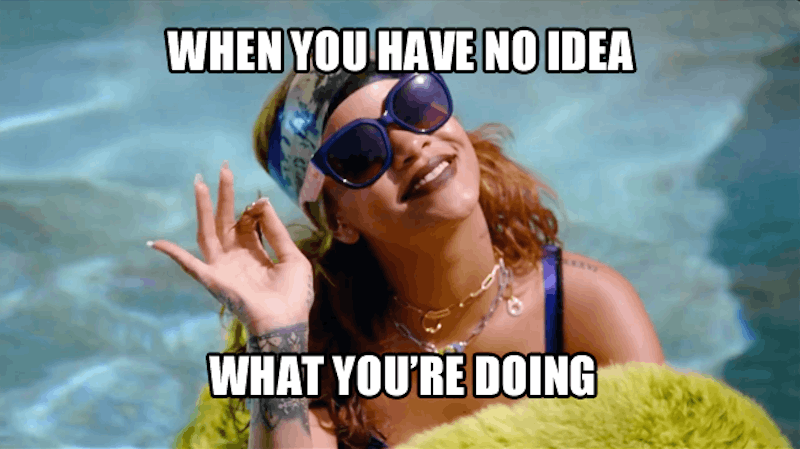 What you've heard is true: Rihanna's "Bitch Better Have My Money" music video is a total trip. To be honest, I don't exactly know what to make of the bizarre visual just yet, but I do know this: the world needs a bunch of Rihanna "BBHMM" memes immediately. Why? Because the clip gives us so much weirdness to work with! Over the course of seven minutes, Rihanna kidnaps her accountant's wife, smokes a lot (and I mean A LOT), parties on a yacht, parties in a hotel room, murders her accountant (played by Hannibal's Mads Mikkelsen), hangs out naked in a giant treasure chest filled with cash, and channels Sissy Spacek in Carrie (you'll know what I mean when you see it). The meme possibilities are endless!
If you're a little unclear on the plot, apparently, Rih's accountant was misusing her funds, and instead of just paying her back, he ends up paying the ultimate price. RIP. What's the major takeaway here, friends? Do not, I repeat, DO NOT under any circumstances borrow money from Rihanna — even if you only need a few bucks! It's way too dangerous.
Here are 12 "BBHMM" memes you need in your life:
You're Totally Clueless
We've all been there.
A Sad Reality
On second thought, maybe it's not so sad, after all...
Seriously?
It hurts.
You Good?
You're SO good, in fact, you're gonna have, like, a million more shots!!
Mean Girls Forever!
What? You can't.
Looking Good & Feeling Gorgeous
All swamp everything.
The Sweetest Revenge
Bye!
BFFs
They all look pretty cool to me.
It's Basically The Same Thing, Right?
NO, IT'S NOT.
Autopilot
You just want a do-over.
Come Again?
It's better to just smile and nod.
Woo, Party!
Perfect.
Images: RihannaVEVO/YouTube (12); Alex Kritselis/Bustle (12)