What Makes Up A Hilary Banks Weather Report?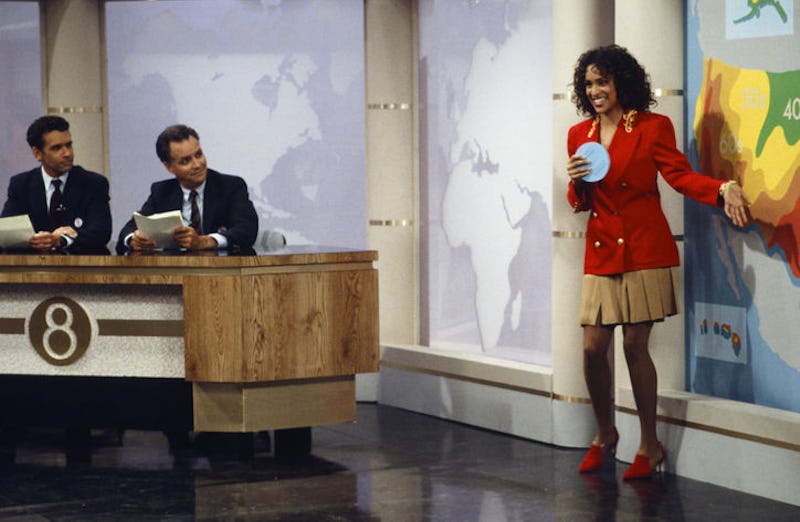 You know that a show is iconic when it stands the test of time. Despite being nearly 20 years old, The Fresh Prince of Bel-Air is still able to reduce viewers to tears of laughter — it's just that good. Plus, it doesn't hurt that the characters were super iconic: Aside from Will Smith, one of the best characters Fresh Prince ever featured was his cousin, Hilary Banks. Though she's often typecast as a spoiled brat and shopaholic, Hilary was actually both a fashion icon and career woman. However, before Hilary found her calling as a host for her own talk show, she was still living in her parents' pool house, shopping for groceries in their fridge, and trying to start a career as a weather reporter for a local LA news station.
In the third season of Fresh Prince, motivated by good looking anchorman Trevor Collins, Hilary got a job as a weather reporter, much to Uncle Phil and his weary credit card's delight. Since shopping made Hilary the happiest, Uncle Phil was all too thrilled when she finally decided it was time to begin supporting herself. Unfortunately, Hilary's role as a weather reporter didn't exactly go according to plan: In her own, spectacular Hilary way, she insulted the audience, and spent a great deal of the forecast commenting on clothing and hair choices that go best with the weather.
So, yeah, suffice to say, Hilary was a different kind of weather reporter. But, what actually made up a Hilary Banks weather report? Here's a breakdown:
Images: Warner Bros. Television; Dawn Foster/Bustle