Is Maddie Leaving 'Dance Moms' In Season 6?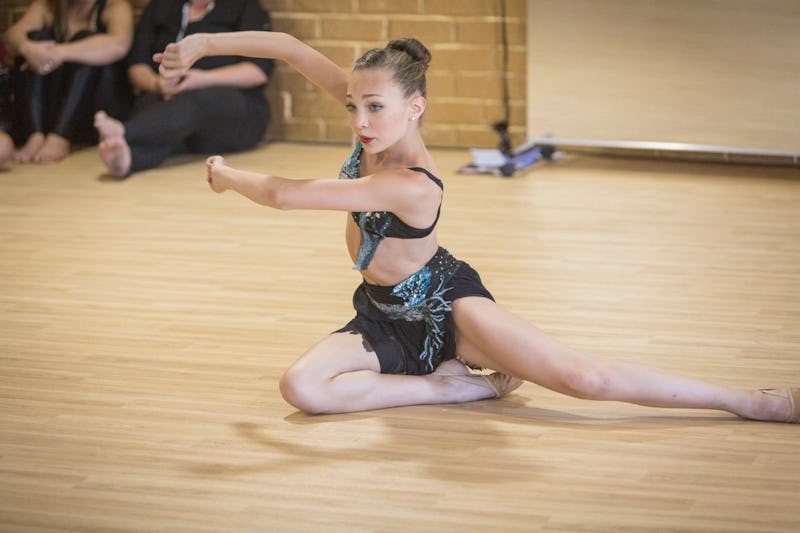 In the July 7 episode of Dance Moms, Abby Lee Miller was conspicuously absent from both the studio rehearsals and the competition. Her absence turned out to not be a bad thing for her dancers — for the first time in weeks, the ALDC had a clean sweep with Kalani, Maddie, and Mackenzie all winning first place in the solo divisions for their respective age categories. Minus the usual jabs between the moms, the episode was relatively drama-free — by Dance Moms standards, of course. Although there is a possibility that Maddie will be leaving Dance Moms, and there were some signs in the episode that could be true.
ALDC's assistant choreographer Gianna handled all the solo routines (there was no group number this week) and all the girls unsurprisingly seemed to benefit from learning their dances without the distractions of Abby screaming at them and fighting with their mothers. Although Kendall and Nia were each bested by their teammates for first place, both dancers placed higher in their categories than they have in a long time.
Judging by next week's preview, it looks like Abby will be returning and bringing the drama with her. She had a huge blowout with Kalani's mom, Kira, last week, and it appears the feuding will continue in next week's episode. Kira has made abundantly clear that she won't tolerate Abby mistreating her daughter, so it's highly likely that Kalani's days at the ALDC are numbered. And, she may not be the only one — over the past few days, unconfirmed rumors have surfaced that Maddie is considering leaving the show as well.
After all, she did previously tell MTV Australia that she wasn't positive what her Season 6 plans were. "I'm not sure what's going to happen for Season 6. I don't know if I'm going to do it or not, so it just depends," she said. Although it seems no decision has been made at this time, there are signs that Maddie's departure may be imminent.
1. Most Of The Original ALDC Members Have Moved On
The cast was consistent until Season Four, when things really took a turn for the worse. Brooke and Paige Hyland left the show mid-season after their mom's infamous physical altercation with Abby in New York. The insanely talented but perpetually under-appreciated Chloe Lukasiak stuck it out until the end of the season, then left to dance with Studio 19 where she appears to be thriving. The only remaining original cast members are Maddie, Mackenzie, and Nia. Although Maddie has always been Abby's favorite, the Hylands and Chloe were definitely fan favorites and the show's ratings have suffered since they left. At this point, Dance Moms may not be the best way to gain exposure for any of the remaining dancers, including Maddie.
2. Abby's Coaching Has Become Somewhat Ineffective
Abby's mood swings and unexplained absences from rehearsals have taken a toll on her students. Sure, she's never been a ray of sunshine, but the competition in Los Angeles is far stiffer than it was in Pittsburgh and her dancers can't be expected to bring home victories every week when they don't have a reliable teacher to count on. It's no secret that Maddie hates to lose, and she would probably be better off with a different coach at this point.
3. She Has No Shortage Of Other Opportunities To Pursue
Out of all the cast members, both past and present, Maddie has been given the most opportunities outside of the ALDC. Her collaboration with Sia allowed her to perform everywhere from the Grammys to Saturday Night Live to The Ellen Show. She recently guest starred on the hit show Pretty Little Liars and has landed a modeling gig with Capezio. If Maddie's Dance Moms career has run its course, she would be wise to focus on opportunities that will continue to elevate her as a star. She is too talented and too young to allow her career to plateau due to a dysfunctional training environment.
Abby loves to remind her students that they are all replaceable. But judging by the way Season 5B is going, it looks like Abby may be the one who should worry about being replaced. There are many talented, effective dance coaches who would be thrilled to work with Maddie and the other ALDC members.
Images: Bobby Quillard/Lifetime; Giphy; gifsandthingss/Tumblr