When Will 'Jurassic World 2' Be Released?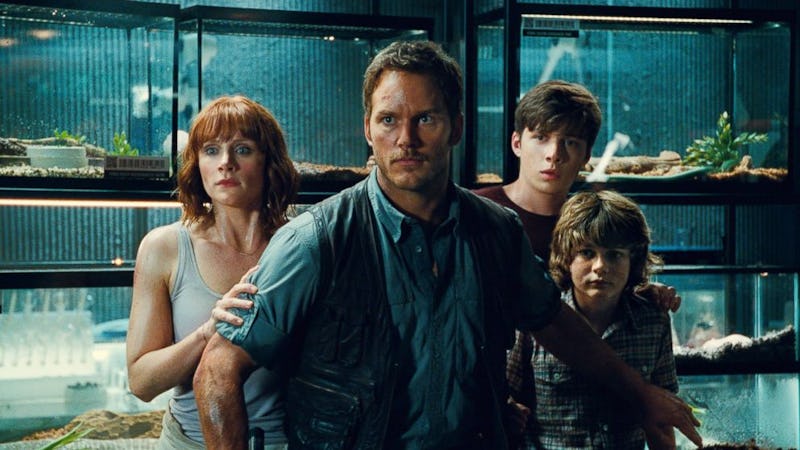 Jurassic World has only been in theaters since June 12, but audiences are already hungry for more. There has been a lot of buzz surrounding the possibility of a sequel, and things are looking good. But when will Jurassic World 2 come out?
No official date has been announced by the studio, which makes sense given that Jurassic World itself was just released a hot minute ago. Any information we have thus far is therefore heresay, but JurassicWorld.org reports that a post from a forum on The Box Office Theory implies that a draft of the Jurassic World 2 script will be ready in August. The source went on to say that "if Spielberg doesn't like the script, the studio won't set a date yet. We'll be getting a sequel and it's all happening quickly but the camera won't start rolling until both Donna [Langley] and Spielberg are happy."
Even more, star Chris Pratt could probably fit filming into his schedule pretty soon. He's currently in pre-production for two films, Passengers and The Magnificent Seven, but hasn't started filming either. If work on the second Jurassic movie was to start in the next few months, it's likely he could find time to fit it in between other projects.
So, let's estimate: a June 2017 release for Jurassic World? Next summer seems too soon, but the studio wouldn't want to wait that long before getting another one out. Two years seems like the perfect amount of time, and a summer release date is an easy bet considering how big a blockbuster it's likely going to be.
In any event, regardless of when it arrives, it seems like a no-brainer that the studio would want to make another Jurassic World. The film had the most financially successful weekend in movie history and has continued to break domestic and international records as it rakes in ongoing revenue. Besides, the studio doesn't have to worry about its lead actor being on-board for any future films; star Chris Pratt announced he will reprise his role in any sequels that are produced in an interview with Entertainment Weekly.
Further, the first movie perfectly sets the stage for a follow-up. Jurassic World ends with scenes that could easily set up another film, leaving many open storylines that subsequent Jurassic movies could choose to follow. Director Colin Trevorrow commented on this to CinemaBlend, saying, "I feel like that was something that we did in terms of plot that opens up a potential sequel, but I think there's things that we did in terms of theme that might be more viable." He mentions the inundation of technology in our culture as one such theme, as well as the concept that dinosaurs could be created and used for purposes other than a theme park. So, if a sequel does happen, there's definitely plenty of material.
Yet if there is another movie, one thing's for sure: Colin Trevorrow will not direct the sequel. Trevorrow himself confirmed this prior to the release of Jurassic World to BadTaste.it saying, "Jurassic Park is like Star Wars. Different directors can give a different taste to each movie." He also said that he believes the franchise will "benefit from a new voice every time out." However, Trevorrow alluded that he would continue to be involved in some creative aspect with the films.
It's good to know that even in this age of rushed deadlines and pushes for profits, filmmakers are taking their time creating the sequel in order to ensure its quality. Jurassic fans can take satisfaction in the fact that although Jurassic World 2 may not be ready any time soon, it's being crafted with care and consideration so it will do the franchise justice.
Images: Universal Studios (2)