'Jurassic World 2' Cameos We're Dying To See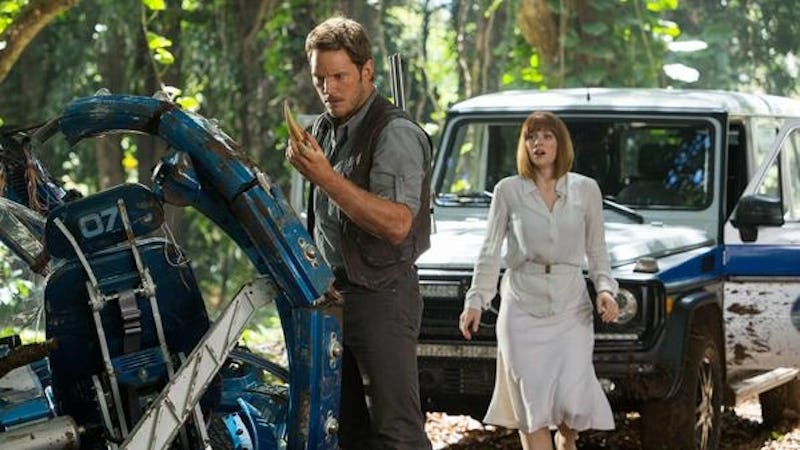 The dinosaurs of Jurassic World took some record-breaking bites out of box office sales after debuting on June 12, raking in $511.8 million dollars worldwide, and gleaning the title of second biggest opening weekend of all time. Having Chris Pratt and Bryce Dallas Howard work their on-screen magic for over two hours is reason enough to skip over to your local theater, but the added bonus of gargantuan prehistoric beasts is the icing on the proverbial cake that makes this behemoth blockbuster a must-see. As was already noted in the trailers leading up to Jurassic World's release, the main plot line of the movie is helmed by a terrifying — albeit, AWESOME — new dinosaur coined the Indominus rex. When the voracious Indominus rex escapes her confines, all heck invariably breaks loose.
Following her escape, Jurassic World deftly operates at a clip that is as action-packed as it is enthralling. The only caveat to this pace is that certain callbacks and anecdotes can be missed during just one viewing of the film. I enjoyed the movie so much, I plan on seeing it at least 38 more times (which also happens to be the number of sequels Chris Pratt allegedly has signed on for — #YAS), so hopefully I'll catch up on anything that got lost in the fray. One particular blink-and-you-missed-it moment was a surprise cameo from none other than the "Margartiaville" man himself, musician Jimmy Buffett. According to Cinema Blend, Buffett made a cameo in Jurassic World as none other than a bartender at — wait for it — Jimmy Buffett's Margaritaville, which was featured at the center of the dino-laden theme park:
"During the Pteranodon /Dimorphodonattack that wrecked the park's Main Street, there was a man rather preoccupied with saving his margaritas from Jimmy Buffett's Margaritaville. Surprise surprise, that man was actually none other than Buffet himself protecting his investment!"
I wonder if at any point Buffett improvised a line that went something like: "Don't let them knock over my shaker of salt! Salt! Salt! Salt!" With a Jurassic World sequel on the horizon, I can't help but wonder what other fun celeb cameos could be in store. For the sake of fun and dinosaur fandom, let's take a look at some stars we'd love to see in the sequel to this summer's biggest blockbuster.
Ross From Friends...I Mean David Schwimmer
David Schwimmer could revive his famed role as Ross from Friends. Ross was a paleontologist, after all, so this would actually make perfect sense.
Zooey Deschanel
The film already features Deschanel's New Girl costar, Jake Johnson, as tech-wiz Lowery Cruthers, so why not have both actors in Jurassic World 2? They've already proven they have inimitable on-screen chemistry as Nick and Jess, so pairing these two against some carnivorous dinosaurs is sure to keep our hearts racing.
Jennifer Lawrence
If we've learned anything from The Hunger Games franchise, it's that J. Law can take on pretty much anything. Oh, there's a genetic hybrid dino on the loose? No prob, bro.
Bradley Cooper
If Lawrence is going to do a cameo, why not have her work spouse do one as well?
Christina Aguilera
Aguilera already gained experience acting in a major motion picture during her turn as Ali in Burlesque. She also received accolades for an impressive guest stint on Nashville. Also, I'd just really be interested in seeing a scene with Aguilera and some singing dinosaurs. It wouldn't make any sense, but it would certainly be entertaining.
Zach Galifianakis
Galifianakis could do an episode of Between Two Ferns which features a velociraptor.
Dwayne Johnson
Dwayne "The Rock" Johnson has already proven himself to be a formidable action star as well as a pro at lip-syncing Taylor Swift's "Shake It Off". If he could battle a T. rex and then have a lip-sync battle with one of the more benign herbivores, my life would be complete.
Scarlet Johansson
After appearing as Black Widow in Iron Man 2, Iron Man 3, and The Avengers movies, Johansson has proven she has some serious skill when it comes to the action/adventure genre.
The Bellas From Pitch Perfect
Could you imagine a riff-off between the Barden Bellas and some genetically modified dinosaurs? I just did and it would be aca-awesome!
Justin Timberlake
Timberlake's BFF, Jimmy Fallon, makes a brief appearance in Jurassic World, so having the "Suit & Tie" singer make a cameo seems like the next logical step for this franchise.
Jeff Goldblum
Dr. Ian Malcolm needs to get back in the fold, stat!
Images: Universal Pictures (1); Giphy (11)