Man Draws His Dog Into Impossible Situations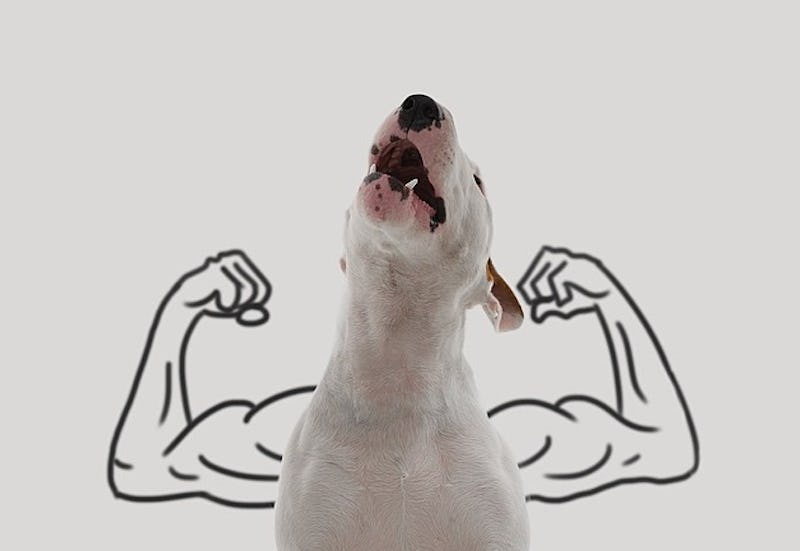 Heartbreak causes some masterful inventions, and can prompt people to create technological advancements that push our society forward. I've yet to experience any of that because, most namely, breakups have caused me to move away, delete contacts on my phone to spare myself the temptation, eat a lot of Ben & Jerry's and cause general distraction. But if a breakup makes really focus, hone your craft and create something wonderful, then kudos to you. In this man's case, his wife left him (with his dog and nothing else) and he started a photo series of his dog with cartoons. You might know Rafael Mantesso from his ridiculously fun Instagram account that features his dog starting a revolution, but you need to hear the story behind it.
Mantesso's wife left him when he was 30. He explains in a self-published post on Bored Panda how that inspired this project:
"She took her cookware, furniture, photos, her decorations. She left me alone in an empty all-white apartment. The only thing she didn't take was my bull terrier, whom she'd named after her favorite shoe designer: Jimmy Choo. With only Jimmy for company, I found inspiration in my blank walls and my best friend and started snapping photos of Jimmy Choo as he trotted and cavorted around the house in glee."
Talk about a post-divorce success story. Who just finds beauty and opportunity in an all-white, empty apartment filled with memories of a marriage? This guy. That's who.
Here are 7 of our favorite pupstagrams from Mantesso:
1. The Revolution pup
2. Jimmy after a long day of work
"To sleep, perchance to dream." - Jimmy
3. Pup in Boots
He'll almost certainly be featured in the next Shrek movie.
4. YOLO Swag Jim
"Turn My Swag On" is actually a song Soulja Boy wrote for Jimmy.
5. When Jimmy hits puberty
And gets his first shave.
6. Jimmy home decor
Perfect fit.
7. Spa pup
Jimmy finds his inner zen.
Images: Rafael Mantesso/Instagram