How To Clean Your Birkenstocks Footbed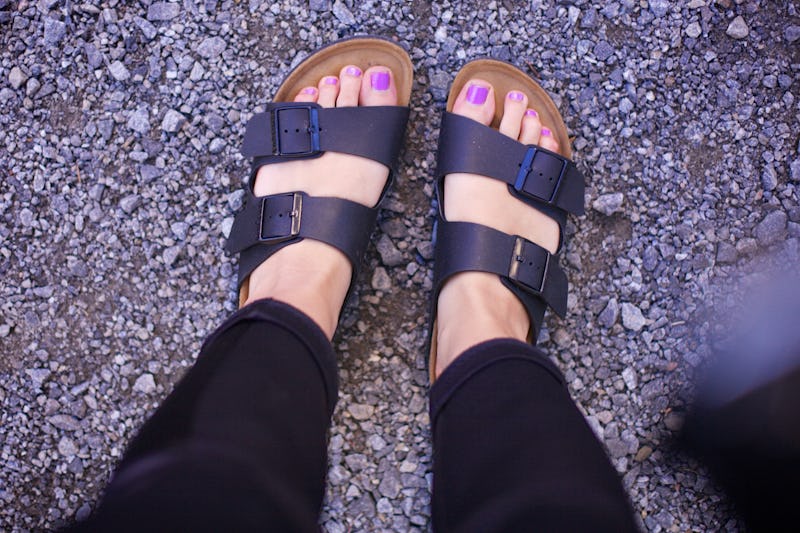 Birkenstocks may be the ultimate hippie shoe, but they've enjoyed a major resurgence as of late, in case you haven't noticed. If they're here to stay, which I think they are, it's best to know how to clean your Birkenstocks footbed so they can be worn for years to come. The comfy sandals offer major arch support, so they're cute and good for your feet, but after a few months of wear and tear, the sandals tend to start showing their age.
I'm a major Birkenstocks devotee and swear by my Gizeh sandals, which are 90 times more comfortable than any other sandals I own. The arch support is key when you're walking around all day. When they started popping up on runways and in fashion editors' Instagrams last year, I knew I was finally ahead of a trend for once. If you purchased Birkenstocks at the height of the trend last year, yours are probably beginning to show some wear and tear by now, mainly in the footbed.
Birkenstocks adapt to the shape of your foot, which is part of what makes them so comfortable. But no one wants to go around wearing shoes with a sweaty imprint of their foot on them. These three easy tricks will help you keep your Birkenstocks looking brand new.
1. Wipe them out regularly to clear dirt and grass
The easiest ways to keep your Birkenstocks looking nice is to ensure you don't get dirt in the footbed, which can cause discoloration. Use a damp cloth to wipe them out every few weeks. If you're in muddy or grassy areas, be sure to clean off your Birkenstocks as soon as you get home. If you do this before you go to bed, they should be dry by morning.
2. Use a DIY cleaning method to scrub out stains
Luckily, it's pretty easy to clean your Birkenstocks at home using a simple paste of baking soda or Borax and water. You probably have baking soda sitting at home already, or you can find Borax in the cleaning aisle of your grocery store.
Combine either powder with a small amount of water, just enough to form a paste. Rub a quarter of the paste into the footbed of one shoe (don't be grossed out if it turns brown). After using your hands to spread the paste, use an old toothbrush to really up the cleaning power. Gently scrub the paste into the footbed using circular motions. Rinse the paste with water then repeat on the other shoe. Apply the rest of the paste to your shoes then leave it to sit overnight. The next morning, rinse your shoes once more. Once they dry, your Birkenstocks will be noticeably cleaner.
3. Never dry them in direct sunlight
According to the Birkenstock care page on the company's website, heat is the enemy of your shoes. Direct heat can cause cracks and may make your Birkenstocks deteriorate faster. After cleaning them, be sure to dry them in a cool place away from windows and doors.
Although it seems counterintuitive (heat would dry them faster!), this is the best way to ensure your shoes' longevity. It's tempting to put them in the dryer to speed things up, but that's another no-no. Plan to clean your shoes on a day you know you won't want to wear them, and give them at least 24 hours to dry completely.
Images: Maria Morri; Jessie Jacobson; seventwentysk/Flickr