9 Gorgeous Outfits For Literature Lovers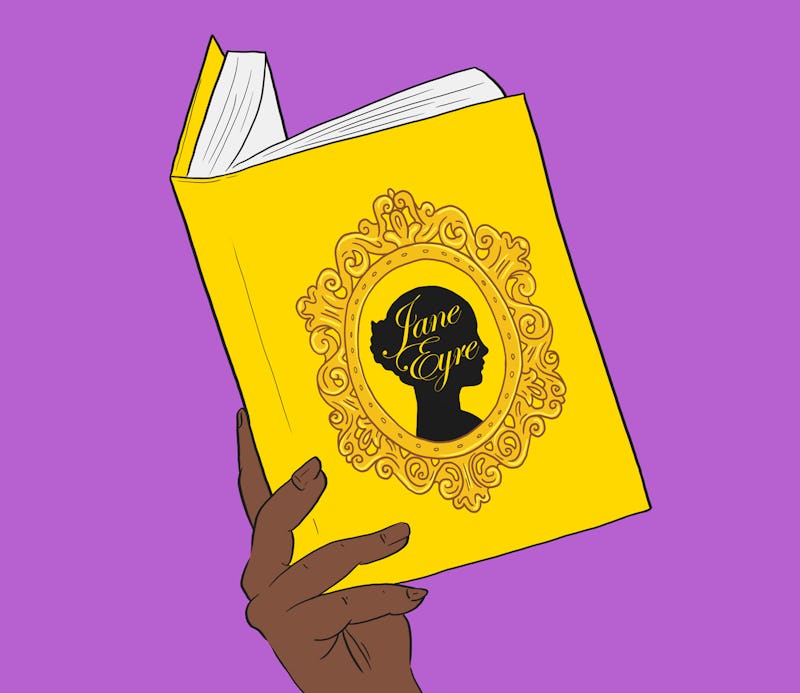 If you use the website Polyvore, you might know that users can create outfit ideas as collages from thousands of searchable items of clothing available for purchase. These "sets," as the site calls them, can be inspired by anything: Music, art, pop culture, or even — my personal favorite — fashion inspired by literature.
I read a great quote about reading the other day that basically stated that reading is dreaming with your eyes open, and it's totally true! One of my favorite things about being introduced to a new character in a great story is imagining what they look like. Of course the writer gives their own description, but each reader's interpretation of that characterization is fascinatingly one of a kind.
That's where the Polyvore sets come in! The feature gives us the opportunity to display our own visualizations of fashions influenced by our favorite characters. Some of the sets are inspired by specific fictional people. Others are general outfits capturing the lifestyle and tone of the story. They are basically mood boards with a book as the theme!
Whether you're into fashion design or you just love clothes, these sets are a modern way to turn your love for literature and fashion into a visual how-to for dressing like the literary hero(ine) you've always wanted to be. I've found nine of the most beautifully presented sets, so feast your eyes on these gorgeous ensembles and get ready to see your reading time in a whole new light.
1. The Sun Also Rises
Channel one of Ernest Hemingway's modern leading ladies in Brett Ashley's unconventional (for the time period) style. She's a progressive fashion icon from literature, and here's just one interpretation of her aesthetic. Or just get caught up in the '20s lifestyle of a group of Americans in Paris. You know, that searching and wandering thing most young people like to do.
2. The Tale Of Squirrel Nutkin
Children's stories, the great outdoors, and all things green and dreamy are in order for a style inspired by the animal tales of Beatrix Potter. The English countryside never looked so enchanting, and your outfits inspired by this author will make you want to go take a walk in the woods somewhere.
3. How To Kill A Mockingbird
Get inspired by a grown-up version of "Scout," the curious little girl in Harper Lee's Southern classic, because on July 14th, Harper Lee's long anticipated second novel — a sequel to How To Kill A Mockingbird called Go Set A Watchmen — was published. We can now see what grown-up Scout is actually like and what happened after the events in the first book.
4. Jane Eyre
A massive influence on even the modern reader, here's one way to style yourself after the classic, dark love story and the often misunderstood Jane, forever held captive on my bookshelf and in my heart.
5. Shakespeare's Sonnets
For the lover of Elizabethan poetry, take a look at this romantic outfit inspired, perhaps, by someone reading Shakespeare in the 18th century. Perhaps this outfit will have you writing your own lines of love (or otherwise) poetry to express yourself both sartorially and with words.
6. Green Eggs And Ham
OK, so maybe Dr. Seuss works aren't really considered classic literature, but his stories are certainly within the category of classic children's literature, and I couldn't pass up these cute takes from the title of one of his most famous stories. I mean, these contemporary prints are totally on trend!
7. The Great Gatsby
Indulge in a fantasy inspiration for dressing like Daisy Buchanan with these designer renditions of a modern flapper from F. Scott Fitzgerald's haunting American classic. I might not be able to afford some of the pieces listed here, but it certainly gives you ideas on how you could get the look on a budget.
8. The Chronicles Of Narnia
There's possibly no better story to get fashion inspiration from than C.S. Lewis' fantasy saga since the adventure begins in the wardrobe after all! Get ready to bundle up in your best little girl style as both the English and Narnian climates call for coats.
9. The Catcher In The Rye
Feeling angsty and lost? Channel Holden Caulfield's need for adventure and desire to get away from it all, from J.D. Salinger's controversial novel. A road trip for self discovery might be in order with this style.
After browsing these fashion expressions of beloved books, I couldn't help but to try it out myself. I put together a set based on the novel I'm currently reading called Pattern Recognition by William Gibson. Check out below how the character I'm currently getting to know inspires an outfit I might like to try!
What new styles will you come up with for yourself?
Images: Claire Joines/Bustle; Polyvore