This 'Trainwreck' Star Is Totally Unrecognizable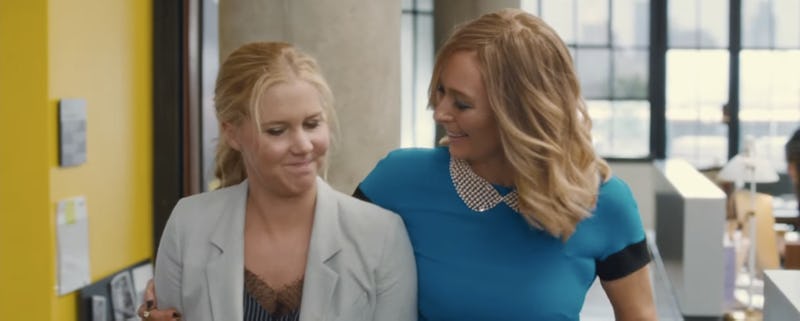 The new movie Trainwreck looks amazing, and it has a lot to do with the fact that the list of people involved in the film reads like a who's who of today's comedy landscape. Written by and starring Hollywood's current hottest commodity in Amy Schumer and directed by comedic hit-maker Judd Apatow, the film also stars SNL alum Bill Hader, New York stand-up fixtures Colin Quinn, Dave Atell, Mike Birbiglia, and Dan Soder; current SNLers Vanessa Bayer and Pete Davidson, and two hilarious Glasers: Nikki Glaser and Jon Glaser. And also Lebron James, who is funny. But there's one familiar name you might not even recognize being in the film, and that's Amy's boss, Dianna. Who plays the magazine editor in Trainwreck ?
Believe it or not, the glamorous long-haired blonde is none other than Tilda Swinton! Yes, the same Tilda Swinton who in the past has drawn comparisons to Conan O'Brien and David Bowie in the looks department goes totally undercover for her role in Trainwreck, but fans of the actress shouldn't be too surprised. Swinton has a long history of disguising her distinct appearance in her films, which is a trend she'll probably continue next year when she takes on the role of The Ancient One in Doctor Strange . Here's what she looks like in Trainwreck:
And, to refresh your memory, here's what she looks like in real life:
Crazy, right? As a tribute to Swinton's mad skills, here are 10 of her best examples when it comes to incognito acting.
1. Snowpiercer
Swinton is so terrifying as the deputy-minister on a post-apocalyptic train making its way across a frozen wasteland that I'd rather take my chances outside where I'll freeze solid than spend a minute on that train with her.
2. The Grand Budapest Hotel
I still can't believe the old lady who (spoiler) dies near the beginning of the film was Tilda Swinton! That's some serious makeup.
3. Only Lovers Left Alive
Swinton teaming up with Tom Hiddleston to play creepy vampires seems like some amazing dream I might have after eating Taco Bell too late at night, but it really happened!
4. The Limits of Control
Who else but Swinton could pull off those bangs with that hat?
5. Orlando
Based on the Virginia Woolf novel of the same name, Swinton portrays a man who transforms into a woman overnight. Just one of the many examples why she is the queen (or the king) of androgyny.
6. Constantine
Another androgynous role, in doesn't matter if Swinton's angel Gabriel is male or female, you just need to know that Gabriel is evil.
7. We Need To Talk About Kevin
A disturbing, tortured portrayal in a disturbing, tortured film, Swinton plays the mother of a killer and tries to figure out how he ended up the way he did.
8. The Chronicles of Narnia Series
As the White Witch, Swinton once again takes on the role of a villain, but this time with an eerie, ethereal quality in place of the usual creepiness.
9. Broken Flowers
A biker gang-affiliated jilted former lover to Bill Murray's character, Swinton proves again she's someone you don't want to mess with.
10. Teknolust
One of her most challenging roles, Swinton portrays a scientist and the three cyborg clones she creates in this sci-fi drama, infusing different characteristics into all of them.
Tilda Swinton, master of disguise. What's she going to do next?
Images: Universal Pictures (2); saphriel-eris/tumblr, justtouchedawkwardly/tumblr; saranna2195/tumblr; Giphy (2); sexualthorientation/tumblr; maudit/tumblr; huginn89/tumblr; Focus Features; Velocity Entertainment