Get Back Into Bed With 'Masters Of Sex'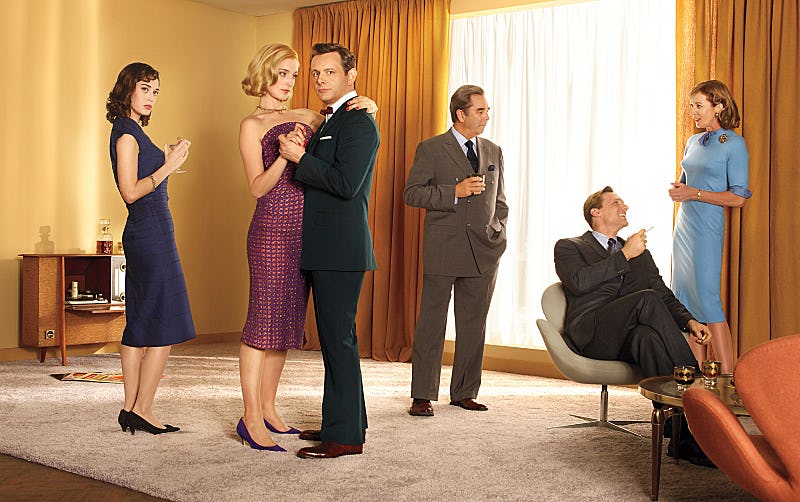 Ready for round three? Showtime's period drama Masters Of Sex returns for Season 3 this Sunday, and it's sure to have viewers buzzing once again with its frank depiction of sex, in both the bedroom and the examination room. Creator Michelle Ashford doesn't shy away from the nuts and bolts of her story (it's all right there in the title, isn't it?), and the third season doesn't look to be any different, what with the punny innuendo blazed across all the posters: "Come Together." You don't have to ask me twice... but first let's recap Masters Of Sex Season 2, shall we?
The world of Bill Masters and Virginia Johnson will look quite different when they open for business this weekend. Their revolving door of supporting players will have revolved yet again, with several new faces joining. Allison Janney and Beau Bridges, who had major recurring roles in Season 1 as closeted Dean Barton Scully and his long-suffering wife Margaret, will be returning after appearing in only one and two Season 2 episodes, respectively.
Virginia's daughter Tessa will now be played by 18-year-old Hunger Games actress Isabelle Fuhrman, since Season 3 picks up after a five-year time jump to 1966. Joining her this year in recurring roles will be The Good Wife 's Josh Charles, The Walking Dead 's Emily Kinney, and Damages ' Tate Donovan.
Now, here's where all our old, familiar faces left off in the Season 2 finale, "The Revolution Will Not Be Televised."
Bill Masters
Besides continuing his infamous study, Bill's most prominent storyline of the season revolved around his relationship with his estranged brother, Frank (played by Smash's Christian Borle). Frank came to town with his wife ostensibly seeking fertility treatment, although it soon became clear that even more than that, he wanted to make amends with the older brother who abandoned him to a life with an abusive father, as part of his road to recovery with Alcoholics Anonymous. Bill was unable to face the past, got into a fistfight with his brother, and Frank left town.
The finale saw Bill and Virginia taping a CBS special about their study that was supposed to be broadcast nationwide. But when Bill feared that the censored and sanitized version that CBS wanted to air would only undermine their work, Bill called in a favor with Barton Scully to get the television program buried. Scully achieved this by tipping off Ethan, who managed to get to air first with his own televised special, making Bill's and Virginia's obsolete.
Virginia Johnson
Virginia had a particularly busy season, juggling many balls at once including the sickness and death of her colleague Lillian DePaul, continuing her study and her affair with Bill, and raising her two children singlehandedly. As if that wasn't enough, when she learned that secretary Barbara had been traumatized in her youth by incest, Virginia impersonated Barbara in therapy in order to get the advice she needed to help her friend.
All this multi-tasking finally caught up with Virginia when her ex-husband George and his new wife sued her for full custody of her children. Knowing that the attention they were about to receive from their televised special would result in an increased workload, she caved to George's demands and relinquished custody of both Tessa and Henry. Naturally, Bill wasn't aware of Virginia's drastic action until after he'd already sabotaged their study, rendering her sacrifice tragically moot.
Libby Masters
Increasingly alienated from her workaholic husband, Libby went on a journey of self-discovery last season. After stewing around the home and hiring and firing a maid, Coral, who might have been her only ally, Mrs. Masters decides it's finally time to get out of the house and do something for herself. Her connection to Coral's brother Robert leads her to the Congress of Racial Equality (CORE), where she volunteers to work. Eventually, she and Robert begin an affair, and Libby reveals to her new lover that she's aware her husband is also sleeping with someone else.
Betty DeMillo
When she wasn't busy making sure Bill's practice stayed afloat or cracking mean one-liners, everyone's favorite former sex worker was slogging her way through a sham marriage to a Pretzel King named Gene. This was made even more difficult when her ex-love Helen (played by guest star Sarah Silverman) showed up, desperate to woo Betty back. When Betty refused to budge, Helen responded by impulsively proposing to Gene's best friend Al. Betty's horrified reaction to this turn of events finally clued Gene in on his wife's secret, and they parted ways. But judging by the fact that Silverman is returning for Season 3, the story of Betty's love life is far from over.
Barton & Margaret Scully
Season 1 documented the tortured relationship of the Scullys, with Barton finally coming out to his wife Margaret and agreeing to undergo experimental conversion treatment involving electroshock therapy. In the Season 2 premiere, Barton started his treatments — but they were so agonizing that he tried to hang himself. He survived his suicide attempt, and the Scullys went away together to heal. That was the last we saw of them all season (until Barton popped up again in the finale), but they'll both be returning for a multi-episode arc in Season 3, which is finally about to premiere.
Images: Frank W. Ockenfels, Michael Desmond (5)/Showtime