3 Makeup Looks Inspired By Rihanna's Latest Video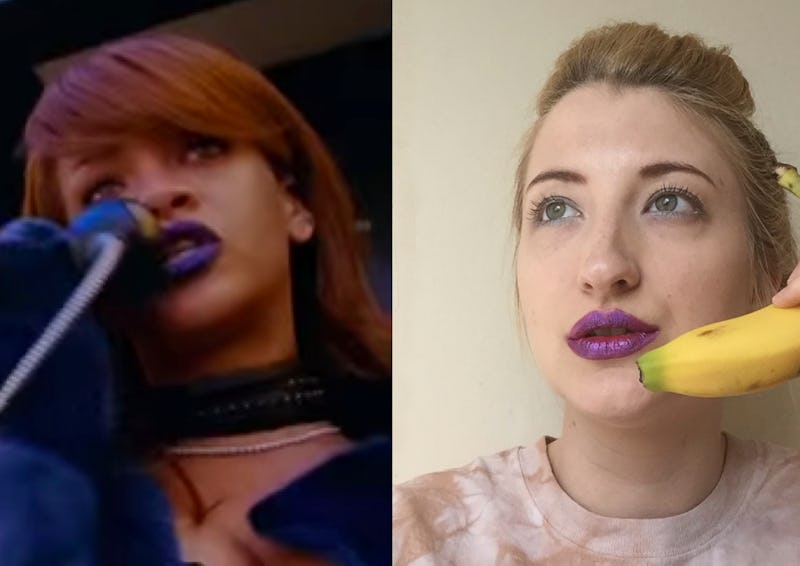 The world went mad for Rihanna's new music video and it's no wonder everyone couldn't stop talking about the Tarantino-esque phenomenon with a disturbing ending. If you want to get on the hype wagon and channel RiRi's badass girl gang, then you may want to start small by recreating "Bitch Better Have My Money" makeup. Once you've nailed this, you can then move on to trickier subjects, such as learning how to capture hostages, blackmailing your dodgy accountant, and choosing your perfect torture weapon. I jest! Although Rihanna and her henchwomen — yeah, she totally went there and broke down that gender stereotype — are arguably, shall we say, not the best role models, they are undeniably stylish and radiate cool like a top spec air conditioning unit.
For those who've not had the pleasure of viewing the new video for "BBHMM," you're in for one hell of a ride; also, where have you been?! The movie style narrative follows Rihanna as she captures a wealthy lady and drags her around with her hardcore, too cool for school posse, sometimes keeping the poor woman in a trunk.
Oftentimes it looks as though the woman has a touch of Stockholm syndrome, as she is seen partying with RiRi and her gang, yet one realizes she may just be faking it when she tries to alert a police officer to her predicament and promptly gets smashed over the head with a bottle. "BBHMM" is not for those with a nervous disposition and if you get freaked out by blood and gore, you're not going to want to watch the end.
With all that being said, as usual Rihanna still manages to pull it out of the bag and look utterly flawless — apart from in that very messy scene, but even then she still looks like a hot mess. So I had a go at recreating RiRi's "BBHMM" makeup looks at home to see how they held up in real life, and how easy/difficult they were for the normal, non-pro gal to recreate. Here are the results...
Before
To prepare my face to be transformed, I moisturized, applied Bourjouis Healthy Mix Foundation in "Vanilla," and made my eyebrows more present with a brown Colorsport 24 Hour Eyeliner.
1. The Rich Girl Hostage Makeup
This first look was very natural, yet also screamed of wealth. So I wanted to create a makeup look that was barely there but looked like it was created using expensive products.
I began by warming up my face a little with a blush. I used a Bourjois blush in "Rose Frisson."
Next I applied a golden hued eyeshadow — I used my L'Oréal Paris Color Riche eyeshadow in "Nude." I chose this color as gold symbolizes wealth; and I applied it only to my lids and not right up to my brows because I wanted it to be subtle.
After this, I ever so slightly framed my eyes with a small amount of the aforementioned brown eyeliner. I used it sparingly on the outer corners of my eyes on both the bottom and top lash lines.
I completed the look with a layer of Lush "Eyes Right" mascara.
Then I posed.
2. The Purple Lipstick Look
In this scene, Rihanna is seen wearing a fabulously '90s, all denim outfit and sporting purple lips.
As Rihanna's look is all about the vivacious, violet lipstick, I wanted to keep the eyes subtle so as not to take away from the lips. I lined them with a silver eyeshadow from my L'Oréal Paris Color Riche Les Ombres palette in "Smoky Eyes Velours Noir."
The diagonal brush is awesome and I find myself using it more and more often as it helps to create straighter lines and get to places you thought you couldn't reach. So I used it to apply this slick of silver. I chose silver as, IMO, it is reminiscent of the metallic shades of the 1990s, so I thought it would complement RiRi's denim ensemble.
I added a coating of my Lush mascara to finish off my eyes.
Next I applied a red lipstick to act as a mixing base to create my purple eyeshadow. I tend to do this quite a lot when I don't have a crazy, cool shade that I need. So I started with my Rimmel Moisture Renew Lipstick in "Diva Red."
To finish, I blended some purple eyeshadow on top of the red lipstick until it took on the color of the eyeshadow. I used my very handy "Brights Eyeshadows" palette by Technic and picked the purple shade.
It is worth noting that although this is a great method for gals on a lipstick budget, it is quite notorious for bleeding out of your lipstick lines (as you will see from my next picture below), so you may wish to mop up the overspill with a makeup remover wipe.
3. The Bad Girl RiRi Look
Oh my, Rihanna's got revenge plastered all over her face. Eek! Here, our favorite bad girl is seen wearing red eyeshadow and dark lips to match her mood.
First, I dipped back into my Technics palette and chose a red shade to begin this look. I used my diagonal brush to create vicious points at the outer corners of my eyes and I drew the eyeshadow across my lower lashes too, just like RiRi.
I noticed Rihanna's eyeliner was thicker on the bottom lash line than the top, so I grabbed my Laval kohl eyeliner and drew along my bottom lashes, and finished with a small line on the top lashes to frame my eyes.
To conclude my eye makeup, I used my Lush mascara to open my eyes.
Lastly, I performed my good old mixing lipstick with eyeshadow trick to create a murky shade like Rihanna's. I used the previously mentioned red lipstick and blended in a dark grey eyeshadow from my aforementioned L'Oréal palette.
Become the leader of your own rebellious girl gang in makeup inspired by "BBHMM," but no shame if you want to be a little less intense.
Images: Phoebe Waller; Giphy (3); RihannaVEVO/YouTube (4)