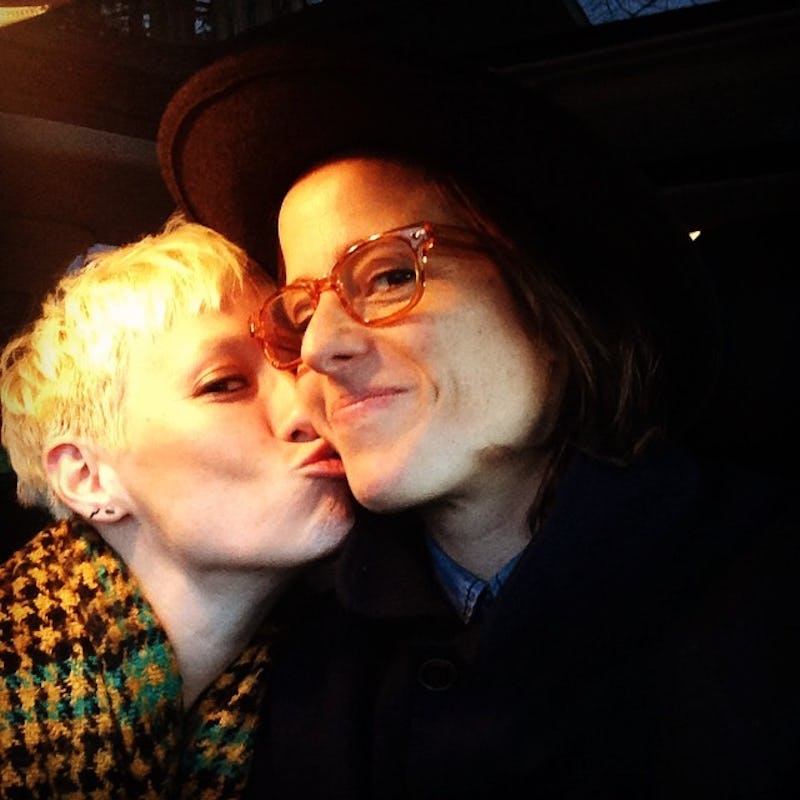 Being a self-proclaimed soccer hipster — liking the game before it was deemed "cool" — I can say that I have been long acquainted, at least, from a far, with the likes of USWNT member, Megan Rapinoe. Though, despite cheering her on and sending some impassioned mid-game tweets in the past, I didn't know much about her, as a person, at all. Things, for instance, like who exactly Megan Rapinoe is dating — or whether she dating anyone at all.
Well, according to the New York Post and some very sweet social media pics, it appears that she is in a relationship. The New York Post reported in June that Rapinoe is dating Sera Cahoone, a singer-songwriter. Sorry to anyone who thought they were going to get their own chance with the soccer player. It ain't happening.
Considering that Cahoone is a star in her own right, what with the singing and the writing and all, I figured we should turn the spotlight away from Rapinoe for just a moment, and give her girlfriend a chance to shine. Because, unlike her sports star GF, it's doubtful that a musical artist would be honored with a ticker tape parade in New York City.
Here are four things to know about Megan Rapinoe's girlfriend, Sera Cahoone:
1. She's All Sorts Of Talented
Encore, you say? Sure!
*Applauds*
2. She's SO Supportive
Even if no one showed up to her matches (which, would never happen), I'm sure Rapinoe wouldn't notice, anyway. This girl's got the cheering squad totally covered.
3. She Has An Incredibly Interesting Backstory
According to her website, SeraCahoone.com,
Growing up the daughter of a dynamite salesman in the Colorado foothills, she got her start on the drums at 11, and at 12 her mom was taking her to dive bars to sit in with the scruffy old bluesmen. By the time she picked up a guitar, she had been so shaped by these things — the dynamite, the blues, the woods and the hills — it's no surprise she went on to be one of the strongest songwriters in Seattle's ever-vibrant Americana scene.
It's not every day you meet someone whose so intimately connected with dynamite, ya know?
4. She Has An Unexpected Muse
Whatever works, right? That much cuteness would inspire me, too.
Image: seracahoone/Instagram