You Don't See This In A Lot Of 'Big Brother' Comps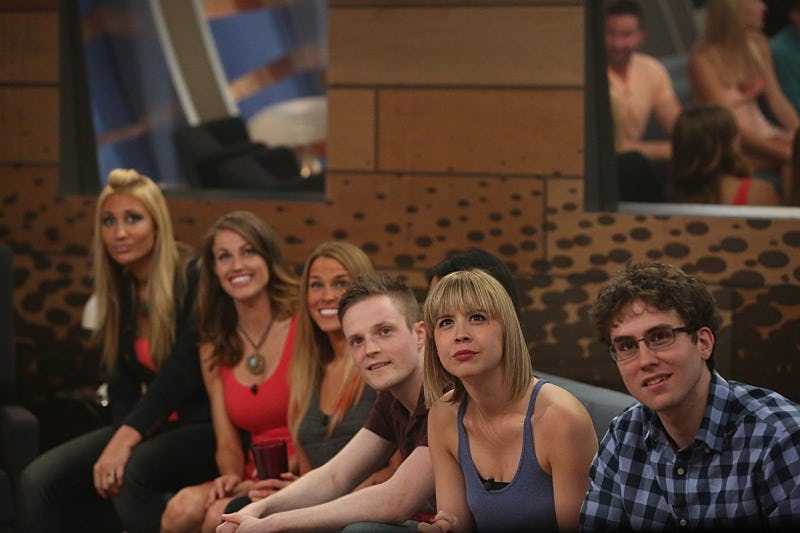 Now here's something you don't see on Big Brother every day. Like hardly ever, actually. In keeping with this week's party theme introduced by the New England Patriot's Rob Gronkowski during last Thursday night's episode of Big Brother, Sunday night's Battle of the Block competition was a big old foam party the Gronk himself would surely be proud of. But the fact that this competition featured real people from outside of the Big Brother house was actually the big deal about it.
No, this is not a drill. There were actually real-live people inside the Big Brother house who weren't fan favorites Jeff and Jordan, love-them-or-hate-them former houseguests Rachel or Jessie, or Kathy Griffin. What would Zingbot have to say about this?
OK, so these regular joes didn't do much while they were in the BB17 house. James, Johnny, Jason, and Meg were just supposed to match an item of clothing to one of these people partying in the foam and then navigate them out of this sudsy maze into a VIP area as each set of partners had to collect a certain amount of matches in order to win the Battle of the Block competition. But the simple fact that having people from the outside come into the Big Brother house is a rare occurrence is what makes this whole thing so huge.
As someone who has watched every season of Big Brother, I was kind of floored by the witnessing this on TV, I'm not going to lie. The whole point of Big Brother is to isolate a group of individuals for the summer with no phone, no TV, no Internet, basically no connection to the outside world. Big Brother players of years past have had to go the whole summer with little to no contact with anyone other than their fellow houseguests.
Even if these people were just in the Big Brother house briefly for a competition and barely interacted with the houseguests, the players of BB17 should really consider themselves lucky. Sure, these people didn't reveal any details about Greece's economic crisis or that Serena Williams just won Wimbledon for the sixth time, but it was a connection to the outside world most Big Brother contestants don't get during their time in the house. To hear what fans from the outside world think of what's happening in the house, check out Bustle's Big Brother 17 podcast below.
But I doubt James and Johnny, who lost the competition to Jason and Meg, really had any of that on their minds once they still realized they were up for nomination. And who can blame them, really? When you're in the Big Brother house, you really shouldn't be thinking about anything that's going on at home. You should just be thinking about how to further yourself in the game. Otherwise, what's the point?
Want even more Big Brother? Bustle's App has you covered. It's THE go-to place for any BB fan looking for round-the-clock Season 17 updates. BUT FIRST, you need to download the app from iTunes.
Images: Cliff Lipson/CBS; Giphy (2)