22 Times Song Yi Had the Best K-Drama Style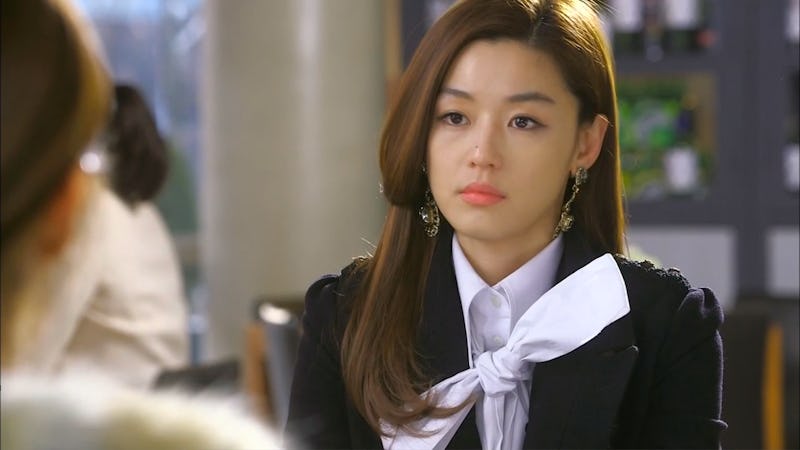 There's no denying the fact that My Love From Another Star has some of the best fashion around. I mean, first off it's got an absolutely unbeatable hat game (case in point: I literally spent hours scouring the World Wide Web for a green, smiley-faced beanie recently), then there's Yoo Se Mi and her penchant for stylishly school girl-esque wardrobe pieces, and last but not least? Why, you've got the show's own runway-approved mega star Cheon Song Yi to contend with.
Whether she's trying to play up her mostly non-existent domestic side to impress her alien boyfriend Do Min Joon, flipping the metaphorical bird to her mercenary agency, or heading out for a night on the town, she's always dressed to kill. I mean, you can pick out pretty much any outfit (including her beach ball-printed Prada pajamas), and it would look right at home in the front row at Paris Fashion Week — heck, a lot of the ensembles she wears are literally straight off of the runway. When it comes right down to it, it's no exaggeration to say that every single outfit she wears over the course of the season is fabulous — so, with that in mind, here are 22 of the very best looks.
1. This Leather Jacket
This structured leather jacket was one of the first things Song Yi wore on the show — and it's still one of the coolest thing she's ever worn.
2. This Pink Ensemble
It's like the runway version of Elle Woods.
3. This Dove Grey Cape
Song Yi rocked a lot of great cape/sunglasses combos, but this might be the best of all.
4. This Belted Shirtdress
Coolest belt ever, or coolest belt ever?
5. This Furry Statement Coat
Serving up some Wicked Witch of the West realness.
6. This Preppy Coat
The sparkly houndstooth crest on this coat marks it as one of her coolest coats ever (and that's saying a lot). I'm also about 90 percent sure it's Christian Dior, which only adds fuel to the ultra-stylish flames.
7. This Fabulous Olive Green Hooded Cape
Little Red Riding Hood would surely approve.
8. This Cocktail-Ready Number
Pure fab.
9. This Exercise-Ready Ensemble
You know your fashion game is on point when your hula hooping get-up would look great at a fancy brunch.
10. This Stripe-y Number
No one can rock graphic black and white quite like Song Yi.
11. This Tweed Ensemble
A tweed blazer, furry vest, neckerchief, and knee-high boots? It's a lot of look to be sure, but Song Yi is definitely making it work.
12. This Bowed Blouse
I swear, it's almost ridiculous how fab this ensemble is.
13. This Blue and Green Ensemble
Perfect for date night, no?
14. This Ultra Chic Cape
Se Mi's bringing her A-Game with her red coat and lace blouse, but she's no match for Song Yi's Parisian ensemble. I mean:
Anna Wintour-approved.
15. This Printed Cape
It's like a leopard-y bolero/cape hybrid, and it's kind of the best thing ever.
16. This Lounge-y Maxi Dress
You know you're dealing with some pretty A+ fashion game when this is what you wear hanging out in your penthouse apartment.
17. This Black Gown
Song Yi definitely gives her offscreen counterpart Ji Hyun a real run for her money, red carpet-wise.
18. This Blue Cape-Coat
Perhaps one of the most chic ensembles in the history of ever.
19. Her Pre-Wedding Wedding Dress
Only Song Yi would pick out her wedding dress before even getting proposed to.
20. This Structured Blouse
Those sleeves are seriously to die for.
21. This White Gown
A gown truly befitting of South Korea's most popular actress (fictional and otherwise).
22. This Perfectly Coordinated Pair
Honestly, the combined coat game is almost too much to handle.
What's your favorite outfit of the bunch? The black and white mini cape might be it for me (though the architecturally bowed blouse/miniskirt/tall boots ensemble definitely gives it a run for its money).
Images: My Love From Another Star/DramaFever (30)