5 Times LeBron James and Amy Schumer Were BFFs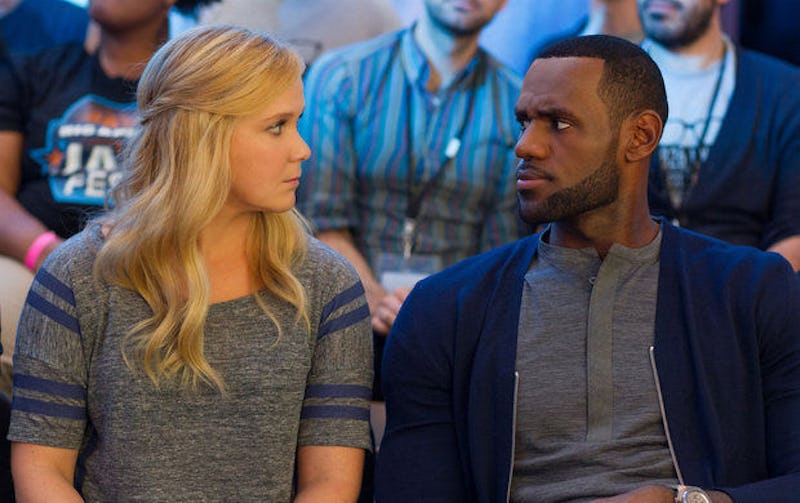 LeBron James is receiving high praise for his performance in Amy Schumer's much-anticipated debut film Trainwreck, in which he plays a fictionalized version of himself. In Trainwreck, LeBron is the best friend to Bill Hader's character Aaron, and he therefore wants to make sure that Amy is up to snuff when it comes to dating his pal. In a scene all too familiar to overly involved BFFs, James warns Schumer not to hurt Hader, following the statement with an uncomfortably long glare. So while it's clear that LeBron on the big screen puts his bros first, what about LeBron in real life? Are LeBron James and Amy Schumer friends?
They are now — but it wasn't always the case. James' involvement with Trainwreck was actually the result of a hilarious serendipity. Schumer explained to ESPN that "I wrote him in because he was the only basketball player I'd heard of," but that she had expected him to decline the role. When they finally got on set, Schumer told Entertainment Weekly that she was pleasantly surprised by James' acting abilities. She said, "It could have been bad if he wasn't so good! He was able to improvise, and he was down to joke about everything. It was fun to watch."
Clearly, James and Schumer had a great time working on the film, but their relationship didn't end on set. Here are five times that the two stars showed off their budding friendship.
1. When They Got Super Fancy
Nothing says "we're pals" than practicing making sexy faces together while dressed to the nines (that fedora/cravate/turtleneck combo, though...) at the Akron premiere of Trainwreck.
2. When They Joked Around With Fans Together
James and Schumer attended an advanced screening of Trainwreck in the NBA player's hometown of Akron, Ohio. Along with co-stars Bill Hader and Vanessa Bayer, they signed autographs, posed for selfies with fans, and celebrated the film's upcoming release.
2. When They Went For A Ride Around Town
James showed the Trainwreck team around Akron, Schumer riding shotgun. They filmed a Funny or Die skit of the adventure, during which they ordered burgers and facetiously discussed making a Trainwreck sequel which would exclude Bill Hader and Judd Apatow.
4. When LeBron Showed His Admiration Through Hashtags
James posted this photo to Instagram with the caption "The lovely/beautiful Amy Schumer and I on set of "Trainwreck". #GettingMyActinOn #ShesHilarious #Comedy #StriveForGreatness"
5. ...And Then Amy Instagrammed The Same Pic
Schumer showed that imitation is the most sincere form of flattery by putting up the same photo on her own Insta — but in black and white. Filters may come and go, but friendships like this last forever.
If a Trainwreck sequel does happen, here's hoping that it focuses on the adorable friendship between Schumer and James, and that fictional relationship is as cool as their real-life bond.
Images: Universal Pictures; Getty Images