On Going To NYFWM Model Castings With My Partner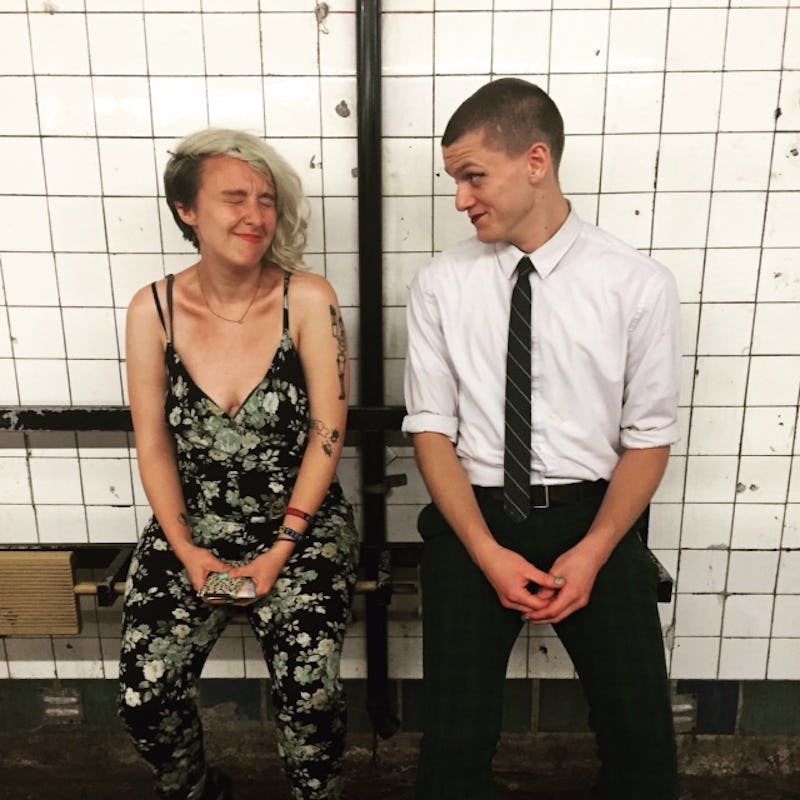 It's New York Fashion Week: Men's, the first week (or rather, few days) where the focus on the runway is entirely on menswear. The event is showcasing everyone from Michael Kors and John Varvatos to lesser-known design houses like Billy Reid and N. Hoolywood. And not only do the outfits need to kill it, but the models have to practically transcend the laws of nature with their good looks. So when my partner, Skylar, was scouted for a modeling job over a week ago, I wasn't surprised. They are incredibly beautiful, they have plenty of useful acting experience, and their biological father was even a model (I mean, it's in their genes!). What did surprise me was the level of intensity and strict beauty standards that men in fashion are subjected to, arguably not far from what their more feminine counterparts endure.
The process was a little anxiety-inducing and sketchy, with neither of us knowing anything about the world of modeling (save Skylar's one failed attempt to become a model in middle school after being given misleading information). We are both super body positive people, which can conflict with the situation considering body positivity in the modeling world is hard to come by. We also weren't sure if it was a scam and, due to vaguely worded emails, how exactly Skylar would be compensated. But despite all of this, we walked into it blind just to see how it would go. I promised I'd be there every step of the way, and that we would bail as soon as anything felt weird. Here's how it went:
Skylar was scouted on the Fourth of July when we went to Williamsburg to watch the fireworks. As we were walking down the street in hot pursuit of a smoothie shop, a man came running up from behind us and grabbed Skylar's arm, imploring them to stop. It took the guy a bit too long to launch into an explanation about what was going on, so we were both quite flustered and tried to remove ourselves from the encounter as quickly as possible. He finally told us that he worked for the label N. Hoolywood and that they were looking for models for Men's Fashion Week. Two girls with clipboards joined us, and the situation suddenly felt a bit less sketchy as they began communicating their intent.
"It was very overwhelming with three people talking to me at once," Skylar tells me. "They were pointing at my body and saying things I didn't understand. I was like, what? I realized they were analyzing me right there."
Skylar hesitantly filled out their information on one of the clipboards and got their picture taken as I beamed with pride. My partner was being scouted. My partner might be walking in Men's Fashion Week! Daydreams of us in the future — me as the Editor-in-Chief of a fashion magazine, and them as a supermodel — clouded my immediate judgment, and I encouraged a skeptical Skylar to go for it.
The next day, my partner got the email. And just like that, an appointment was made for a fitting the following week. I was excited for them, but also a bit nervous. First, I feared that they might get taken advantage of, and was adamant about them not signing anything, hoping to accompany them to the casting in case something was off. I also feared that they would be too critical of Skylar, causing the experience to be damaging to their self esteem. The modeling world can be cutthroat, and despite my high opinion of them, they may not meet certain unrealistic expectations of beauty. I also wasn't sure about how they felt about the fact that they were being casted in Men's Fashion Week, since they don't identify as such. And since, realistically, visibility of non-cis individuals is still sourly lacking in the industry.
"I know I look like a man to anyone on the street but it was nice to have been approached for being gorgeous," they said. "I did have a moment where I was like, 'My radical queer friends are gonna hate me now,'" they laugh. Since the name of the game in fashion as of late has been "androgyny," however, I was more concerned with damaging body expectations.
Regardless of these concerns, I assumed the world of men's fashion would be less harsh. And after all, my partner is pretty stunning. So after we agreed that we could walk out of the fitting anytime if things got too toxic, I was sure everything would be fine.
Later that week, we showed up at the address given in the email. The walls were all painted white, and boxes of clothing were piled high in the corners of the room. The space they were fitting models in were sectioned off by racks of clothes. And there were two rows of chairs, each containing modeling hopefuls waiting for their turn to be fitted. "It was just a lot of people pretending to be cool and calm," Skylar says. "I just felt like another one of the bodies they throw at clothes and hope it works."
I was happy to see it was a legitimate place, as I had never heard of N. Hoolywood before this week. Skylar, who was anxious on the train ride there, seemed to relax a bit as we joked with all the beautiful people around us about what D4L's "Laffy Taffy" song really means.
After a little under an hour of waiting, Skylar was excitedly beckoned back to be fitted by the man who scouted them. They fit them in a denim shirt and tight black pants. But things got a little discouraging when it was time to put on the shoes.
A group of people standing closely together murmured (in another language) about how they didn't like Skylar's feet, as their feet noticeably bulged from the shoes they were given to wear. "At that point, I knew it was not happening," Skylar says, "Because right after that they were like, 'Alright you're done.'"
They ended the fitting with a round of applause, as they quickly dismissed Skylar from the room. A designer ensured she would get back to Skylar that day about whether the brand would be including them or not. "I was hoping the feet didn't matter as much," Skylar notes. "But then I got the rejection email."
Skylar tried to put on a brave face, as they often do, but I could tell that this experience had gotten to them. They have always been insecure about the way their feet look, attributed to years of comments about their feet from family, friends, and dance teachers. It killed me to see this insecurity be given new life because A: They have adorable feet, and B: I want my partner feeling good always! So I insisted we take a picture of our feet, fighting back with this act of body positivity.
Seeing how this experience affected Skylar made me realize that the fashion industry is equally harsh across all platforms and gender identities. With so much focus on the body, it seems difficult to thrive in that field while still maintaining a healthy and loving relationship with yourself.
I had initially been excited for Skylar, as modeling is a very real career opportunity that they would excel at. Because they're an actor, they know how to move their body and are comfortable with performing. And besides the fact that they're beautiful (which is totally subjective, I realize), they love getting their photo taken.
"I just don't think modeling would be fulfilling for me in any way as a human being," Skylar says. "But I'd still love to model for my friends!"
There is not yet a ton of space in the world of modeling for body positivity. Of course, there are many body positive models out there, and the effort by agencies to represent more of a variety of body types. But that focus on the body is enough to make anyone feel vulnerable, especially when you're just starting out.
No one is immune to insecurities — and everyone is affected by body image issues. Body positivity is not only for cis women, though. Everyone feels the pressures that our heteronormative consumer society places on bodies. But just as in the fashion journalism world, we must forge a space where we can feel comfortable and included while still embracing the love of cute clothes.
Modeling may not be for everyone, but it's certainly got the beginnings of the right idea: Take pictures of yourself (or have friends take pictures) as an a way of celebrating who you are. But do it for yourself.
Images: Meg Zulch; skylar_belt/Instagram