Nick's Family Wasn't Afraid To Interrogate Kaitlyn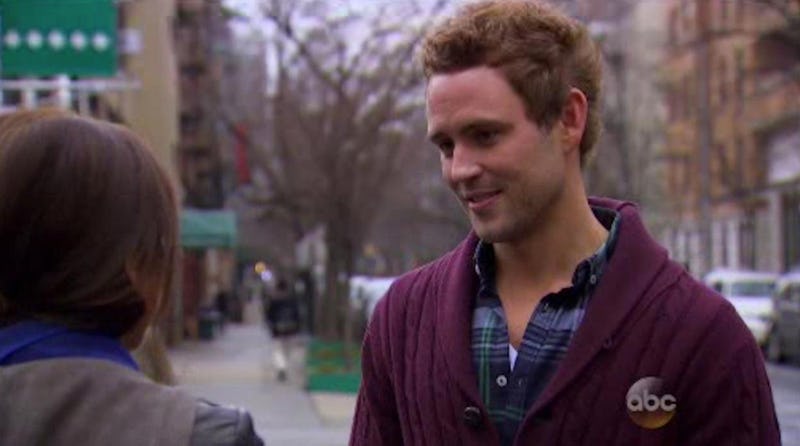 Hometown dates on The Bachelor and The Bachelorette are always nerve-wracking, this time around, the stakes seem even higher. Kaitlyn has confessed her feelings to both Nick Viall (with whom she also consummated them) and Shawn Booth, so it's hard to tell who will be the winner. Not to mention that Shawn and Nick absolutely hate each other. We're talking loathe each other. Unexpectedly, the drama for Nick's Bachelorette hometown date came not from Shawn or Kaitlyn, but from Nick's family and their hard-hitting questions for Kaitlyn. Now, don't get me wrong — somebody has to ask Kaitlyn these questions. I mean, nobody else (besides Ian, who was so far up his own butt that he doesn't even count) has really dug deep and made sure that Kaitlyn was just as ready to give her heart as these two bachelors.
Right off the bat, Nick's family seems hesitant about all of this. In fact, Nick's sister, Maria, said something to the tune of "Oh, no" when she found out that Nick was going on The Bachelorette again. Nick's family is really emotional about all of this. Like, crying emotional, especially Nick's mom and youngest sister, Bella, who as a preteen is handling this better than most adults would. After an introduction, the questions started from all sides. Maria, Bella, Nick's mom, and Nick's brothers all took Kaitlyn aside separately and grilled her. What about Nick drew her to him? Is she ready for marriage? Is he ready for marriage? How does she feel when she's around him? What do they bring out in each other? I was exhausted watching after the first five minutes, so I can't imagine the flop sweat that Kaitlyn had that day.
All of this questioning is to be expected, and I would certainly interrogate anyone who dared to think he could marry my sister. But one strange thing about Kaitlyn's encounter with Nick's family was the constant referrals to Andi and Nick. While I get that Nick's family has already had a Bachelorette experience to call to, their relationships seem like apples and oranges to me. Nick's mom did say that Kaitlyn looks at Nick in a completely different way than Andi did, and that's wonderful, but matching an old relationship to a new one is not usually a good look.
So where did it all end up? Everyone, even young Bella, loves Nick and Kaitlyn together. Kaitlyn charmed Nick's family, and I fear if she doesn't pick him. While I'm sure that Nick could stand another heartache, I'm not sure his family could.
Want more Bachelorette? Bustle's app provides 24/7 coverage on ALL of the rose-colored ABC franchises. So download the app from iTunes for more articles, GIFs, and memes about this season and beyond. You'll enjoy it for all the right reasons.
Image: ABC; Giphy