That's A Whole Lot Of Rosie The Riveters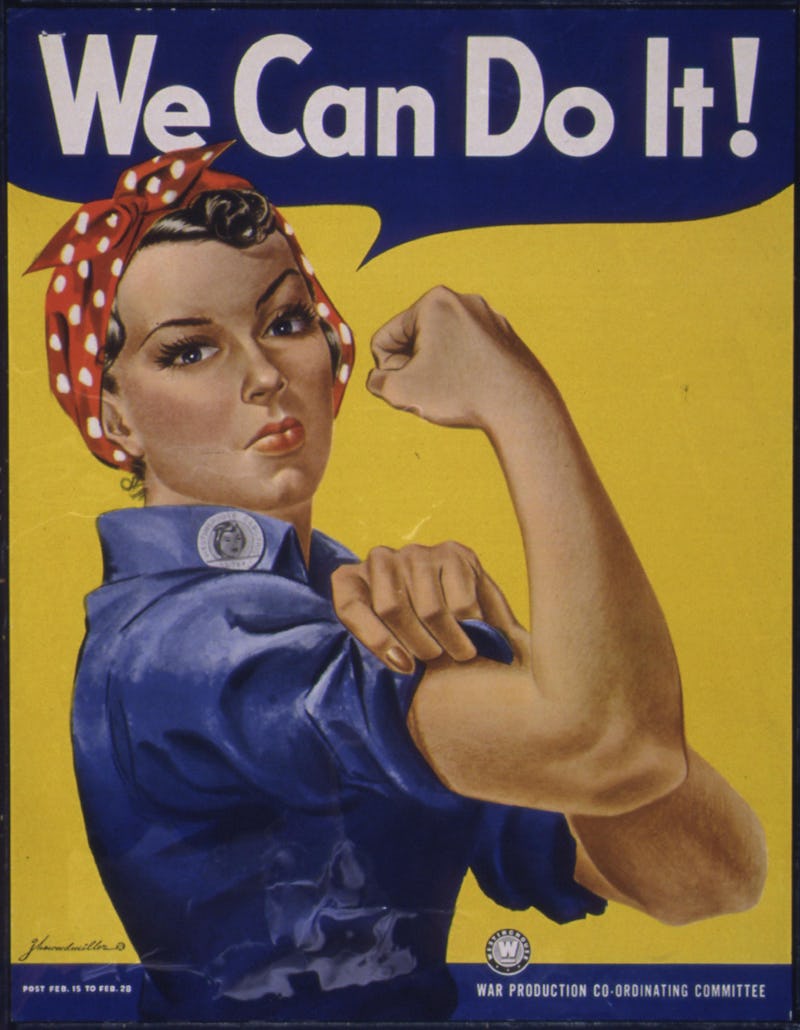 The Rosie the Riveter Memorial in Richmond, CA is assembling a group of women and girls dressed as Rosie the Riveter, all to gather there on August 15 from 1 to 3 p.m. Why this "Rosie Rally," you ask? To break the Guinness World Record for "Largest Gathering of People Dressed as a Rosie the Riveter," of course — which 776 other lookalikes set last year in Ypsilanti, MI. The park aims to amass over 1,000 people this time around for the biggest tribute to the working women's icon yet.
The Richmond Standard's announcement of the affair, thrown by the Rosie the Riveter Park and Trust, the Richmond Convention & Visitor's Bureau, and The City of Richmond, contains specific instructions for what to wear "to be counted as a Rosie": a "red bandanna with large white polka-dots" (naturally), pinned-up hair "not down or in a ponytail," and "dark blue long-sleeve coveralls, OR long-sleeve dark blue collared shirt and dark blue pants." I must wonder, who will be monitoring the gathering to assess who looks enough like Rosie?
The widely circulated poster of Rosie the Riveter in this getup has symbolized many things throughout history, from "an image of strength" announcing that women "can do it" to an "emblem of capitalism" used as propaganda to recruit female manufacturers for World War II supplies. At the Rosie the Riveter Memorial, it will symbolize the former — if "do it" in this context refers to "break world records." So in case you were wondering if women "can do it," here are a few more notable examples of women who landed themselves in the Guinness Book of World Records.
Daaaaaamn. Watch her squish under that car. Are we sure she's not made of rubber? Charles grew up with a limbo dancer mom and now performs limbo full time. She broke a world record in 2010 by bending down to 8.5 inches from the ground and again last month for squeezing under a car. Anyone trying to chase her down doesn't stand a chance; she'll just back-bend underneath the nearest object.
Quaas competes in an amateur gymnastics league in Saxony, Germany and has won 11 competitions since age 56, proving you're never too old to embark on a new adventure. And as you can see, she works those parallel bars.
The then-18-year-old in Germany broke the world record for the fastest 100-meter run in high heels. Most of us have endured the painful feat of running in high heels at some point, but who knew people willingly put themselves through an entire stiletto-clad race?
Nagaoka won among the 100 to 104 cohort in a Japan Masters Swimming Association race — and lost as well, I suppose, since she was the only competitor in that category. But she did swim an impressive 1,500 meters in an hour and 15 minutes, so I'd say she won.
We can do it, indeed.
An earlier version of this article incorrectly identified the location of the Rosie Rally as Richmond, Virginia. It has been updated to include the correct location, Richmond, California.
Images: The U.S. National Archives/Flickr