Ashley Graham's New Lingerie Collection Is Sultry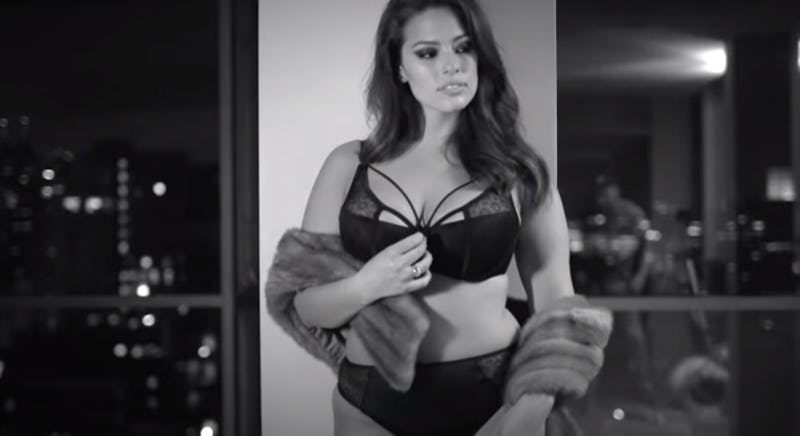 There's no doubt that there are tons of new Ashley Graham fans this year and one thing that they might not know about the plus size model is that she's been designing lingerie in conjunction with plus size retailer Addition Elle for the past several seasons now. They're definitely going to be aware of the fact when Ashley Graham's new lingerie collection drops at Addition Elle on July 20th and, for the first time, at Nordstrom in late August.
Ashley Graham has been one of the most visible faces of plus size fashion this year, what with giving a TEDx talk, being the first plus size woman in Sports Illustrated's swimsuit edition, starring in Lane Bryant's controversial #ImNoAngel campaign, and getting attention for her banned plus size lingerie commercial. I'd say she knows a little bit about what makes for sexy lingerie.
Her latest collection is said to be lingerie inspired by 50 Shades Of Grey and while I don't totally see the connection, I am totally smitten with the luxe glamour that the line has embodied. Graham's past collections have set the tone for a softer, more feminine, more sophisticated version of sexy and this line does not disappoint when it comes to living up to that reputation.
The collection features 10 pieces in black and jewel-toned teal and contains a kimono-sleeve robe, teddies, bras, and underwear. Every piece is designed to be supportive and practical, as well as sexy, for cup sizes up to G and H. It definitely shows, especially in the most glamorous racer back bra I've ever seen in my life.
Between the peekaboo lace and the cage bra-style straps, this is one lingerie collection that holds its own with its smaller sized contemporaries and delivers a luxe boutique-y feel. With options to be more daring and revealing as well as comfy and covered up alternatives that are still just as sexy, the collection is super versatile and accommodating.
Ashley: You killed it, girl.
Images: Courtesy Addition Elle; additionellevideo/Youtube