Will There Be A 'Paper Towns' Sequel?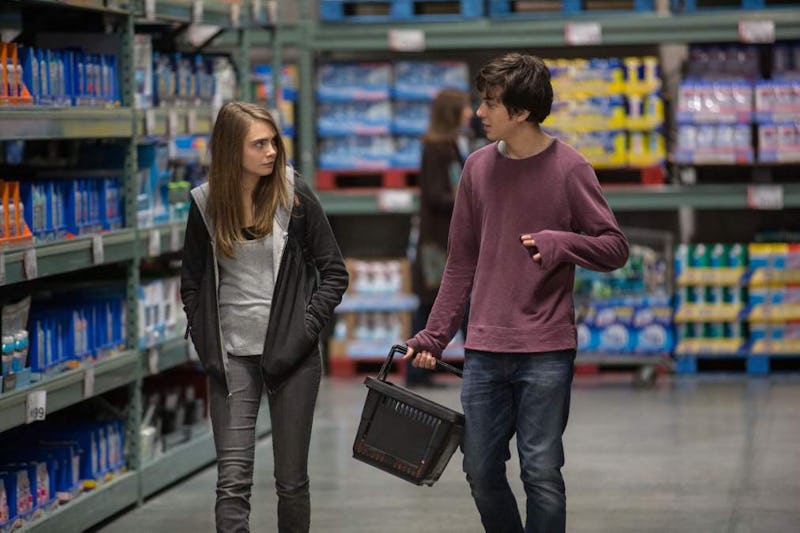 If you were a teenage girl at any point over the past decade, you're probably already well-acquainted with John Green. And if not, the phenomenon that was last year's movie adaptation of The Fault in Our Stars likely did the job. If you still avoided the massively successful writer's name (do you live under a rock? do you??), you must know that he's returning with Paper Towns, the film adaptation of his 2008 novel by the same name, especially because even though the movie doesn't come out until July 24, people are already talking about if there will be a sequel to Paper Towns .
Considering what the movie (and the Green book behind it) is about, it certainly seems possible. Paper Towns recounts the story of Quentin "Q" Jacobsen (Nat Wolff), a high school senior who has nursed a crush on his childhood friend Margo Roth Spiegelman (Cara Delevingne) for years. Margo devises a series of pranks on classmates who have slighted her, and she recruits Q to help her carry it out. When her mission is complete, though, she vanishes, and Q sets out to find her, spurred by clues he thinks she's left behind (spoilers to follow). At the end, they reunite, but Margo doesn't want to return home, much to Q's shock and frustration; although they end on friendly terms, it's unclear what Margo plans next, and how Q's life will be changed by their encounter If the movie stays true to the book, the conclusion will undoubtedly leave viewers wondering if there's more to the story, because a follow-up simply seems inevitable.
Yet unfortunately, it's probably not going to happen. Green never added to the story of Q and Margo, and it's understandable why he refrained; in keeping with his smart but non-traditional style, the novel doesn't quite wrap up neatly, or even ideally, but it's a satisfying resolution that quite aptly reflects the nature of adolescent romance. Because of this, though, it's unlikely that film producers will take the liberty of creating a sequel.
Fortunately, however, although Paper Towns might be over, various production companies have obtained rights to much of John Green's catalogue. Next on tap is the adaptation of his first novel, Looking for Alaska, the one that really catapulted him into the hearts and Tumblrs of adolescents (and I'm definitely no exception here). Like Paper Towns, Looking for Alaska revolves around a high school boy and an enigmatic romance, though Looking for Alaska rapidly takes a darker turns than Paper Towns. It candidly discusses sexuality, depression, alcoholism — themes that have caused it to be banned in several schools and that have provoked outrage among some parents. But it's an important book, serious but not self-serious, and over the years, it's understandably cultivated a devoted cult following.
Looking for Alaska is currently scheduled for release some time in 2016. Paramount obtained the rights to the film back when the novel was released in 2005, but it really only recently gained momentum. Green announced via Twitter in June that Rebecca Thomas, writer and director of Electrick Children, would direct.
Thomas doesn't have a huge number of credits to her name, which makes it even more awesome that Paramount has handed a promising young female director the reins of such a hotly anticipated film. Men vastly outnumber women in directing, so this is kind of a big deal, as Forbes noted in its report last month. Originally, Sarah Polley was rumored to be writing the Looking for Alaska script, but she's since been replaced by Scott Neustadter and Michael H. Weber, the pair who also adapted Paper Towns and The Fault in Our Stars. Green again confirmed this via his Twitter.
It's unclear if Polley is still attached at all — IMDb says yes, but there hasn't been much noise about it since last summer. Still, the fact is that a film that focuses on a female character will be made by a female director. According to EW, there have even been campaigns to get an actress of color in the title role, though no one has been locked down yet for the cast. (Again via Twitter, Green proposed Amy Schumer playing every single character — can someone please make that happen?) It's a recipe for amazing, and I, for one, can't wait to relive the nostalgia when the film finally comes out. Over a decade in the making, it's about time that this classic John Green book gets its big-screen adaptation.
Image: Paramount