7 Of Your Favorite YA Heroines As Millennials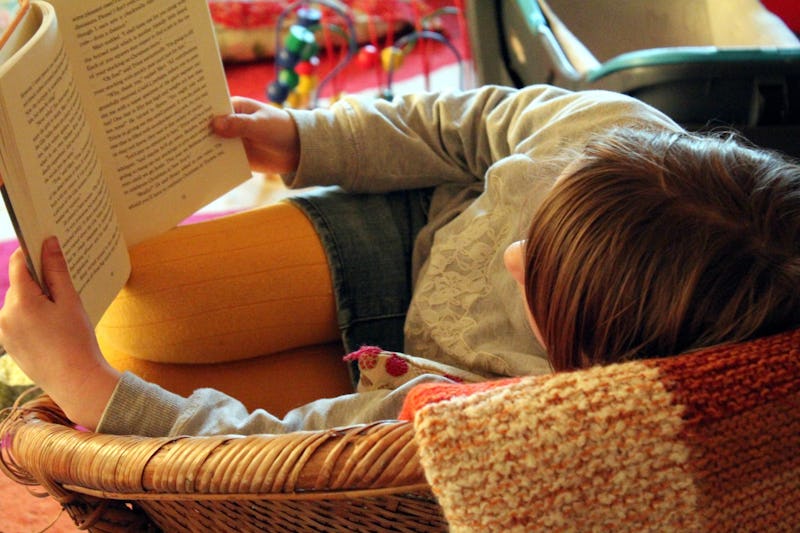 We all love to revisit old literary favorites. Whether you're feeling lost and confused, in need of some feminist inspiration, or simply want a new YA book recommendation, there is no better, or more fun, source than a young adult (or, OK, children's) book.
Something I love to to do is re-imagine my favorite book characters, reworking their narratives into the real world. I mean, I feel like I've grown up with some of the characters who populated my childhood bookshelves: I can't be the only one who lusted after Claudia Kishi's earrings or Eloise's pet turtle, or who found a kindred spirit in Margaret Simon's confusion about God and personal hygiene, or who just wanted to be Weetzie Bat, period.
And I certainly can't be the only one who continues to want to read about fictional people who are, frighteningly, younger than me — and who are, doubtlessly, more interesting: Who among us doesn't have an intense love/hate girl crush on Katniss Everdeen? Who among us doesn't still want to join Ella of Frell on her fantastical adventures? And who among us dares not fall in love with Cath Avery's boyfriend Levi?
So, I also can't be alone in wondering where these influential young ladies might have ended up if they were actually real human beings, and in their 20s, living amongst the world's Millennials. Would Eloise still live at the Plaza? Would Katniss be able to hold down a steady job? Would Margaret Simon ever find existential peace?
The only way to find out is to write it yourself. Or, you know, read what I wrote.
Katniss Everdeen, The Hunger Games by Suzanne Collins
Katniss lives in Denver, Colorado, where she's the Senior Tech Developer at PeakSkills, a startup that designs athletic gear equipped with software that tracks the wearer's training progress. Katniss is currently working on converting their patented software into sweat-wicking fabric, so they can finally start selling sports bras and swimsuits and yoga towels (Katniss herself could really use a smartbra). On her two-hour lunch breaks, you can spot Katniss training to be a volunteer firewoman; refueling with one of her tri-daily supergreen juices and a packed Paleo lunch (she has a thing for raw meat); or as the only one in the gym not vomiting after a CrossFit session.
Weetzie Bat, Weetzie Bat by Francesca Lia Block
Every day Weetzie gets up at 6 a.m. to hike up to Runyon Canyon and do some tai-chi moves and listen to ODESZA and watch the sun rise over her very favorite city. She often doesn't get to sleep until around 2 a.m. because her boyfriend Rooibos holds bhakti drum circles in their backyard, but Weetzie doesn't need a lot of sleep and it also gives her more time to work on her range of bespoke botanical ointments. And anyway, she's kind of in between jobs right now: She was a rescue dog walker for a while, then a shopgirl at Wildfox in Malibu, then a receptionist at 5 Point Yoga, then a barista at Cafecito Organico, which was actually her favorite gig because she could eat all the raspberry cheesecake bites she could ever want and also take some home for her Rooibos and their dog, Sprinkles. But for now Weetzie's happy to just skate around the pier and make face masks out of farmer's market produce and think of names for the death metal band she's probably going to start with Dirk and whomever else wants to join!
Claudia Kishi, The Baby-Sitters Club series by Ann M. Martin
Her younger self never would have believed it, but after five years, Claudia Kishi actually graduated from the Pratt Institute, where she studied Pottery and Ceramics. Claudia decided to pursue her love of all things handmade and farm-to-table and generally communal, so she set up shop in Beacon, New York, which she especially loves, because it reminds her of Stoneybrook, but with less parental supervision (not that she had that much as a kid, anyway). Now Claudia works part-time at Dia:Beacon, part-time as a server at The Pandorica — New York's best and only Doctor Who-themed restaurant — and part-time at her girlfriend Sage's workshop, The Kind Kiln, which teaches burgeoning artists young and old the therapeutic wonders of the pottery wheel. Claudia's mostly given up her Cheetos and Pringles vice for a wholesome pescetarian and dairy-free diet, but she has been known to inhale a pint of gluten-free cookie dough coconut milk ice cream, especially while binge-reading the latest Sue Grafton novel.
Ella of Frell, Ella Enchanted by Gail Carson Levine
After outgrowing a tumultuous childhood involving seriously controlling guardians, Ella was pretty desperate to forge her own life. So Ella and her husband Char, a civil rights lawyer, married right after graduating Princeton; the New York Times called their wedding "a modern-day fairytale," which Ella found irritatingly unoriginal. The young couple now lives in a castle (the Apthorp) in a faraway land (the Upper West Side), where they live happily (with Mandy, their personal chef) ever after (the apartment is rent-controlled). Her upbringing made Ella passionate about providing young girls with safe spaces to explore their imaginations, so she and her childhood friend Areida set up The Lucinda Spot, which provides after-school care, and also dance parties, for girls with working parents. Ella also volunteers regularly at Planned Parenthood, because if her overly-controlled childhood taught her anything, it's the irrefutable importance of a woman's right to choose.
Though it caused her so much angst in her youth, now Margaret Simon understands that she was put on this earth to be a spiritual seeker, and to help guide other restless souls to find their own, unique paths. That's why she decided to spend her junior year at Brown, where she doubled majored in Religious Studies and Gender and Sexuality Studies, abroad in India; and that's also why, immediately after graduating, Margaret returned, living and working at the Swami Rama Sadhaka Grama Ashram in Rishikesh for a further two years. Now Margaret's back in New York, where she's continuing her spiritual inquiry as an apprentice to an Ayurvedic healer in Park Slope. She also works the front desk at Jivamukti Yoga in Union Square and has acquired a mandala shoulder tattoo and stopped using deodorant altogether, all of which makes her Grandma a little uncomfortable, but which is made up for by the fact that Margaret's just started dating a Nice Jewish Boy.
Cath Avery, Fangirl by Rainbow Rowell
Cath has found an unlikely outlet for her social anxiety: YouTube. As TheBookBomber, every two weeks Cath presents her favorite book of the moment and posits possible fan fiction scenarios. After filming, Cath goes ahead and writes the fan fic, which she posts on her blog for her 250,000-plus subscribers to enjoy and/or tear apart. Cath also films weekly vlogs, mostly about her boring life in Omaha in which she drinks free frappuccinos at Starbucks (the perks of having a barista boyfriend), works in the children's section of the public library, babysits her adorable nephew when Wren is on a business trip, and knits/embroiders/silkscreens Watford School of Magicks merch for her Etsy store. Cath isn't exactly sure why hundreds of thousands of people want to watch her day-to-day life, but she has a sneaking suspicion that it's because her viewers really love Levi. Everybody loves Levi. That's a fact.
Eloise, Eloise by Kay Thompson
Eloise is 26. Eloise is now a Brooklyn girl. She lives in a new-construction high rise in Williamsburg, which is not really up-and-coming anymore but Eloise couldn't bear the thought of living with her parents at the Plaza anymore but her mother wouldn't let her stray too far from the city and simply would not let Eloise live in a building without a doorman. Eloise is the PR coordinator at Stylespot, one of the largest new fashion websites in the world, and she gets to spend every day bossing around her intern (whom she really adores), planning promo parties at the coolest spots in the city — her personal favorite, a stroke of brilliance if she does say so herself, was a psychedelic rave in a warehouse at the Brooklyn Navy Yard, designed à la Kenny Scharf's Cosmic Cavern — and getting to wear her most outrageous get-ups to work (she just loves her Sonia Rykiel stripes and Charlotte Olympia kitty-cat flats) and snag free superfood salads from the Stylespot in-house caterer every single day. Oh, how Eloise loves being in her 20s!
Image: various brennemans/Flickr; WiffleGif (2); Giphy