Steve's Superfan Status May Make Him Lose 'BB17'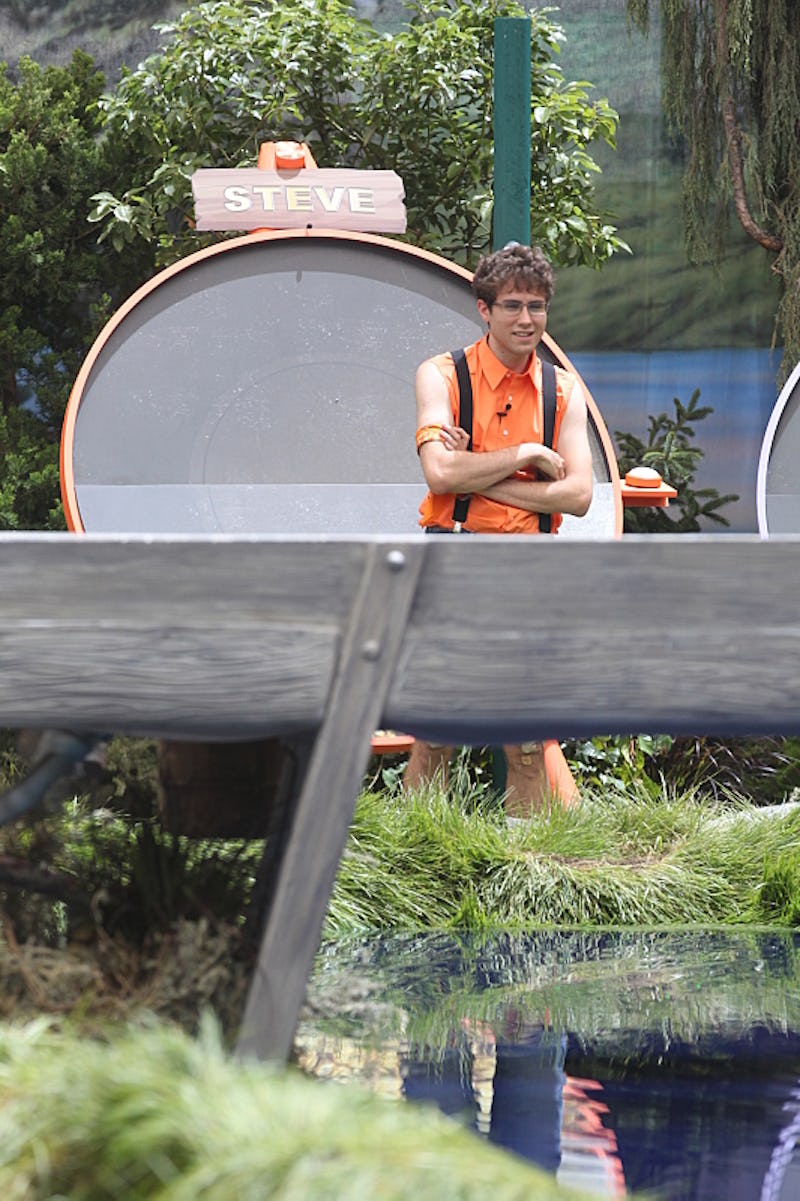 There are few things Big Brother fans love more than having a superfan in the game, especially when the fan comes out on top. Even fan favorite and Season 10 winner Dan Gheesling gave it up for superfan Ian on Season 14, and Derrick's win last year was amazing. Still, being a superfan — or BB historian, as Jason says — has its downsides, and we're seeing them play out this year with Big Brother 17 superfan Steve. With all the strategy, all the options, all the potential moves and countermoves to consider, getting your head in the game too much can completely derail you.
The one good thing about all of this is that the live feed viewers can at least know the inner workings of a superfan's game because they actually talk to us directly when they're alone.
A couple of weeks ago, for instance, Steve was pacing in the backyard, talking game to the fans. He explained to the live feeders that he went with Steve rather than Steven because it was too close to Ian, another nerdy engineer, and then broke down his intentions to win the next HoH and start his very own Quack Pack.
The Quack Pack, for all of you new BB fans, is known as one of the strongest alliances in Big Brother history. Part of its genius was the mix of strong competitors in every facet of the game — endurance, strength, brains, BB knowledge, puzzles, and social skill. Steve knows his weakness is how socially awkward he is and how much he needs an alliance to win. Unfortunately, everyone else knows it too, and no amount of late-night strategizing seems to be changing that.
Steve's superfan status seems to be blinding him, making him go with the strategy that worked for Ian rather than trying to play his own game. Steve, the key here is to distance yourself from Ian's approach so you're not seen as a threat! If you think going by Steven will make people think of Ian, then imagine what they'll think when you start an alliance with the hot chick, the cool guy, the strong guy, and another random girl just like Ian did.
Another superfan game move was voting to evict James last week. I'm sure Steve knew it would cause talk and speculation in the house as everyone tried to figure out where the vote came from. Jason is onto him, though, so I'm not sure how strong the move was.
Then, just this past weekend, Steve was up late again, talking to the feeders about his plan to keep Audrey in the house. Sadly, he wanted to shift the target to Meg, and that's just not going to happen.
Steve is not the only superfan this season. As a self-proclaimed BB historian, Jason is also susceptible to the problems of playing the game as a fan. The big difference between the two is social skill. Steve knows himself to be socially awkward, and it's making him get stuck in his head and play the game by himself.
I think Steve's best move right now is to make a final two or final three deal with a Vanessa, Shelli, or maybe even Jason. The key is to keep the group small and the trust big. The other alliance member(s) can take care of aligning with a bigger group and help him stay safe. If he plays it right, this year another superfan could win this game.
For more on this season, make sure to check out Bustle's very own Big Brother podcast: The Diary Room. Listen to the latest episode below, and be sure to check out future episodes on Bustle's SoundCloud page and iTunes.
Want even more Big Brother? Bustle's App has you covered. It's THE go-to place for any BB fan looking for round-the-clock Season 17 updates. BUT FIRST, you need to download the app from iTunes.
Image: Sonja Flemming/CBS