11 Perfect Songs For Long Distance Relationships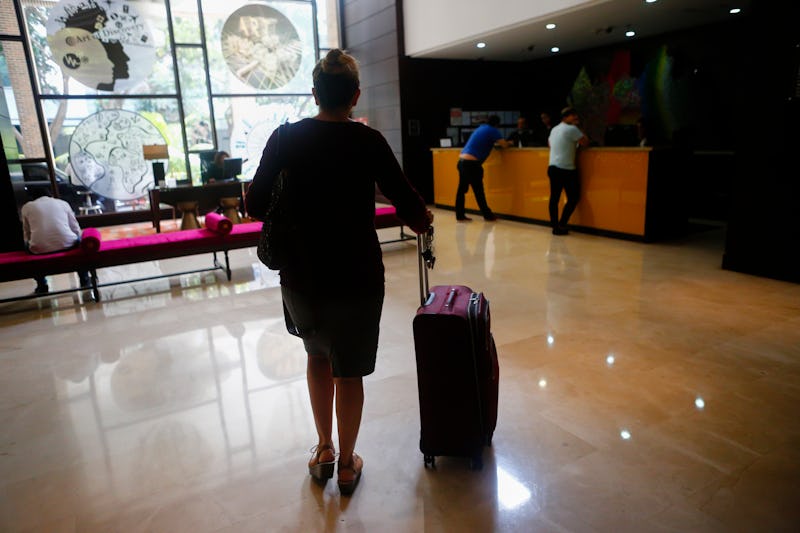 Getty Images/Getty Images News/Getty Images
There's a good chance that, at some point or another, you'll find yourself in a long distance relationship, and when that happens these songs are perfect for couples who are apart. Being away from your partner for just a few days can be hard, but when it's on a more permanent basis, it takes real work to keep your relationship on track. Despite what movies and magazines tell you, being physically apart doesn't have to be the end of your relationship, though — it can make it stronger. Still, it's a tough situation, but luckily, music is always there to alleviate the pain — and listening to these songs could help you beat your long distance relationship blues.
Every relationship is different, but when you and your bae are apart, you will be able to relate to the plight of the lovers in these songs. Some of them should be broken out when you need a good cry, while others will remind you why your relationship will make it through — and a few will encourage you and your partner to keep... ahem, connecting. No matter your situation, these 11 songs will get you through this emotional period.
So, the next time you need a little musical reassurance that you and your partner are going to go the distance, queue these bad boys up, or maybe make your long distance love the digital version of a mix tape and let them know they are on your mind.
1. "Set The Fire To The Third Bar," Snow Patrol
This is the perfect song to listen to in the early days when you can't quite get used to your partner not being there when you wake up in the morning. It's haunting and full of yearning for proximity. Let yourself feel those feelings, because trying not to miss the person you love is just going to make it so much worse.
Listening to Snow Patrol croon about drawing maps and crossing great distances to relieve some of the yearning can be downright therapeutic if you let it.
2. "Long Distance," Bruno Mars
You know what, being long distance can really, really suck. Mars totally gets that, even though you know you will see your partner again, it doesn't make the right now any easier. Hearing the song's beautiful "I'm coming home soon" refrain is the perfect reminder that even though you're apart, you and your significant other will see each other again.
3. "Morton's Fork," Typhoon
"Morton's Fork" isn't about long-distance relationships or even specifically romantic love. Instead, it's about dealing with situations that are beyond your control, and the inevitability of loss. Still, the refrain in the song will remind you that you and your partner are dealing with your situation together despite all the things neither of you can control. The haunting anthem is sure to remind you that your partner is missing you just as much as you miss them — and you truly are "alone in this together."
4. "Home," Ella Eyre
Whether you are the one who is away or not, this song is a bittersweet reminder that the best way to open the lines of communication is to not be too proud to admit you miss home (or to make sure your partner knows they can tell you all the things they miss about being home). Talking about what you miss will only bring you both closer — and if you can't find the words to quite express what you're feeling, sharing Eyre's song could be a good way to get the conversation started. After all, "take, take me home, to the place I know" is a pretty self-explanatory lyric.
5. "The Letter," Joe Cocker
Let's go old-school for a second, because Mr. Cocker wrote the perfect song for your first reunion. In the song, a letter leads Cocker to head home to "see his baby again." This upbeat song is pretty much flawless, and it will get you psyched for when you and your partner reunite. Putting it at the top of a playlist for your first flight or drive to reunite with your bae is an excellent idea.
6. "FourFiveSeconds," Rihanna & Kanye West
At some point, someone is going to get jealous. There will be a fight — and, even if you freak out like 'Ye, it will be OK as long as everyone keeps a steady head. This is the song for that situation, which will no doubt feel apocalyptic in the moment. Despite the lyrics promising that the couple is heading out "wildin'" without each other, at the heart of the song is a love that sounds like it will endure the trials.
7. "Love Me Like You Do," Ellie Goulding
Just because you and your partner aren't together doesn't mean you should forego date night. Play this song while you two are sexting, and let nature take its course. Keeping the lines of communication open is key to having a healthy relationship, and even though you're apart, you shouldn't stop connecting on every level. As Goulding sings, "love me like you do" — and that' goes double for when you can't see each other every day.
8. "Maps," Yeah Yeah Yeahs
Make sure you reassure your partner that you aren't going to give up them, no matter how much distance lies between you. This song is achy and romantic. It's also full of real emotion, because Karen O. waited three hours for her then-boyfriend to show up while she was recording to the music video right before going on tour, per Billboard. This led to her crying on camera, a heartbreaking music moment that still resonates to this day.
And OK, that's not the most reassuring backstory for a song, but it's the emotion behind it that counts.
9. "Different Stars," Trespassers William
Need to cry? It's bound to happen, and when it does, this song will get those tears flowing. The loneliness is tangible and it speaks to the isolation you can feel when the person you love isn't close enough to jump in the car and come see you. The song opens with these mournful lyrics: "So you'd sing a lullaby to get me to sleep/So it's no surprise my eyes are never heavy/For I've not seen you in the flesh for so long."
That absolutely makes it the perfect song for when you just need to let all of your emotions over being long distance out.
10. "Let Your Heart Hold Fast," Fort Atlantic
Nothing lasts forever, and eventually you and your partner will find your way back to the same place. If you feel yourself giving up, listen to "Let Your Heart Hold Fast" before you throw in the towel. The distance is temporary — there are planes, cars, phones, computers, and so many other ways to stay in touch until you can be together again.
Fort Atlantic's classic song is the perfect reminder that your situation is a temporary one. "Let your heart hold fast, for this soon shall pass," is sage advice for any relationship, but it's especially true for couples that are apart.
11. "I Drove All Night," Céline Dion
Let's break out the Céline Dion to wrap this up, because "I Drove All Night" is one of the hottest, most romantic long distance jams of all time. It's basically a promise that when you meet again, it is going to be well worth the wait. And that level of romance is sure to keep you going until your reunion with your love.
Hopefully, these long distance songs will help you through the transient period of your relationship. Just remember if you and your significant other are meant to be, then a little distance will never break you apart.
This post was originally published on 7/23/15. It was updated on 8/10/19.