'Paper Towns' Omnictionary Has A Great History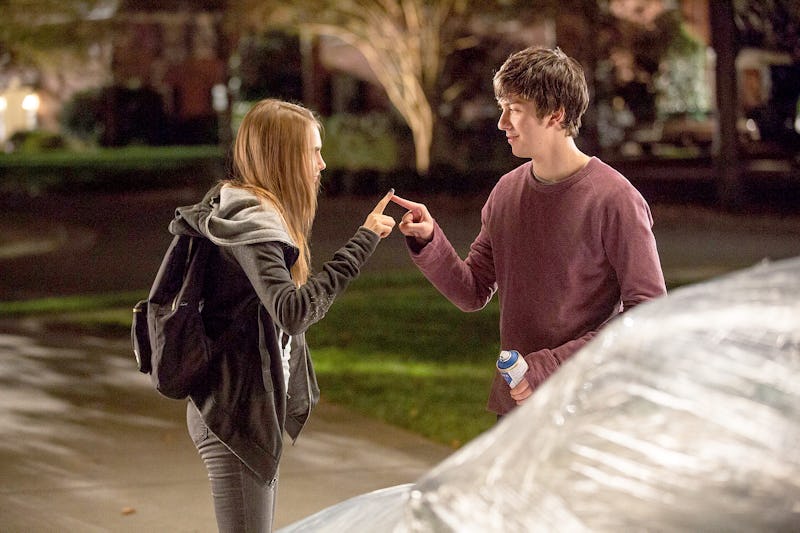 On the hunt for the vanished Margo Roth Spiegelman, Q — protagonist of John Green's Paper Towns — does a quick search for "Agloe," one of the "paper towns" the title refers to. But where you or I might turn to Google or Wikipedia, Q inputs his search to the "Omnictionary," a Wikipedia-esque online reference source. There, he sees Margo's recently added comment, saying that although Agloe once was totally empty, it now has one resident. It's is a pretty elaborate detail for a film like Paper Towns, which may leave fans wondering, is Omnictionary real?
Surprisingly, yes. Omnictionary was a project John Green and his brother Hank planned immediately after the Paper Towns novel was released in 2008. But it wasn't an actual encyclopedia — Omnictionary was part of a scavenger hunt John referenced in a blog post at the time. It appears that it was meant as a sequel to the Brotherhood 2.0 Scavenger Hunt that John and Hank devised the year before, and that inspired collusion across Internet forums and even stories on other sites. "If you poke around long enough, you'll find the answer to that question people keep asking," Green wrote in his '08 post. Cryptic, huh? Just wait: Omnictionary's Urban Dictionary entry was written by one Margo Roth Spiegelman.
Seven years later, though, Omnictionary is unfortunately just a whole lot of empty grey space. Still, Green continues to populate his novels — and the films they inspire — with a few fun Easter eggs from his real life. Below, a few of the best from the Paper Towns film, ranging from bedroom decor to unexpected cameos (minor spoilers ahead).
1. Radar's Shout-Out To Ed Sheeran
Q's best friend Radar confesses that he doesn't like an unnamed uber-popular Ed Sheeran song. The scene implies that it's a sweet, sentimental song, and while it could be a reference to any of the English singer's ubiquitous tracks ("The A-Team"? "Thinking Out Loud"?), I'd like to think it's a shout-out to "All of the Stars," the super-sappy track that he recorded for The Fault in Our Stars soundtrack.
2. The Mountain Goats Poster In Q's Bedroom
Q's favorite band is also (totally by coincidence I'm sure!) also John Green's favorite band! Set designers spent a lot of time assembling an appropriately offbeat-adolescent-boy room for Q, including a great Transcendental Youth-era Mountain Goats poster. According to an interview with Green in Hypable, "If I had a say in that it ... the movie would be scored by The Mountain Goats and it would feature only music by The Mountain Goats." John Darnielle, you've been warned.
3. Q's Enviable Book Shelf
From the clever folks who brought you the Mountain Goats also comes Q's well-stocked book shelf. It contains teen favorites like The Hunger Games, Harry Potter, The Maze Runner, and others. But here's the best part — set designers reportedly hunted for a copy of An Imperial Affliction , the Peter Van Houten book that gets so much play in The Fault in Our Stars. The search turned up nothing, but it's still fun to imagine.
4. Nat Wolff's Contribution To The Soundtrack
Does the voice sweetly serenading you out of the theater sound familiar? That's because the song that plays over the closing credits, "Look Outside," is sung by none other than Q himself, Nat Wolff (along with his brother Alex). "Look Outside" is sweetly, tentatively optimistic, with lyrics like "Meet you when it's dark outside/We'll do it all again/And ah, it's not so bad." It's the perfect tone for the film's end notes.
5. An Unexpected Ansel Elgort Cameo
When Q, Radar, Ben, Lacey, and Angela make a pit stop at a gas station en route to Agloe, New York, they encounter none other than Ansel Elgort, adorned with a massive dragon tattoo on one arm. He only has two lines — though this is an increased from the single, "Do you need a bag?" originally written for his character. Nat Wolff was a star of Elgort's The Fault in Our Stars, and it's a testament to how close the cast members have gotten on set that they're cropping up in each other's movies.
6. The Missing John Green Cameo
The Twitterverse was all abuzz with rumors of a John Green cameo performance in Paper Towns. He also appeared in a rough cut of The Fault In Our Stars, but his character was dropped from the final edit. I wasn't able to find Green in the film, though, so it's likely his Paper Towns appearance met the same fate.
I'll be waiting for Looking for Alaska to continue the hunt for even more hidden gems. John Green fans (understandably) have a lot of feels about casting choices (Kaya Scodelario as Alaska? Taylor Swift playing every character, soundtracked exclusively by the Mountain Goats?), so I'm excited to see what the next film brings.
Images: 20th Century Fox; Giphy (7)