Austin's 'Big Brother' Tat Doesn't Make Him A Fan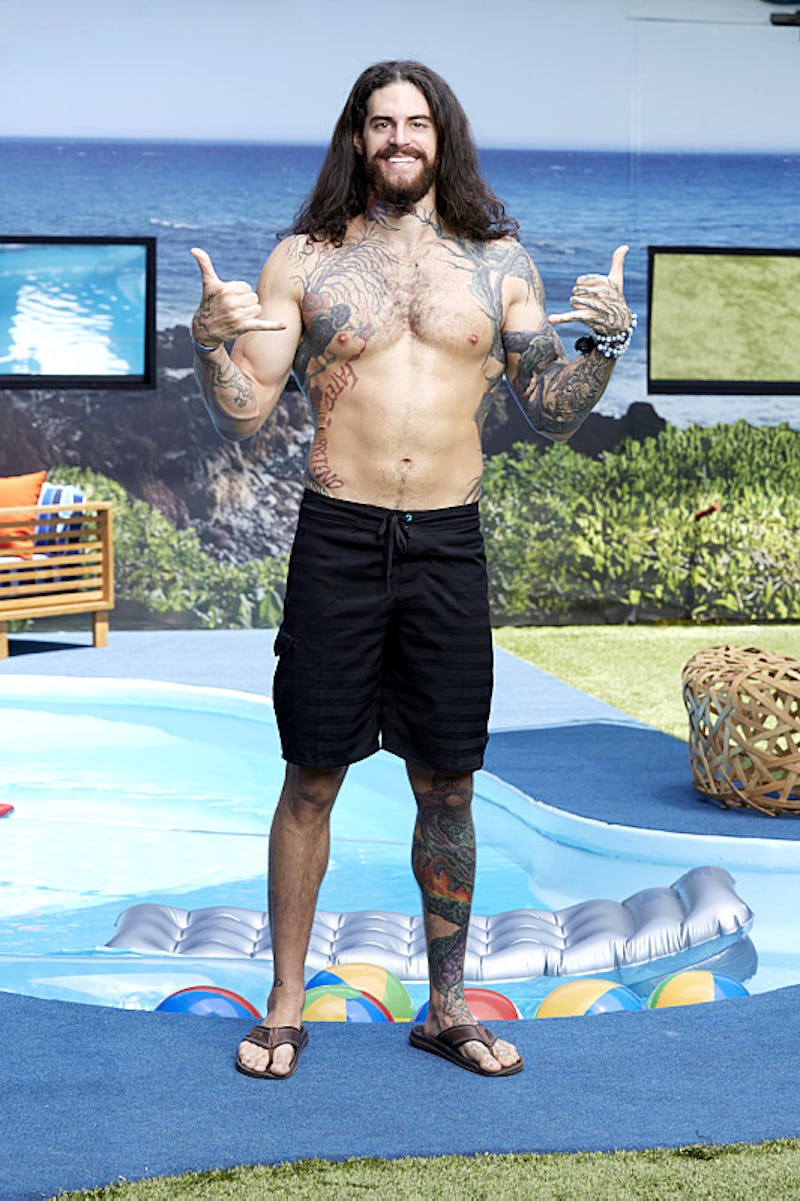 As much as everyone else loves that Clay hardly ever wears a shirt, I'm more of an Austin fan. He's just as muscular as Clay, and he gives us something way more interesting to look at on Big Brother 17 . Austin's tattoos are one of the first things you notice about him — along with his hair and the beard ponytail thing. His arms, legs, and back are covered in tats, and they're mostly tree-themed with roses, a bird, roots, etc. He also has "Fated to Pretend" along his right side, referring to the MGMT song. With so many tattoos to pay attention to, it's tough to keep track of them all, and it took a while for fans to notice that one of his tats is particularly relevant: Austin's Big Brother tattoo.
Even for somebody with as many tattoos as Austin, a Big Brother tattoo feels like quite a big step. Unless, of course, you're such a superfan that getting a tattoo to proclaim your undying love for BB feels like the natural course of action. It does make me wonder when he got the tattoo. Was it years ago when he became a loyal fan? Or just this year, when he applied and started to think he might actually make it into the house? Regardless of when, or the exact reason why, it's kind of amazing that he has one.
Let's take a look at Austin's Big Brother tattoo.
Austin has boasted about his superfan status several times in the BB house. Just this past Tuesday night, he even used this to try to make a connection with Jason, the self-proclaimed BB historian of Season 17. In an attempt to get closer to Jason — and farther from the block — he shared with him that he's been a viewer and fan for several years, even watching the live feeds with his girlfriend (or should I say maybe-girlfriend?).
But just how much of a fan is Austin when it comes to Big Brother?
Maybe it's because he's too busy spending time with Liz and then moping when she's gone, but Austin hasn't talked as much about the game and previous seasons as, say, Steve and Jason. Some of the houseguests think this is because he's trying to keep quiet about being a big fan, while some of the fans outside of the house wonder if he's not actually all that knowledgeable about the game. He's certainly not playing like a superfan, making some really basic mistakes like spreading information without consulting his alliance and playing with his emotions rather than his brain. For more on his strategy, check out Bustle's BB17 podcast.
Superfan or not, Austin is definitely going to have Big Brother in his life and on his skin forever.
Image: Robert Voets/CBS