Will Nick Give 'Bachelor in Paradise' A Try?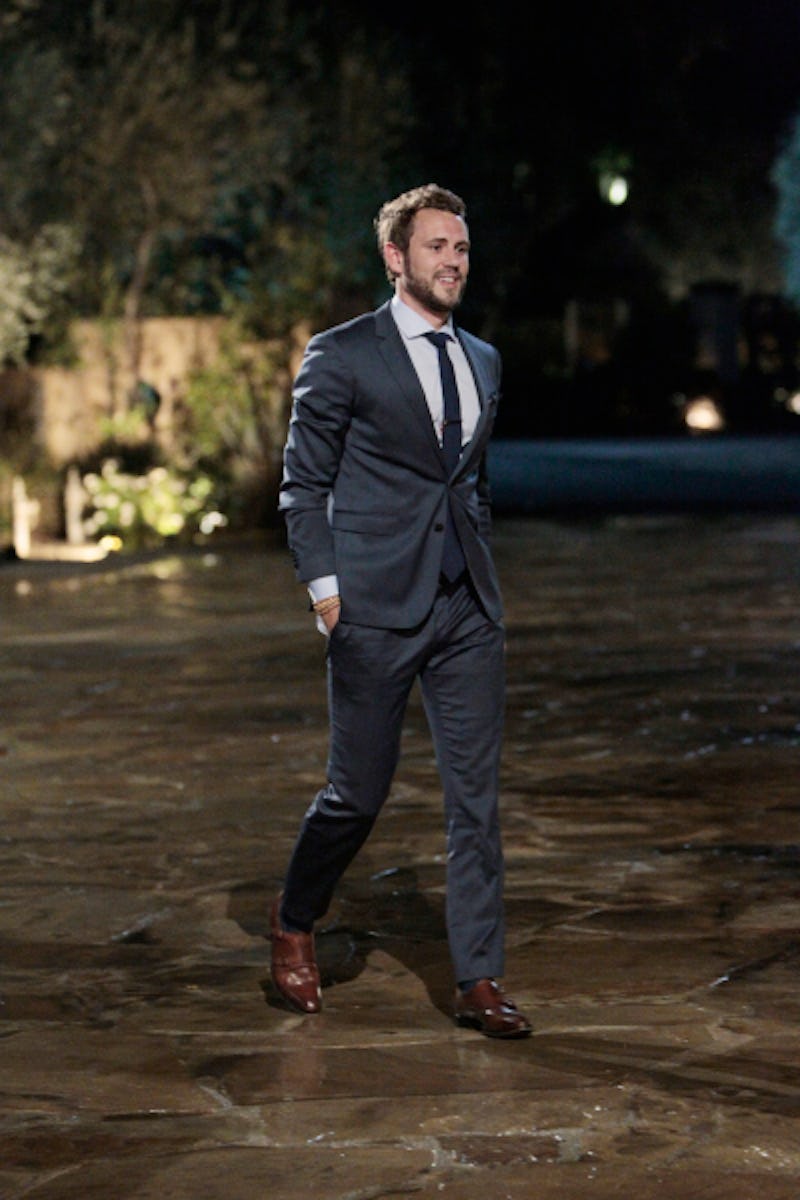 Guys, I'm super nervous about Nick and Kaitlyn. I just don't know if they're going to be the couple that's standing at the end of the line when The Bachelorette ends tonight. Sure, they have crazy chemistry — sexual, emotional, and intellectual — but The Bachelor/ette has never been known for its predictability. Really anything could happen. That's why I'm thinking contingency plan right now — What will Nick Viall do if he loses The Bachelorette and Kaitlyn's heart? Will Nick be the next contestant on Bachelor in Paradise ?
For those of you who have never seen Bachelor in Paradise, it's sort of like if you combined The Hunger Games with Survivor and The Bachelor/ette. All of the contestants are isolated on a beautiful island, and, at the first rose ceremony, six guys give roses to the six women they'd like to know better. Unfortunately, there are eight women, so the two that don't get pick get bounced off the show right away. More people get added to the mix, and people start coupling up, and at the end of every week, anyone who doesn't get a rose gets sent home. People are in love, etc. etc. Last year's successful (that means still kicking) couple was Marcus and Lacy, so there's hope that this whole social experiment works a little bit better than The Bachelor/ette does.
Nick's a veteran of this whole franchise, having came in second to Josh Murray on Andi Dorfman's season of The Bachelorette. Though he knows what to expect, I'm not sure that Nick would want to go through another season of this stuff. He came onto this season of The Bachelorette because he was very into Kaitlyn — I really don't think it's because he wanted to be the next Bachelor — so continuing on into another series doesn't seem very "him." Nick was crushed the first time he got dumped, so if he gets kicked to the curb again, I don't think his emotional state will be great to go compete on another show.
Feelings about Nick and his propensity for reality television notwithstanding, I decided to do a little research. According to Reality Steve, who knows all about The Bachelor and all of its spinoffs, Bachelor in Paradise was filmed from about June 4 of this year to about June 24. That means that Nick had to have been pretty much radio silent on his social media accounts during that time, unless he set them up with like, HootSuite, and that would be weird for a guy that is not really that famous.
According to his Instagram, Nick saw U2 at the United Center in Chicago sometime in June…
He also hung out at the lake for Father's Day, which this year was June 21 (aka in the middle of filming.)
Before Father's Day, Nick spent some time in his adopted hometown of Chicago, taking in the views on a rainy day.
Nick's social media is basically his alibi for not showing up on Bachelor in Paradise. Does this mean he won the whole thing? While we won't know that until the finale, this slight sleuthing shows that The Bachelorette is the only reality show we'll see him on this summer.
Images: ABC/Rick Rowell; Giphy