This Will Help You Mourn 'Key & Peele' Ending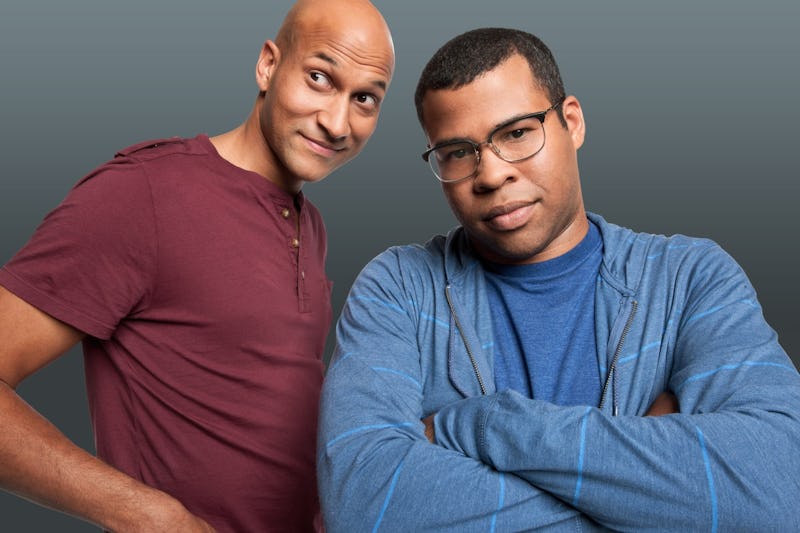 Brace yourselves, Key & Peele fans, because this is going to sting. After five glorious seasons, the Comedy Central series will end its run in September. News of stars Jordan Peele and Keegan-Michael Key deciding to end the series was first broken by TheWrap on Friday, July 24. "This is our final season – and it's not because of Comedy Central, it's us," Key stated. "It was just time for us to explore other things, together and apart. I compare it to Gene Wilder and Richard Pryor. We might make a movie and then do our own thing for three years and then come back and do another movie."
Key's optimism on his and costar Peele reuniting for future projects offers fans a silver lining to this sad news, but — if you're like me — the loss of such a beloved series is jarring. Not only have Key & Peele offered us numerous guffaws throughout five seasons, their deft wit and social awareness has allowed many of their sketches to be both funny and progressive. One of the duo's sketches even garnered Key an invite to the 2015 White House Correspondents' Dinner, where President Obama brought Key onstage to reenact his character, Luther, Obama's anger translator.
For all my fellow Key & Peele fans out there — I know how much this hurts. I know that all you probably want to do right now is curl up into the fetal position, plow through a bag of chips, and weepingly listen to "I Will Remember You" by Sarah McLachlan on a continuous loop. We have to stay strong, though, guys. We still have a copious amount of sketches at our disposal so that this series will live on far past its cancellation. To help us all through this mourning period, I have rounded up some of the most memorable Key & Peele sketches to comfort us through this trying time.
1. "Continental Breakfast"
As a woman on a budget, I might legitimately react this way the next time I happen upon a continental breakfast. Also, The Shining callback was the perfect closer to this hilarious sketch.
2. "Substitute Teacher"
This classic sketch was my first introduction to the beauty of Key & Peele, and I've been a die-hard fan ever since.
3. "Pirate Chantey"
Playing surprisingly chivalrous pirates, Key, Peele, and company are hilarious while also showcasing messages of feminism.
4. "Gay Wedding Advice"
The comedians deftly upend archaic stereotypes about homosexuality. Key plays a gay man who becomes increasingly vexed by an absurd line of questioning on same-sex wedding protocol.
5. "Menstruation Orientation"
"Imagine if you had locusts flying out of you d**k every month," might be one of my favorite lines throughout this whole thing. Even as over-the-top caricatures, Key and Peele make some valid — albeit, very much appreciated — points. And, yes, I would like some chocolate.
6. "East/West College Bowl"
This 2012 sketch became a long-running bit for a reason.
7. "Flicker"
Office banter takes a dark turn in this hilarious sketch that will make you never look down at an alleged smudge on your shirt again.
8. "Obama's Anger Translator"
While the POTUS is unremitting in keeping his cool, Luther offered an opportunity to let Obama finally vent any possible frustration.
9. "What About 'Non-Stop,' Though?"
I'm pretty sure the only appropriate reaction to happening upon legendary actor, Liam Neeson, is spontaneous combustion.
Let's savor the last new episodes of Key & Peele running through September. After that, it's going to be time for some serious binge-watching.
Image: Ian White/Comedy Central