Is Nick Viall Moving On From His 'Bachelorette'?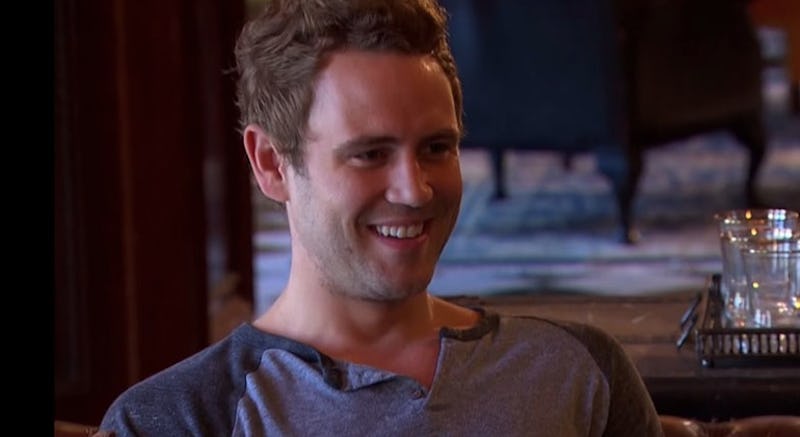 Tough break for Nick Viall, huh? He came into Kaitlyn's season of The Bachelorette four weeks late and really threw himself into the game. It seemed like he and Kaitlyn were the unstoppable couple — I really though that these crazy kids were going to make it to the end. Take away the sex scandal, all of the infighting with the other suitors re: Nick, and the annoying arguments between Nick and Shawn (seriously how old are we, guys?), and Nick and Kaitlyn had a really amazing connection. They just seemed so in tune with one another that it's super hard for me to believe that Kaitlyn rejected Nick in favor of Nashville-based personal trainer Shawn Booth. Color me surprised. Worse for Nick, too, is that this is his second time on The Bachelorette. He didn't find love with Andi Dorfman, and he didn't end up with Kaitlyn. Poor Nick. As an obviously resilient guy, has Nick already found love after Kaitlyn?
The show technically ended long enough ago (save for this After the Final Rose ceremony) that Nick could have a main squeeze that's not Bachelorette related. His social media accounts — especially Instagram — show virtually no ladies in his clique, but could that be normal for his time spent on The Bachelorette? ABC certainly doesn't want another Kaitlyn-esque Snapchat snafu where Nick reveals that he has a new lady and, by proxy, isn't with Kaitlyn. While I'm sure his social media contract is airtight, I don't think that Nick's heart will be so easily mended post-Kaitlyn.
Nick pretty much confirmed this on the After The Final Rose special, describing to Chris Harrison that, looking back, he could kind of tell that Kaitlyn wasn't completely into it. He was actually pretty Zen about the whole thing, which was surprising but very mature.
Even though he's seemed to recover, given all that he's gone through in the past few months, I don't think that Nick will be dating seriously anytime soon. He'll need some time to look inward, and that's totally ok.
Images: ABC; Giphy