Will 'Bachelorette' Kaitlyn Reject Both Guys?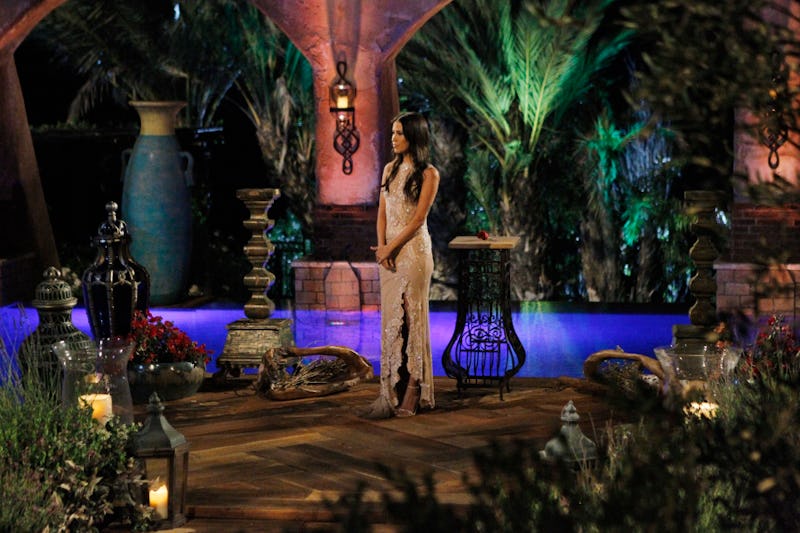 Shawn B. or Nick Viall? The question of who Bachelorette Kaitlyn Bristowe will choose on her season of ABC's romance franchise is the subject of much debate: Will she choose Shawn, with his sorta-Gosling looks and his sweet reputation outside the show as a devoted uncle and all around nice guy, or will she pick Nick Viall, who's turning into the bad boy of the Bachelorette? Well, personally, I'm curious why no one is talking about the other most obvious possibility: Will Kaitlyn choose neither guy on The Bachelorette finale? Before the season started, that was the rumor among spoiler blogs like Reality Steve, that while both of the final guys would make their case, ultimately Kaitlyn would end up single.
But, as fans on the show, it was east to ignore those rumors because not only was that extremely rare in Bachelorette history, but Kaitlyn seemed so lively and likable — how could she wind up not finding love, when she had so much energy and enthusiasm? It seemed like a bummer to imagine her walking away without anyone by her side. But, now that the season's almost over, it seems like the most radical thing Kaitlyn could do, after a season of being dragged through the mud for acting like the normal, goofy grown adult that she is. It would be such a triumphant moment if she walked away from both proposals with a defiant, "No thanks."
Because think about it for a second: Shawn's reaction to Kaitlyn having sex with Nick was so awkward it made it on The Soup. I know since then he's redeemed himself, but that would still give me major hesitations about agreeing to marry the guy. I think if Kaitlyn wants to walk, it probably dates all the way back to these early episodes and the feud that has developed between them since, which was instantly exhausting.
But, then something happened that killed the idea that she walked away from both men. First of all, Reality Steve went back on his spoilers and claimed that he got bad info, and that, actually, Kaitlyn accepts Shawn's proposal in the finale. Now that timing was right at the same time that Kaitlyn was caught posting an Snapchat video that showed her and Shawn in bed.
And, that Snapchat is some pretty strong evidence that Kaitlyn and Shawn are together right now. But, and this is something that no one seems to be talking about for some reason — why couldn't Shawn and Kaitlyn, once the season was over, have met up and started a new relationship? I'm sure The Bachelorette would love that: Kaitlyn tearfully rejects the proposal, then on the After the Final Rose special, she reveals that months later, they rekindled their romance, and now are in a relationship. So, Kaitlyn choosing no one could wind up being the most dramatic possible ending, even better than the proposal everyone's expecting. For everyone except Nick Viall, I guess. Rejected twice for ol' Nick.
There have been many hints throughout the season that really make it seem as though in the Bachelorette finale that Kaitlyn will walk away from both guys. Not bloggers, not Bachelor precedent, not even a sexy Snapchat leak could change the crazy season that Kaitlyn has already had, and she certainly deserves to walk away from both of these guys if that's what she wants to do.
Image: Rick Rowell/ABC; Giphy; BacheloretteABC/Tumblr