Alix Earle Might Be A "Hot Mess," But Her Sun Care Routine Isn't
The podcast host chats with Bustle.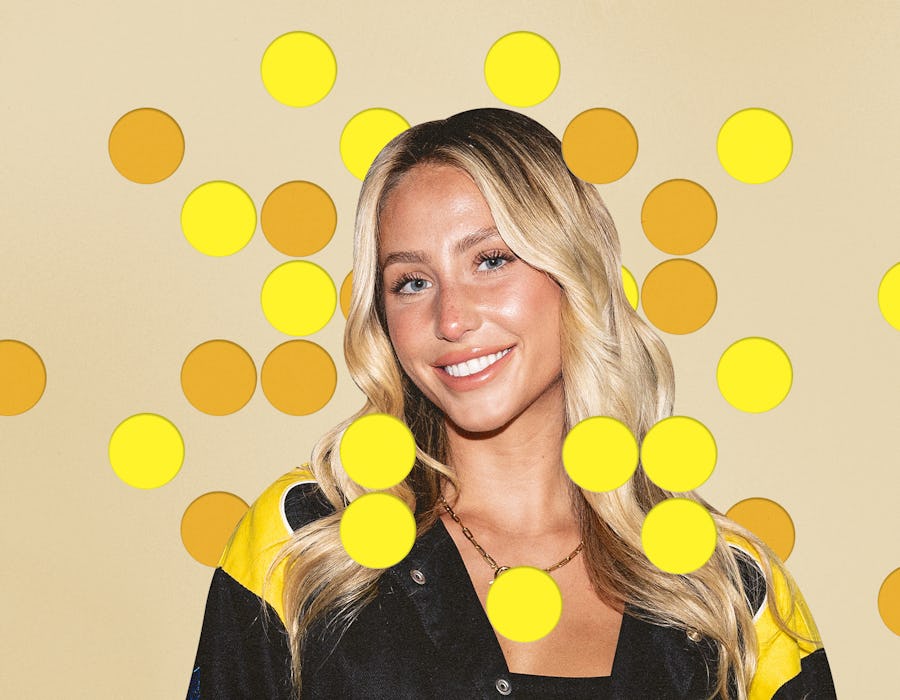 Pore Decisions
We may receive a portion of sales if you purchase a product through a link in this article.
In Bustle's Pore Decisions, celebrities, influencers, and Bustle's own readers recount their personal skin journeys: the good, the bad, and everything in between. Here, fast-rising TikTok influencer and "Hot Mess" podcast host, Alix Earle, shares her skin care routine, favorite products, and more.
In the modern age of influencers, platforms such as TikTok and Instagram allow anyone to candidly share intimate moments. And while countless users post carefully curated photos and videos that romanticize their lives, only a select few are able to turn that into a long-standing career.
Like the social media darlings turned high-fashion it girls before her (think Emma Chamberlain, who has gone on to host the Met Gala red carpet two years in a row), Alix Earle looks like she's on the cusp of doing just that. She has built her college-era "get ready with me" videos and raw experiences with acne into something much, much more, amassing almost six million followers on TikTok alone.
After graduating from the University of Miami this past May, Earle traded in textbooks for exclusive invites to grace Victoria's Secret red carpets, mentions on Forbes Top 50 Creators list, chic Elle magazine shoots.
The New Jersey native is now connecting with her followers in a fresh new way by launching her own podcast, Hot Mess, with Call Her Daddy's Alex Cooper as her personal mentor and inaugural Unwell network signee. (ICYMI, Cooper has launched her own network, with three podcasts under the umbrella thus far.)
"I have all of the cameras and microphones in my apartment, which I think is kind of different than being at a studio," Earle tells me over the phone. "I think a lot of what I love to post online is showing the good and the bad, and 'Hot Mess' kind of embodies that."
Ahead, Earle, 22, chats with Bustle about her skin care journey, serendipitous partnership with Bondi Sands, Serena Van Der Woodsen comparisons, and more.
On Sharing Her Unfiltered Acne Journey
"I think it's called a 'skin journey' for a reason— there are always ups and downs. I struggle a lot with hormonal acne and I think that I'm definitely in a good place right now, especially compared to where I was a year ago today.
"I'm really happy that I was able to open up about my skin care journey online because I found a really great community through that, and I'm able to help a lot of other people going through the same situations. It puts me in a good mind set — when I am having a breakout, I know it's not the end of the world."
On Protecting Herself From The Sun
"I was definitely very scared in the beginning of my Accutane journey because staying out of the sun is one of the biggest things they tell you. I found I was able to be in the sun a little bit, but you have to wear sunscreen and you can't stay out for too long.
"With sunscreen, I always like something that's fragrance-free because I have super sensitive skin. And because I didn't want to lay out in the sun too long, self-tanner was a big part of that journey for me."
On The Key To A Natural Faux Glow
"I started off using the 1 Hour Express Foam from [Bondi Sand's] original range. This past year, they came out with the Technocolor range; you're able to take a quiz to find what color suits your skin tone the best. Mine is in shade Emerald.
"Before self-tanning, I always like to exfoliate. Then — this is something my mom taught me, actually — I put lotion over my fingernails and on any of those sensitive, dry areas, like maybe your knuckles or elbows, which [prevents the tan] from getting way too dark in those areas."
On Her Self-Tanner Faux Pas
"I think I first discovered self-tanner in high school. I was very allergic to some of the self-tanner I was using, which I didn't know at the time. I would get hives, rashes, super puffy eyes, and these severe allergic reactions. I'm happy I found a formula that works for my skin."
On Her Worst Beauty Mishaps
"Sometimes the bad experiences are the funny ones, and I've definitely had my fair share of bad experiences and beauty mistakes.
"My sophomore year in college, I thought I was going to become a nail tech. I got all of the tips, gels, acrylics, everything... I tried probably eight times and it never looked good. It looked like I had sticky notes pasted to fingers — they were so bad.
"I've had eyelash extensions that not only ripped out my eyelashes, but I also was allergic to them and would wake up with my eyes swollen shut."
On Her Current Skin Care Routine
"Honestly, I've learned a lot through the internet about [curating] a skin care routine.
"One thing I started using this past year was the Bondi Sands Eye Spy cream, which will kind of fix those dark circles. I think little things like that, which I really had no knowledge of before, have been game-changers."
On Starting Her New Podcast, "Hot Mess"
"Honestly, the first day of filming I was very nervous because it is a longer form of content than the three-minute TikToks that I'm making. I'm very grateful I had Alex Cooper sitting by my side and coaching me through it, and since then, I've been filming a lot more.
"It's honestly very therapeutic, and I feel like I'm going to be able to connect with my audience — and hopefully a new audience — in such a deeper, more meaningful way. I'm literally in my bedroom, showing what it's like when I wake up in the morning after going out, and I'm really excited to start this new journey and see where it goes."
On Comparisons To Gossip Girl's Serena Van Der Woodsen
"I did watch [Gossip Girl] — I was a huge fan. I always loved Serena, and I did feel like I connected with her a little bit. She's always on the wild side, and she gets a little controversial on the show — so maybe not that aspect of it.
"She's the blonde and, of course, Blair has brunette hair. That's how me and my sister are, so we would always call ourselves Blair and Serena growing up. I think it's really funny that people call me Serena Van Der Woodsen on the internet now."
Shop Alix Earle's Sun Care Essentials