KJH.brand Will Help You Get Katie Jane Hughes' Signature Glow
Right this way for dewy skin.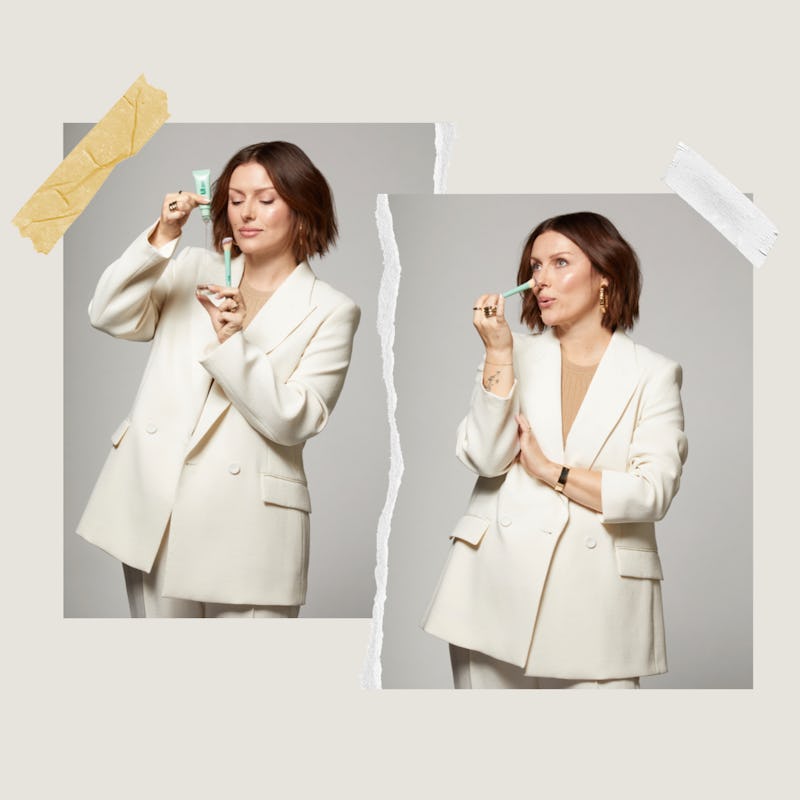 KJH.brand
Behind some of Hollywood's most-loved stars is often a team of experts making the magic happen, albeit just to the side of the spotlight. And for A-listers like Hailey Bieber, Ashley Graham, and Rosie Huntington-Whiteley (to name a few of her most notable clients) — Katie Jane Hughes just so happens to be the sought-after makeup artist behind their most radiant, eye-catching glam moments.
Many will recognize Hughes from her Instagram and TikTok feeds. In a sea of super filtered photos, her posts provide the kind of beauty inspiration that's aspirational, yet refreshingly approachable and attainable at the same time.
"I do think I stood apart from the makeup artist crowd when I started my account because I was creating content that showcased an editorial look, [while] keeping the skin looking like skin."
Now Hughes has dropped her own collection of innovative products that make achieving her signature lit-from-within glow as effortless as ever.
Say hello to KJH.brand, which officially launches on Sept. 26 via its direct-to-consumer website. The first drop is an entirely unique glow kit — aptly named the Hyper Shine High Lite Kit — that creates customizable and buildable luminosity on one's complexion.
In three words, Hughes tells Bustle that she describes her new brand as creative, inclusive, and innovative. And being that she's been dreaming up (and working on) this project for almost four years, the buzz-worthy products have probably already been tested on some of the most beloved stars.
KJH.brand's Hyper Shine High Lite Kit
Available in four wearable shades, from soft pink hues for lighter complexions to a rich bronze that's perfect for deeper skin tones, each kit comes equipped with a Hyper Shine Lite Pigment, a Hyper Shine Serum, as well as the KJH.brand No.1 Brush.
The pigment color is meant to work in tandem with the serum, which is essentially a high-shine mixing medium. Use more pigment than serum, and the tinted glow will be at a maximum. A higher concentration of the serum, however, will result in an intensified, diamond-like sheen.
"The formulation process didn't take that long," Hughes explains. "I was pretty decisive on the type of formula that I wanted — I needed something that was malleable, and two textures that worked well together to create plenty of different finishes."
The brush, of course, allows for flawless (and targeted) application for the high points of one's face.
What's Next For KJH.brand?
With the initial drop nearly behind her, Hughes has already started planning her next move.
"We're working on another hybrid product [which will hopefully launch] by spring 2024," says Hughes. "My goal with this brand is for people to realize there are many different ways to use their products."
Making her way from celebrity makeup artist to brand founder is no easy feat, and Hughes got candid about her experience. "I didn't realize the complexities associated with packaging and operations, [so] I brought on two amazing consultants to advise in the areas where I needed guidance."
For those dreaming of doing the same one day, she says: "I'd definitely tell aspiring entrepreneurs: don't be too proud to ask for help."