The Unexpected Product Rosie Huntington-Whiteley Swears By To Banish Acne
The supermodel shares her skin care staples.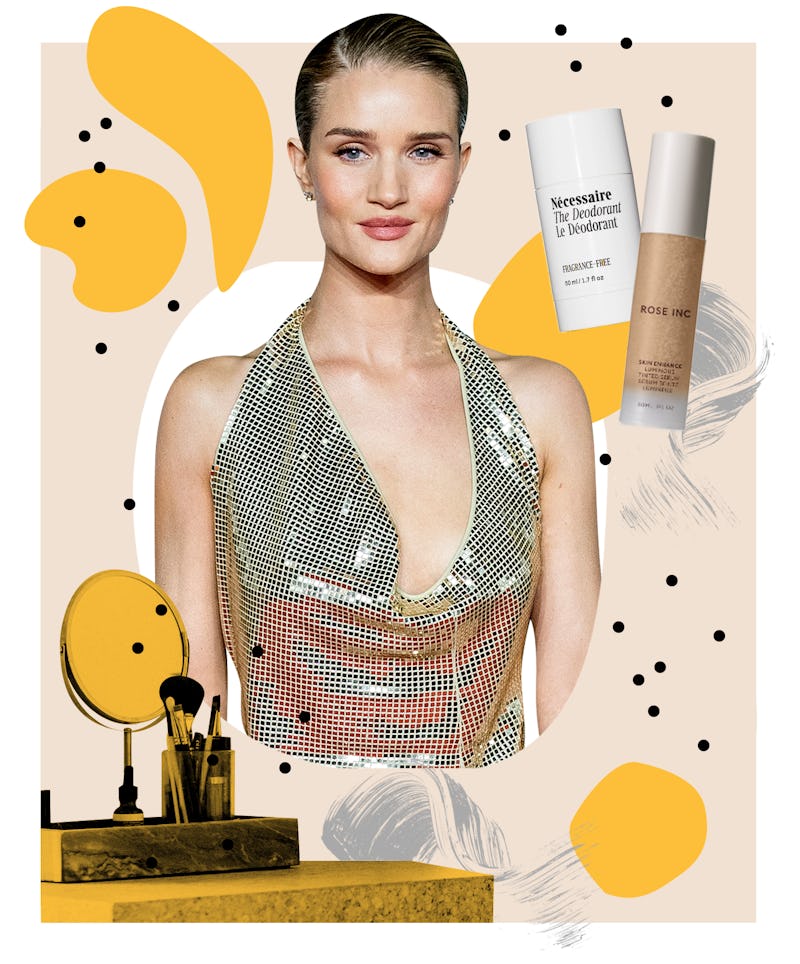 Samir Hussein/Getty Images
In Bustle's Beauty Detail, we dive into the beauty bags of our favorite talents for intel on the rituals that keep them glowing and the MVPs (most valuable products) they can't live without. Here, Rosie Huntington-Whiteley reveals her acne-fighting skin care routine and favorite kinds of facial treatments.
When Rosie Huntington-Whiteley needs an escape hatch, she heads to an unexpected place — her bathroom. "I've been known to lock myself in my bathroom for a few hours here and there," she tells Bustle over Zoom, adding that it's the only quiet space in her house (at least until her 4-year-old son comes home from school, she clarifies after making an explosion noise).
The supermodel is expecting her second child soon, but is also eager to discuss another "child" she's bringing into the world under her beauty brand Rose Inc: the Skin Enhance Luminous Skin Tint, a glow-enhancing, skin care-makeup hybrid that uses microencapsulated spheres to deliver pigment and moisturizing ingredients like squalane and sodium hyaluronate into the skin. It's necessary, then, that Huntington-Whiteley has a respite where she can practice self-care. But while the bathroom may be her wellness sanctuary, long baths — although she grew up as a "bath person" — aren't part of the equation.
"We didn't have a shower in my house actually because I grew up in a really old house in the [English] countryside," she says. "After moving to the States, everyone showers like a hundred times a day, and I think that rubbed off on me. Now I shower once or twice a day. Since being pregnant, having a nice hot shower is the one thing that just feels really good."
The latest drop is one Hungtington-Whiteley is particularly excited for: the Skin Enhance Luminous Skin Tint, a glow-enhancing formula that uses micro-encapsulated spheres to deliver pigment and moisture into your skin upon application. "It instantly makes my skin feel really, really glowy and luminous and gives me a little bit of coverage," she says of the product.
Once she's done that, Huntington-Whiteley begins her skin care regimen — a part of her beauty routine she's "very diligent" about. "I have acne-prone skin, so I'm always trying to manage congestion," she tells Bustle. "The key thing for me is finding that balance between using my AHAs and my exfoliators to resurface the skin because I have a sluggish cell turnover, which is of course what's giving me acne, but then making sure that I'm not drying it out too much — which then builds more oil, which makes more acne."