18 Shows Every Romantic Should Stream Right Now
From teen dramas to tender queer love stories.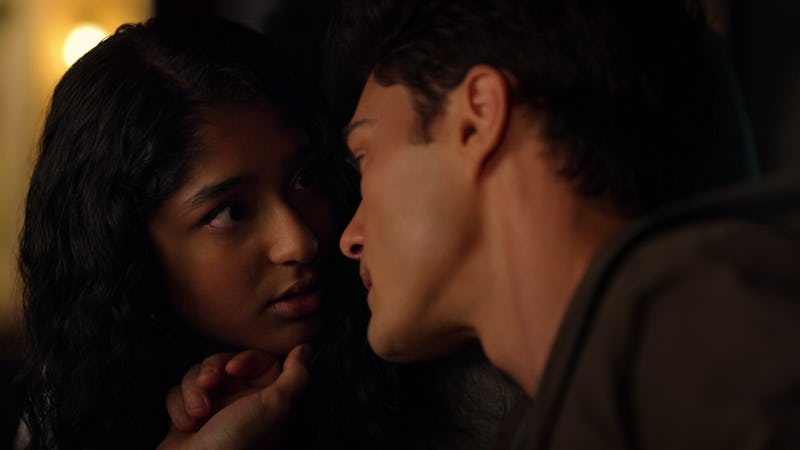 Netflix
If you've just made your way through Pretty Woman for the umpteenth time, you might be looking for some new material to satiate your inner romantic. You probably know all of the classic movies: When Harry Met Sally, Love, Actually, Sleepless In Seattle. But you may also want a few romantic shows to add to your watchlist. After all, they'll take you a little longer to get through.
Fortunately, there are a lot of options on Netflix. Some titles are flirty and fun, while others are emotional dramas that will leave you grabbing for the tissue box. There are also an increasing number of reality shows that explore how love doesn't have boundaries regardless of age, size, or orientation. Read on for 18 recommendations.
1. Never Have I Ever
Created by Mindy Kaling and starring newcomer Maitreyi Ramakrishnan, this series follows Sherman Oaks teen Devi, who has a huge crush on popular swimmer Paxton Hall-Yoshida. But there's a lot more under the surface of this teen drama, as it's quickly revealed that Devi is avoiding dealing with her grief over her dad's death. It's quite a tear-jerker at times, but there are also a number of romantic plotlines to tune in for.
2. Monthly Girls' Nozaki-Kun
High school student Chiyo Sakura has a crush on her classmate, Umetarou Nozaki, but when she goes to confess, he gives her an autograph. She discovers that he's actually a renowned romance manga artist, and she agrees to be his assistant just to get closer to him. While more of a parody than a straightforward love story, the show is very aware of the typical romance tropes and subverts them in clever ways.
3. Julie and the Phantoms
Are you a fan of the 1990 classic Ghost? Try Julie and the Phantoms. While aimed at a younger demographic, this show about a trio of ghosts who appear whenever teen singer Julie (Madison Reyes) performs will easily charm any older viewer.
4. Love on the Spectrum
A heartwarming and sweetly comedic show, Love on the Spectrum shows what it's like to date while on the autism spectrum. You're introduced to several subjects who go on a variety of dates, and they're bound to all win you over by the end of the season.
5. Was It Love?
Who doesn't love a story where the female protagonist has several men vying for her heart? In this Korean drama, Noh Ae-jung (Song Ji-hyo) has been single for over a decade while focused on raising her daughter. But when four different men start courting her, she can't resist going along for the ride.
6. Bridgerton
If you haven't checked out the lavish period drama that is Bridgerton yet, where have you been? Produced by Shonda Rhimes, it's a cheeky spin on the usual regency era romance, replete with Ariana Grande songs, modern dances, and a steamy romance featuring Regé-Jean Page.
7. Feel Good
Following real life Canadian comedian Mae Martin, Feel Good is about Mae navigating a new relationship while hiding the fact that she's recovering from substance use disorder. It's a tender queer love story that's both introspective and funny, and it comes with a 100% rating on Rotten Tomatoes.
8. Cinderella and the Four Knights
As the title suggests, this Korean drama is a unique twist on the Cinderella tale. After Eun Ha-won's (Park So-dam) dad marries a cruel stepmother, she ends up working in a mansion with three billionaire cousins — a loner, a playboy, and a sweet singer — who all of course fall for her.
9. The Good Place
Yes, this comedy is largely about questions of ethics, morality, and life after death. But it's also a long-running love story between Eleanor (Kristen Bell) and Chidi (William Jackson Harper), her soulmate who she finds her way back to across countless lifetimes.
10. My Love: Six Stories of True Love
This heartwarming docuseries follows the day-to-day life of six older couples living in different countries. It's a simple but very sweet look at how true love can last across decades.
11. Dash & Lily
Who doesn't love a Christmas romance? Lily (Midori Francis) is full of holiday cheer, and she starts to fall for the grouchy Dash (Austin Abrams) as they trade messages and dares through a notebook left in a bookstore.
12. Ginny & Georgia
A Gilmore Girls-esque mother-daughter dramedy, this show explores the relationships of both 15-year-old Ginny and her 30-year-old mom Georgia. Both storylines are interesting, as Ginny's is more a teen drama while Georgia's is, strangely, a thriller mystery.
13. My Holo Love
A fun sci-fi Korean drama where a woman falls in love with a sentient AI and his handsome creator, who of course the AI was designed off of.
14. Dating Around
Sometimes cringe-inducing but almost always fascinating, each episode of the reality show Dating Around follows one person as they go on five separate dates and decide if they click enough to go on a second one. The show prides itself on diversity: the subjects run the gamut from a septuagenarian widow to a Black, queer woman on a date with a polyamorous man.
15. Sister, Sister
You can't go wrong with the popular '90s sitcom where Tia and Tamera Mowry first got their start. As the sisters navigate high school and teenage woes, there are plenty of romantic moments along the way.
16. Maid Sama!
It's not easy being broke while attending a top tier school. Student council president Misaki has the respect of her peers, but popular boy Takumi discovers that after school she's secretly working at a maid cafe to care for her family. Intrigued by her, Takumi becomes a regular at the cafe.
17. Easy
Easy is an anthology series that explores a variety of modern relationship topics with a cast that includes Orlando Bloom and Jake Johnson. It asks questions like: how do gender roles change a couple's sex life? How important is privacy between partners? And how does parenthood change relationships?
18. Cable Girls
Set in the late 1920s Madrid, Cable Girl is a Spanish drama that starts with a con artist going undercover at a telephone company. Not only does the series explore the sexism that women faced at the time, it also features a really compelling love triangle.
This article was originally published on