Everything To Know About Abbott Elementary Season 2
Prepare for another school year.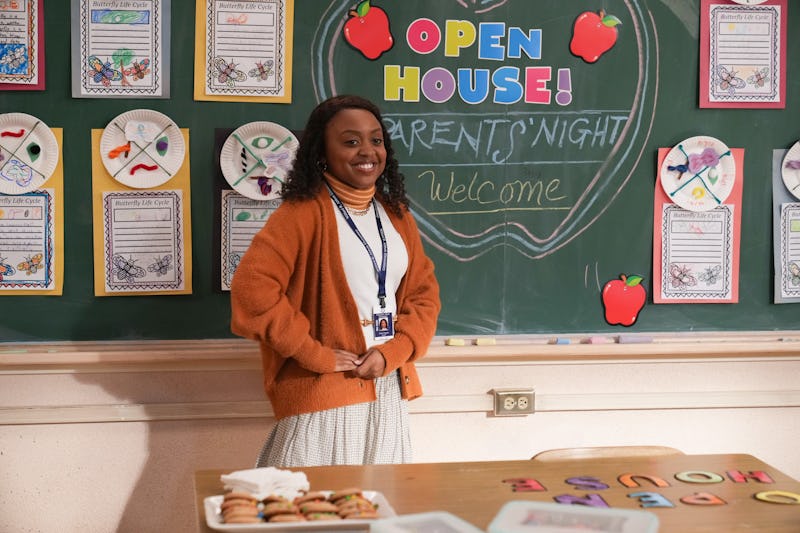 ABC/Scott Everett White
Nominated for seven awards at the 2022 Emmys, Abbot Elementary's hype has never been higher. Fortunately, you won't need to wait too long after the Sept. 12 ceremony to enjoy even more of the ABC mockumentary sitcom, created by and starring Quinta Brunson as second-grade teacher Janine Teagues. Following rave reviews and stellar ratings, ABC renewed the comedy on March 14. The announcement was made via a tongue-in-cheek memo written by school principal Ava Coleman (played by Janelle James).
Addressed to Principal Coleman's faculty and students, "aka [her] fans," the announcement was shared on Abbott Elementary's official social media accounts. Teasing the next season in the voice of the kooky character, it reads, "The camera crew I hired to showcase all that I've made happen at our beautiful school thinks I'm a star. I mean, are we surprised? No, we're not."
Continuing with the news, it reads, "It is with great pleasure that I share they'll be returning for the 2022-2023 school year! That's right — Abbott Elementary Season Two is coming to a screen near you."
Here's everything to know about Abbott Elementary Season 2, including its premiere date and which cast members are bound to return.
Abbott Elementary Season 2 Release Date
According to Principal Coleman's memo, the show is returning for the 2022-2023 school year. On June 16, ABC announced that Abbott Elementary Season 2 will premiere on September 21, 2022.
Abbott Elementary Season 2 Plot
According to Abbott Elementary's logline, the series follows "dedicated, passionate teachers" who are "determined to help their students succeed in life," adding, "Though these incredible public servants may be outnumbered and underfunded, they love what they do — even if they don't love the school district's less-than-stellar attitude toward educating children."
The first season's finale ended on bittersweet note, but one that leaves major leeway for Janine's romantic relationships come Season 2. After Janine's boyfriend Tariq (Zack Fox) gets a job offer in New York, Janine decides to break up and stay behind in Philly. Also, after witnessing Gregory (Tyler James Williams) share a sweet moment with Barbara's daughter Taylor (Iyana Halley), Janine seems a bit disappointed, setting up a potential love arc with Gregory by the next season.
According to Brunson's interview with TV Line, Janine may be headed on a "self-love journey" come Season 2. She said, "This is a young woman who needs to know herself before she can know anyone else, whether that be Tariq again, some random guy [or] Gregory. She has to take her own kind of self-love journey." Janine will also likely face some quarter-life hurdles next season. Talking to EW about Season 2, Brunson said, "I'm excited to explore Janine's growth. I'm excited to have some things thrown at her that were thrown at me when I was 25 and single."
Professionally, Season 2 will likely explore the characters' growth as educators. It's safe to assume that the public school's situation won't change all that much, especially financially, so next season will likely still follow the faculty as they navigate their personal lives, boss, and desire to make an impact on their students despite the obstacles. Barbara (Sheryl Lee Ralph), in particular, is already considering retirement. Season 2 might further explore that theme even though she resolved to stick with teaching one more year.
Abbott Elementary Season 2 Cast
As evidenced by the Season 2 teaser below, all of your favorite educators will be part of the Abbott Elementary Season 2 cast — including Janine (Brunson), Barbara (Ralph), Ava (James), Melissa (Lisa Ann Walter), Gregory (Williams), and Jacob (Chris Perfetti).
By the end of the first season, Tariq split with Janine and moved, but that doesn't mean he'll never return. In an interview with EW, Brunson teased Tariq's potential comeback, saying, "I don't want to give anything away, but I feel like we will be seeing more of Tariq in the future." Similarly, Halley's Taylor, who ends up dating Gregory by the Season 1 finale, will likely come back in Season 2.
Another recurring character, the custodian Mr. Johnson (played by William Stanford Davis), also appears to be back, and he's been promoting the show on social media.
Abbott Elementary Season 2 Trailer
A teaser for Abbott Elementary Season 2 sees Janine, Gregory, and co. strolling slow-mo back toward Abbott — set, perfectly, to Boyz II Men's "Motownphilly."
This post will be updated as more details on Abbott Elementary Season 2 are released.
This article was originally published on