Adam Levine & Behati Prinsloo's Relationship Timeline Began With An Email Chain
The couple welcomed their third child in 2023.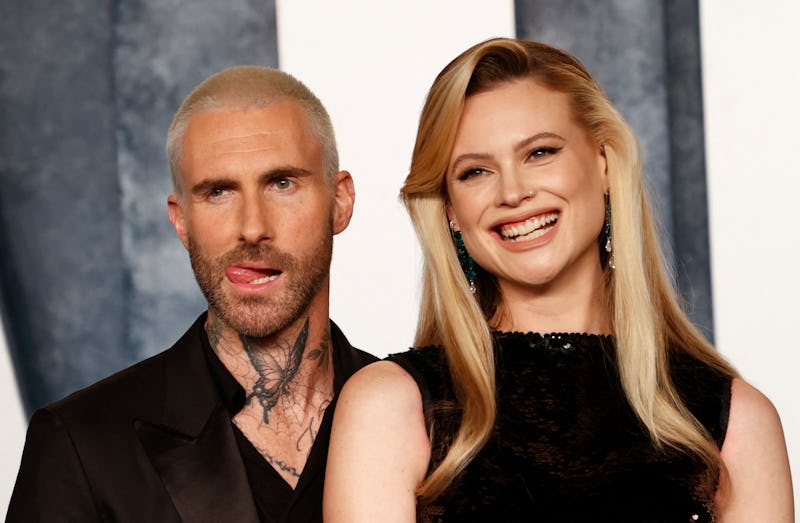 MICHAEL TRAN/AFP/Getty Images
Adam Levine and Behati Prinsloo started their love story in an unusual way — over email. After emailing back and forth for a month in 2012, they met and it was love at first sight. Since then, Levine and Prinsloo's relationship timeline shows how much they've been through as a couple.
At that point in 2012, Levine and Prinsloo were both known for their separate careers. Levine hit the big time when Maroon 5 blew up in the early 2000s with Songs About Jane, and Prinsloo has been a successful runway and Victoria's Secret model since 2006. And it was their careers that brought them together. She almost starred in a Maroon 5 music video before that other Maroon 5 video they did together in 2014.
"She makes me the best person I can be," Levine said about Prinsloo at the 2014 Tribeca Film Festival. "She's the best in the world." Years later, the sentiment remains the same. The couple reportedly had a PDA-packed night at the 2023 Vanity Fair Oscars Party.
Over the years, they've wed, had three kids, survived rumors of a scandal, and collaborated on music videos. Here's a closer look at the former The Voice coach and model's relationship timeline.
2012: They Meet & Start Dating
Prinsloo described meeting Levine through a mutual friend. "Adam was looking for a girl for a music video that could do some action stuff, and our friend was like, 'You should meet Behati because she's a total tomboy and down for anything,' so he emailed me asking if I could do it," she told Porter in 2019. "I ended up not doing it, but we kept emailing each other. It was such a natural correspondence that we kind of fell in love over email." They met in person a month later, and she says "it was love at first sight."
Levine and Prinsloo had technically worked together before this. In 2011, when Levine was dating another Victoria's Secret model, Anne Vyalitsyna, he performed at the Victoria's Secret Fashion Show. Prinsloo just so happened to be walking in the show, too.
October 2012: They Have Their Debut
As reported by Us Weekly, in October 2012, the couple attended their first event together: the GQ Gentlemen's Ball.
Spring 2013: They Split Up
Us Weekly reported in May that Levine was dating Nina Agdal "since early spring," leading fans to believe that they took a break in early 2013. Prinsloo later confirmed a split: "We broke up for two months, realized that it was the worst decision, then got back together, got engaged and got married. It was a wild ride!"
July 2013: They Get Engaged
Only a couple of months after reports about the split came out, Levine and Prinsloo announced that they were engaged. His rep told PEOPLE at the time: "Adam Levine and his girlfriend Behati Prinsloo are excited to announce they are engaged to be married. The couple recently reunited and Adam proposed this weekend in Los Angeles."
July 2014: Levine & Prinsloo Tie The Knot
After a year-long engagement, the model and singer got married in July 2014. About 275 guests attended the event in Los Cabos, Mexico, as reported by PEOPLE.
September 2014: "Animals" Music Video
In September 2014, Maroon 5 released their video for "Animals," which stars Prinsloo as a woman being stalked by a terrifying butcher played by Levine. The very creepy and very NSFW video also includes shots of them making out naked while covered in blood.
September 2016: They Welcome A Baby
Prinsloo and Levine welcomed their first daughter, Dusty Rose, on Sept. 21, 2016. They shared the news by both posting the same photo of their new baby on Instagram. "Words can't describe," the model captioned the post.
February 2018: They Introduce A 2nd Child
Less than two years after becoming parents, their second daughter, Gio Grace, was born on Feb. 15, 2018, as Prinsloo shared on Instagram. "She's got her dads toes," she captioned the picture of baby feet.
November 2019: Prinsloo Celebrates Levine's 40th Birthday
Prinsloo celebrated Levine entering a new decade with a sweet Instagram tribute. "40 is just a number, but it looks damn good on you 🥰," she wrote beneath the black-and-white photo of them. "I wake up every morning more in love with you....happy birthday to my WHOLE LIFE. You're so cool you're so cool you're so cool @adamlevine."
August 2021: A House Tour
Fans got a look inside Levine and Prinsloo's home thanks to Architectural Digest. They purchased it in 2019, and they believe it's "a genuine unicorn." The couple showed off their "perfect sanctuary" in the Pacific Palisades and explained why they chose this Los Angeles neighborhood to settle down in. "Beverly Hills just started to feel hectic. It's strangely central, so we felt surrounded by the city. We wanted to live somewhere quieter, where you don't hear the traffic and feel the stress," Levine said. "The only things we brought were the art and the bonsai trees, which are my other little kids."
September 2022: A 3rd Baby Is On The Way
Levine and Prinsloo revealed that they're expecting a third child that fall. The model shared a photo of her growing baby bump in the reflection of a window.
September 2022: Rumors Of A Cheating Scandal
Days after announcing their third pregnancy, rumors swirled in 2022 that Levine was having an affair with Instagram model Sumner Stroh. Stroh alleged that they had a physical relationship in 2021 and shared what appeared to be DMs from him.
Though Levine denied that he cheated on Prinsloo, he admitted that he did cross the line in their friendship. "A lot is being said about me right now and I want to clear the air," Levine wrote in a statement on Sept. 20, shared to his Instagram Story. "I used poor judgment in speaking with anyone other than my wife in ANY kind of flirtatious manner. I did not have an affair, nevertheless, I crossed the line during a regrettable period of my life. In certain instances it became inappropriate; I have addressed that and taken proactive steps to remedy this with my family." Prinsloo did not publicly comment on the cheating allegations.
January 2023: Now A Family Of 5
Levine and Prinsloo welcomed their third child in January. The couple has yet to share the baby's name or sex, as of March 2023.
March 2023: Oscars Party Date Night
Levine and Prinsloo made their first public appearance since cheating rumors swirled — and they did it in style. The couple debuted blonde hair when arriving at the Vanity Fair Oscars Party on March 12.
This article was originally published on