Kourtney Kardashian & Addison Rae Are Taking Their Friendship To The Big Screen
Mason Disick's TikTok influence is strong.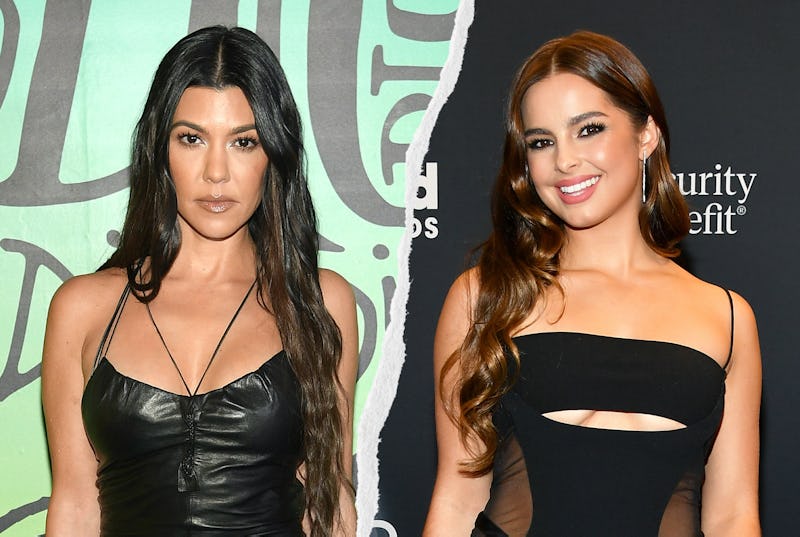 (Dimitrios Kambouris/Getty Images for Dior Men)/(Amy Sussman/BBMA2020/Getty Images for dcp)
The world of TikTok celebrities and reality stars have collided thanks to the Kardashians and one very popular TikToker. Over the past several months, Kourtney Kardashian and Addison Rae's friendship has led to collaborations, dinners out, and poolside hangs. Every time Rae and Kardashian post photos with each other on Instagram, fans wonder how these two became friends. So how did they meet in the first place?
At 20, Rae is best known for showing off her dance moves with her mom, Sheri, and hanging with other famous TikTokers. With over 50 million followers on TikTok, she's a certified social media star, but it wouldn't immediately seem likely that she and Kardashian would run in the same circles. At 41, Kardashian is a mother of three — Mason, 10, Penelope, 8, and Reign, 5 — and the founder of the health and wellness brand Poosh. Thanks to Keeping Up With the Kardashians, she's also a reality star, although that's a role she embraced less and less during the show's final seasons. But in the era of social distancing, making new friends isn't easy — unless you have a 10-year-old eager to follow in his mom's social media influencer footsteps. Here is the definitive timeline of the BFFs' surprising beginning and all the details of how their friendship keeps getting stronger.
March 2020: Mason & Addison Rae Collab On TikTok
In 2020, Mason got into social media in a big way. The 10-year-old has had two TikTok accounts (both shut down by his mom, who said he's too young to be running his own accounts just yet), and joined Instagram, where he spilled some serious Kardashian family tea during an Instagram Live before his mom and dad, Scott Disick, shut that down, too. During this time, Mason professed his admiration for Rae, and on March 10, his social media dreams came true when they did a collab on her TikTok. It seems that after filming the video, the Kardashians and the TikTok star spent some time hanging out, as reported by Elite Daily.
May 2020: Kourtney & Addison Rae Talk Workout Routines
After collaborating with Mason on a TikTok, Rae joined Kardashian for a discussion about quarantine workouts on her Poosh YouTube channel. During the chat, the reality star mentioned that the viral sensation had visited her home before, suggesting that they were already pals.
June 2020: Addison Rae & Kourtney's TikToks Start Going Viral
By June, the two had become frequent TikTok collaborators, whose reenactments of KUWTK scenes went viral. When the duo wasn't poking fun at Kardashian's family, they took time out to film dance videos. In one memorable moment, they declared each other besties as they rocked matching sweatshirts and danced to "Shoota" by Playboi Carti. By late June, the two were also popping up on each other's Instagram feeds.
June 2020: They Pose In KKW Beauty Makeup
On June 25, Kardashian shared a photo to her feed of her and Rae wearing Kim's beauty line. "Wearing @kkwbeauty Nude 8 lipstick and Nude 3 lipliner (with an after eating dinner fade)," the reality star wrote, confirming that they did, in fact, have dinner together. It was also a major win for Kim, who had her makeup modeled by one of the most famous social stars in the game.
July 2020: Dinner Date At Nobu
On July 17, the same day that Rae appeared in TikTok videos featuring Kardashian, Disick, and their kids, she was also spotted going to dinner with her reality star pal at Nobu, as reported by Just Jared. She also shared photos from the weekend hangout on her Instagram.
July 2020: Family TikTok Fun
By Saturday, July 18, Addison Rae could basically declare herself an honorary member of the Kardashian crew. In addition to dinner and the poolside hang, she shared TikToks filmed with her new pal's kids (and at least one of her nieces — it looks like North West pops up at one point).
July 2020: Addison Calls Kourtney An "Amazing" Person
On July 27, the social media influencer gushed over Kardashian in an interview with Access. "She's such an amazing person," Rae said. "I look up to her so much." It seems like the feeling is mutual and Kardashian has learned a lot from Addison as well. "It is really cool to be able to teach her a TikTok dance every now and then," the 20-year-old added.
August 2020: They Have A Tea Party
On Aug. 1, Rae shared a photo to her Instagram feed of the two stars enjoying a tea party on the water in coordinating outfits. The day before, Kardashian shared a similar photo, writing, "my husband's girlfriend and I exchanging stories" in the caption. Fans speculated about whether the caption was in response to rumors that Disick and Rae were dating. Alas, they weren't — but they did collaborate on a TikTok together.
August 2020: Addison Films A 'Day In The Life Of Kourtney Kardashian' Video
Part of being a social media star is knowing what people want to see. Fans have been desperate for an inside look at Kardashian and Rae's friendship, and on Aug. 3, the TikTok star delivered with a YouTube video where she spent a day in the life of the Poosh founder. Together, the duo worked out and ate breakfast together, which is something they do "six to seven times a week." "This is literally what we do every morning, I want you all to know," Kardashian said. "You start your day with good people, a good workout."
August 2020: Addison Gushes Over The Kardashian Family
Rae returned Kardashian's kind words in an Aug. 3 interview with E! News. "I've had such an amazing time spending time with Kourtney and meeting the family," she said. "They're all just such loving people that genuinely care about each other. That just continuously inspires me."
The influencer also said that the famous family reminds her a lot of her own. "They all have such an amazing bond that I always valued in my family," she continued, "so it really just makes me love them even more as people." And if there's one thing she's learned about the reality TV stars, it's that they're genuine people. "It's not all just for the show," she added. "It's how they really are."
August 2020: They Have A Photoshoot In The Pool
The duo might like to work out together, but they also know how to relax. Over the summer, the two hung out by the pool on several occasions — and most of the time, it turned into a photoshoot. "Picture me I picture you," Kardashian captioned one of their poolside photos. "Today is a beautiful day," Rae captioned another. Clearly, these two don't get bored with each other.
August 2020: They Go To Miley Cyrus' "Midnight Sky" Truck Together
The pair's friendship hit fans like a wrecking ball when they shared images from their visit to Miley Cyrus' "Midnight Sky" truck on Aug. 31. Both of them arrived in matching black dresses and high ponytails, and even Cyrus was impressed. "Queeeeeeen! Yasssss," the singer wrote in the comments of the KUWTK star's Instagram.
September 2020: Addison Poses For SKIMS
As you could imagine, being close friends with a Kardashian has its perks. On Sept. 1, for example, Rae shared images of her posing for SKIMS' one-year anniversary campaign. "A Year in @skims!" she captioned the post. "I always feel super confident and comfortable in my @skims, I'm so excited to be part of their 1 Year Anniversary campaign."
October 2020: Addison & Kourtney Return To TikTok
In October, Kardashian returned to Rae's TikTok for another dance collab — this time wearing masks in accordance with COVID-19 safety guidelines. In the video, the two join Rae's longtime friend Simon Huck to do the viral "Smack My Blank Like A Drum" challenge. It's clear that the viral TikToker and the KUWTK star are still close pals. After all, do you invite just anyone into your inner circle of pals?
October 2020: Kourtney's Happy Birthday Post For Addison Rae
Kardashian posted a birthday message for Rae on Instagram back in October, which featured footage from their visit to Miley Cyrus' "Midnight Sky" truck in August. The Poosh CEO wrote in the caption, "Everyone wish a happy happy birthday to this angel @addisonraee (A real friendship reel)."
November 2020: Addison Confirms They Spent Halloween Together
Addison and Bryce may have been spotted kissing in their matching Harley Quinn and Joker costumes this Halloween, but the Sway House member isn't the only one she celebrated with. According to a photo the TikToker posted to her feed on Nov. 8, Kourtney was there too — blonde wig and all. (The Instagram photo has since been deleted, since —spoiler alert — Hall and Rae broke up in early 2021. Whoops.)
November 2020: They Pose Together For Harry Hudson's Clothing Line
Well, we can now add night swimming to the list of things the duo likes to do together. In a series of photos that Kourtney shared on Instagram on Nov. 9, the two seemingly enjoyed a night under the stars. However, the post was really to promote her friend Harry Hudson's clothing line. "Joy is doubled by others and sorrow is halved by others," the caption read. "@harryhudson new merch out now, check my story for info."
December 2020: Kourtney Is Cast In Addison's She's All That Remake
Now that they've conquered TikTok, these two are taking over the silver screen together. On Dec. 9, Kardashian announced on Instagram that she would be starring alongside her BFF in the upcoming gender-swapped remake of She's All That with a photo of her "studying" her lines. According to the film's social media account, she will be playing "Jessica Miles Torres," a brand new character written specifically for the new version of the film.
April 2021: Addison Makes An Awkward Appearance On Keeping Up With The Kardashians
In a lunch that the Kardashian-Jenner family hosts for Rae (but, crucially, not Kardashian herself), the family basically grills Rae over her, um, relationship with Kardashian. Specifically, whether they're hooking up. Khloe asks, "What the f*ck do you do to make Kourtney so happy?" Kim adds, "Honestly, at the beginning, we were like, wait. Are they... hooking up? If it was like that kind of relationship." "That was the elephant in the room," adds Disick. "No we're not!!" insists Rae. "It's just very weird that that's what that impression was."
Kardashian later grills her family about the "interrogation" and says she had "better energy" with Rae (wow). She insists it's "not about age" and adds that she's not about to share details of their friendship. So... all in all awkward, but the two friends are still going strong!
May 2021: The BFFs Go Shopping Together
"shop till you drop," captioned Kardashian as the two posed in a dressing room. Were the two shopping for a photoshoot or studying lines for He's All That? Or both?
June 2021: Kourtney And Addison Take A Special Concert Selfie
Captioning the photo "kisses and smiles," Kardashian and Rae cozy up at a Machine Gun Kelly and Travis Barker concert (Kardashian and Barker are very publicly dating). Surprise, surprise, rumors that Rae and Kelly's guitarist Omer Fedi are dating start right around this time, and the pair are later snapped kissing and hanging out. It's speculated that the two may have met as early as May. Great news: they're already part of the same friend group — next up, a double date with Kardashian-Barker?
August 2021: The He's All That Trailer Gives Us A Glimpse At Rae And Kardashian
In the extended trailer for He's All That, which premieres August 27, we see a ton of footage of Rae as popular influencer Padgett Sawyer who transforms her classmate, Cameron, into an equally popular guy — but we also get a bit more detail on Kardashian's role. The trailer reveals Rae's real-life bestie as someone chatting with Padgett about Cameron's transformation, seemingly with a vested interest in the results. Fans are super excited to see the duo act alongside each other, especially considering it's Kardashian's first acting role ever.
Rae gushed about working with her best friend, telling E! News' Daily Pop that "Kourtney is amazing. She really did her part and studying her lines. She was nervous too, and so was I, but we worked together, read our lines together as much as we could and she went in there and did her thing and I'm so proud of her."
This article was originally published on