Adele Dished To Oprah On Her Relationship With Rich Paul
Oprah had Adele blushing about her boyfriend during their interview.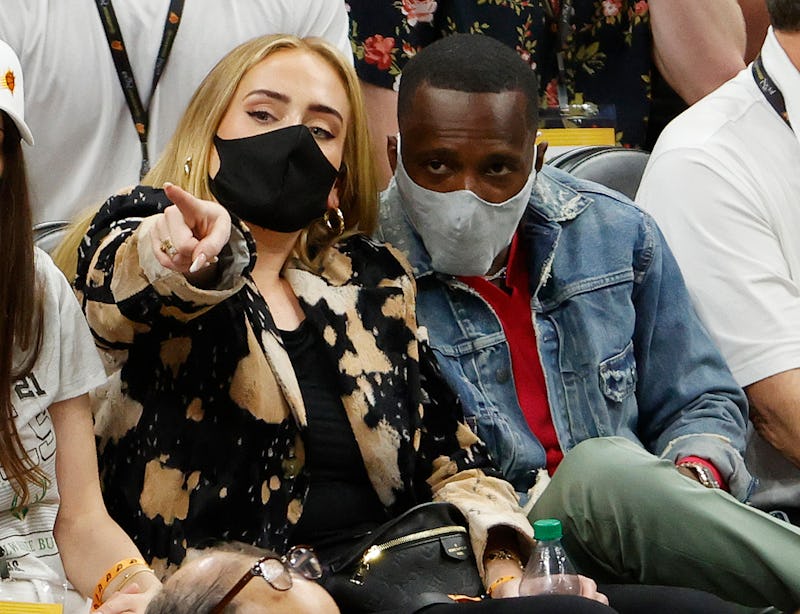 Christian Petersen/Getty Images Sport/Getty Images
Send your love to Adele's new lover, because the Grammy Award-winning singer-songwriter and her sports agent boyfriend, Rich Paul, are in a great place. The musician blushed as she spoke to Oprah Winfrey about him during the CBS special Adele One Night Only on Nov. 14 but still opened up about what's different about their relationship compared to her previous ones. A lot of it is the work she has done on herself, but he sounds wonderful, too.
Though Adele already "opened up [her] soul," according to Winfrey, in her new album, 30, the legendary talk-show host didn't hesitate to find out more for fans. Their conversation reached back to Adele's childhood, and she admitted that she spent years trying so hard to be loved because she didn't get that from her father growing up. Eventually, during her marriage to Simon Konecki, she realized she need to work on herself. That labor is now bearing fruit, as Adele told Winfrey that her relationship with Paul is the first in which she loves herself.
She did say that part of it is "just timing," but the "Easy on Me" singer also had high praise for Paul. "He's just hilarious," she said. "Very smart." Another aspect that Adele loves is "the easiness of it," she explained. What she really wants is to have "peace of mind and stability." Kids aren't off the table, either. She told Winfrey earlier in their conversation that she'd be open to more but would also be fine if her son, Angelo, was her only child.
It turned out that Paul was there to see Adele blush over him in person. On the day the special aired, he posted behind-the-scenes photos from the day it was filmed. The first shows him with Wifrey, and then Adele appears alongside them in the second. His hashtag, #HowLuckyCanOneGuyBe, was adorable, whether it referred to him getting the chance to meet Winfrey, date Adele, or both.
The world first got confirmation that Adele and Paul were together in September. She shared her first photo with him on Instagram almost exactly two months after they sparked dating rumors by attending Game 5 of the NBA finals in Phoenix, Arizona, together. The duo had stepped out for the game on Saturday, July 17, and much of the early coverage of her attendance focused on her style and radiant smile while sitting courtside. Attention later moved to her seatmate, with speculation growing that the "Rolling in the Deep" singer was officially in a new relationship. Sportswriter Brian Windhorst fueled the fire on the ESPN podcast The Lowe Post, calling Adele the girlfriend of Paul, who happens to be the agent of Los Angeles Lakers megastar and Space Jam 2: A New Legacy lead LeBron James.
"Rich Paul brings his girlfriend to the game to sit next to LeBron. His girlfriend is Adele," Windhorst said, according to USA Today. "This is the first time that they've come out in public together. So this will be all over the tabloids, especially in England tomorrow."
At the time, no statement followed from either Adele or Paul about their relationship. (Bustle reached out to their teams for comment but did not receive a response.) However, her first public photo of the couple — discreetly place third in the Sept. 19 carousel — was worth a thousand words, especially with her heart emoji caption. In the photos, the two are dressed up for the wedding of NBA player Anthony Davis, who got married on Sept. 18, according to the UK's Metro. Adele was kind enough to showcase both the front and back of her black-and-white gown from Schiaparelli before showing off her date. Fans let her know they approved, including actor Selma Blair, who wrote that she looked "flawless."
The English singer was previously married to Konecki, and their divorce went through earlier in 2021 after they filed in 2019. Last year, she was linked to British rapper Skepta, with a source claiming things between the two were "heating up." At the time, however, she dispelled any dating rumors while hosting NBC's Saturday Night Live, taking the time to thank the cast and crew of the sketch comedy show and adding, quote, "I'm going back to my cave now to be the (single) cat lady that I am!" Now, with Paul, she's made it very clear they're not just basketball game buddies.
As Adele and Winfrey discussed, she'll find a new challenge in writing while she's happy and not heartbroken, but for both her and Paul's sake — not to mention her fans' — cross your fingers that it's not a problem.
This article was originally published on