Does Rachel Get Engaged On The Bachelorette?
Rumors are swirling about Rachel's final rose.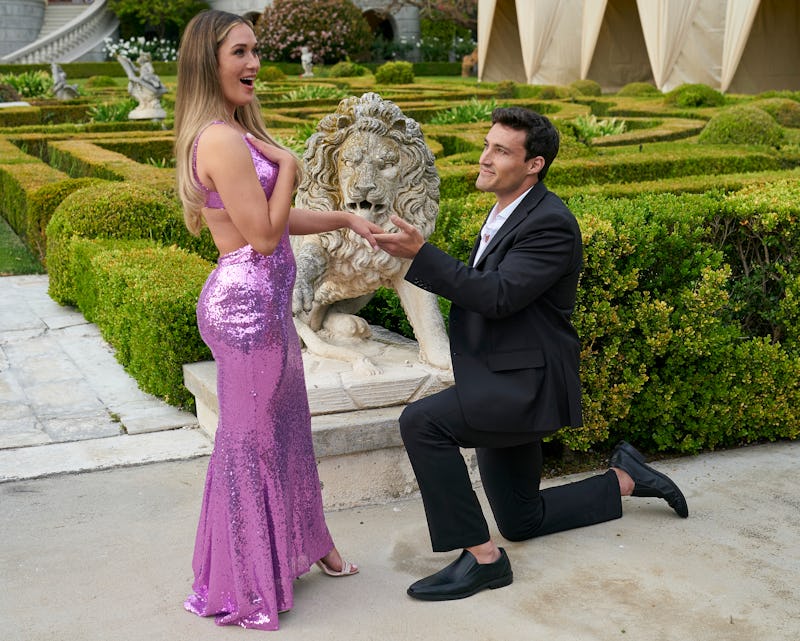 The Bachelorette's latest cycle is looking a little different than usual. Audiences are not only watching one person's journey toward love. This season, we've got two bachelorettes Rachel Recchia and Gabby Windey, the two standouts from Clayton Echard's explosive The Bachelor. With two leads, we see double the drama but also twice the romance, which may actually work out for Rachel if she truly finds her happily ever after.
Details surrounding Gabby and Rachel's season have been closely guarded. Despite speculation about their engagement statuses, I wouldn't expect Gabby and Rachel to spoil anything until after the Season 19 finale. To her credit, Rachel was a part of one of the franchise's most infamous, and unpredictable endings ever, and she managed to keep that under wraps.
However, just because Rachel is careful about giving anything away about her season, it doesn't mean fans haven't already begun speculating about her potential engagement. Rumors started to swirl back in May 2022, when Rachel posted a story of herself with her best friend and fellow pilot Nathanial Bulle fussing with a bottle of champagne. Though the duo was unsuccessful in opening the bottle with the butter knife that they were using, fans couldn't help but wonder if there was a special occasion worth commemorating. Before disappearing from her story, the video made its rounds on Reddit, causing one fan to ask, "Ohhh celebrating something?!"
While we're not able to identify the exact reason for Rachel's champagne celebration, we can at least hope that her suitors are better at popping the question than her friend is at popping bottles. (Remember Champagne-Gate?) We have a slightly clearer picture of who Rachel could end up with after Week 3. During the episode, the leads changed the rose ceremony process to put some pressure on the men to commit to either bachelorette. It allowed Gabby and Rachel to easily streamline their courtship without worrying about overlapping interests. The Week 3 rose ceremony also gave the men an option to refuse a rose — a risk taken by Termayne, Alec, and James when they rejected Rachel's offer. Despite those three rejections, Rachel was left with her own pool of bachelors: Tino, Logan, Tyler, Jordan H., Ethan, Hayden, Aven, and Zach. If the Episode 4 preview is any indication, it looks like James returns to join Rachel's group in Week 4.
Speaking of those suitors, reality TV blogger Reality Steve already leaked the identities of Rachel's final four men. According to Reality Steve's Twitter, Rachel's top four are Aven, Tyler, Zach, and Tino. There are also some more rumors afoot that center on Rachel's final two coming down to Tino and Zach. While this all remains unconfirmed, it looks like Rachel and Gabby will at least be making it to the finish line.
This article was originally published on