Amber Heard Stands By "Every Word" Of Her Testimony Against Johnny Depp
Heard spoke out for the first time after a jury ruled she defamed her ex-husband with claims of abuse.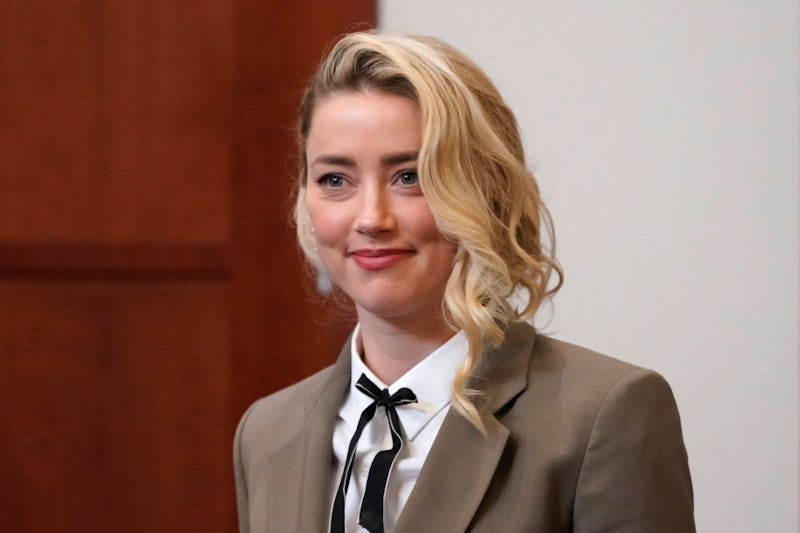 STEVE HELBER/AFP/Getty Images
Amber Heard is speaking out for the first time after a jury ruled that she defamed her ex-husband Johnny Depp. In an interview with TODAY, which premiered on June 14, Heard stated that she stood by "every word" of her testimony in court, where she accused Depp of physical and psychological abuse. "To my dying day (I) will stand by every word of my testimony," she said.
On June 1, after an intense six-week trial, a Virginia jury ruled that Depp was defamed by Heard's 2018 Washington Post op-ed, in which she called herself a domestic abuse survivor, awarding him $15 million in damages. While Depp was mostly cleared of allegations that he defamed Heard by launching an online smear campaign against her and calling her allegations a hoax, Heard was still awarded $2 million in damages after the jury agreed with her claim that a statement from Depp's former attorney was defamatory.
Speaking to Today host Savannah Guthrie, Heard spoke out about the groundswell of support for the Pirates of the Caribbean star during the trial, saying there was no way the jury wasn't aware of it. "I think even the most well-intentioned juror … it would have been impossible to avoid this," she said. "Every single day I passed three, four, sometimes six city blocks with people holding signs saying 'Burn the Witch,' 'Death to Amber.' After three-and-a-half weeks, I took the stand and saw a courtroom packed full of Captain Jack Sparrow fans who were vocal, energized." She called the experience "the most humiliating and horrible thing I've been through" and admitted she felt "less than human."
In the interview, Heard reiterated her accusation that Depp hit her, and addressed audiotapes that were presented in the trial, some of which depicted Heard being violent toward him. "It was negotiation of how to talk about that with your abuser," she said. "As I testified on the stand about this, when your life is at risk, not only will you take the blame for things you shouldn't take the blame for, but when you're in an abusive dynamic psychologically, emotionally, and physically, you don't have the resources that you or I do with the luxury of saying this is black and white. It's anything but when you're living in it."
"This is not only about our First Amendment rights to speak … It's a freedom to speak truth to power, and that's all I spoke. I spoke it to power and I paid the price."
The Aquaman star also responded to Depp's attorney calling Heard's testimony "the performance of a lifetime." "Says the lawyer for the man who convinced the world he had scissors for fingers?" she asked, referring to Depp's role in Edward Scissorhands. "I'm the performer? I had listened to weeks of testimony insinuating or saying quite directly that I'm a terrible actress, so I'm a bit confused how I could be both."
After the trial concluded, Heard spoke out against the verdict in a written statement. "The disappointment I feel today is beyond words," she wrote. "I'm heartbroken that the mountain of evidence still was not enough to stand up to the disproportionate power, influence and sway of my ex-husband." In his own response, Depp celebrated the verdict. "Speaking the truth was something that I owed to my children and to all those who have remained steadfast in their support of me," he said in part. "I feel at peace knowing I have finally accomplished that."
However, Heard said she doesn't "blame" the jury for their decision. "I actually understand," she said. "He's a beloved character and people feel they know him. He's a fantastic actor." Heard also said she "absolutely" realized why some trial onlookers wouldn't have sympathy for either her or Depp, but argued that it represented something much bigger. "I would not blame the average person for looking at this and how it's been covered and not seeing Hollywood brats at their worst," she said. "But what people don't understand is that it's so much bigger than that. This is not only about our First Amendment rights to speak … It's a freedom to speak truth to power, and that's all I spoke. I spoke it to power and I paid the price."