Johnny Depp & Amber Heard Both Reacted To The Defamation Trial Verdict
The jury's decision in the defamation case comes after a high-profile trial that lasted six weeks.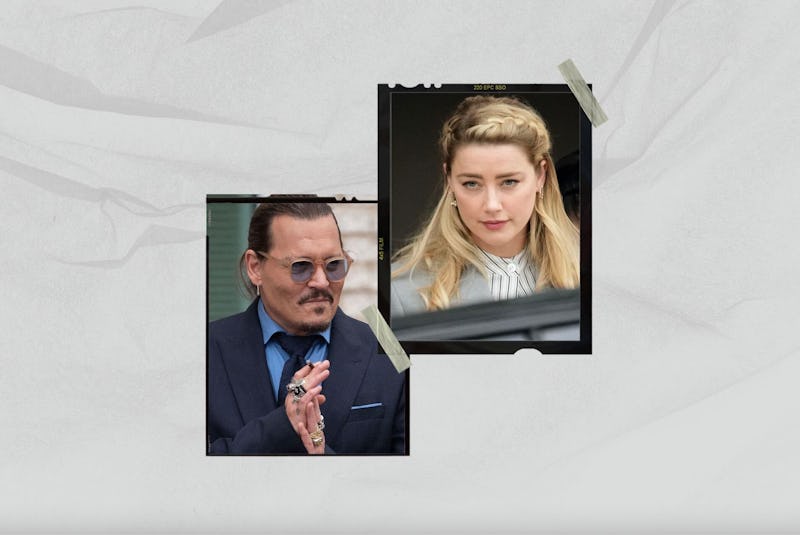 Consolidated News Pictures/Drew Angerer/Getty Images News
The seven-person jury for the Johnny Depp-Amber Heard trial reached a verdict on June 1. After the six-week trial, Depp has won $15 million in damages for his libel lawsuit in the high-profile defamation case, while Heard was awarded $2 million in damages for her countersuit against her ex-husband's former lawyer, per Deadline and The Associated Press.
The Pirates of the Caribbean star had sued his ex-wife for $50 million, citing her Washington Post op-ed in which she described herself as "a public figure representing domestic abuse," per court filings. Heard had filed a countersuit for $100 million, claiming that Depp's camp had "orchestrated a false and defamatory smear campaign" against her.
While only Heard was physically present for the reading of the verdict, both Depp and Heard reacted to the decision online. In a statement posted to her Twitter and Instagram accounts, Heard noted that she was "heartbroken" by the decision, and its implications for the future. "It is a setback," she wrote. "It sets back the clock to a time when a woman who spoke up and spoke out could be publicly shamed and humiliated. It sets back the idea that violence against women is to be taken seriously."
Depp posted his own response on Instagram to express his gratitude for the decision, writing that "the jury gave me my life back." He added that he was "overwhelmed by the outpouring of love and the colossal support and kindness from around the world."
Reactions To The Depp-Heard Verdict
Musician Ryan Adams — who, as The New York Times reported in 2019, has been accused of "abusive" behavior by Phoebe Bridgers and Mandy Moore — commented heart, praise hands, and fire emojis on Depp's Instagram post. Former Pretty Little Liars star Ashley Benson also sent supportive emojis, in addition to making a separate post about the verdict. "YESSSSS 🖤🖤🖤🖤🖤🖤," she wrote in the caption.
As Page Six pointed out, Amy Schumer may have subtly referenced the outcome in an Instagram post shortly after the verdict was read. She quoted Gloria Steinem: "Any woman who chooses to behave like a full human should be warned that the armies of the status quo will treat her as something of a dirty joke ... She will need her sisterhood." However, Schumer didn't specifically reference the trial.
The Walking Dead alum Laurie Holden celebrated the verdict.
Many celebrities seemed to voice their support for Heard or Depp via likes on Instagram. As BuzzFeed points out, Bella Hadid, Halle Bailey, Vanessa Hudgens, Jennifer Aniston, Taika Waititi, and Henry Golding were among those who liked the Pirates star's post. Selma Blair and Sarah Steele liked Heard's post, while her Aquaman co-star Jason Momoa reportedly liked both posts.
The official Twitter account of the House Judiciary GOP posted a gif of Depp's Pirates of the Caribbean character Jack Sparrow, seemingly signaling their support for the actor.
Writer Ej Dickson was disappointed in the verdict, writing Heard "had more evidence than 99.999% of domestic abuse survivors have to support her claims of abuse and a jury still found her guilty of defamation."
Several users also took to Twitter to express their disappointment with the decision.