Angelica Ross On How To Fill Your Pride With Real Purpose This Year
"I don't think folks understand the economic disparities trans people face," she says. "Actually do something for a trans person directly."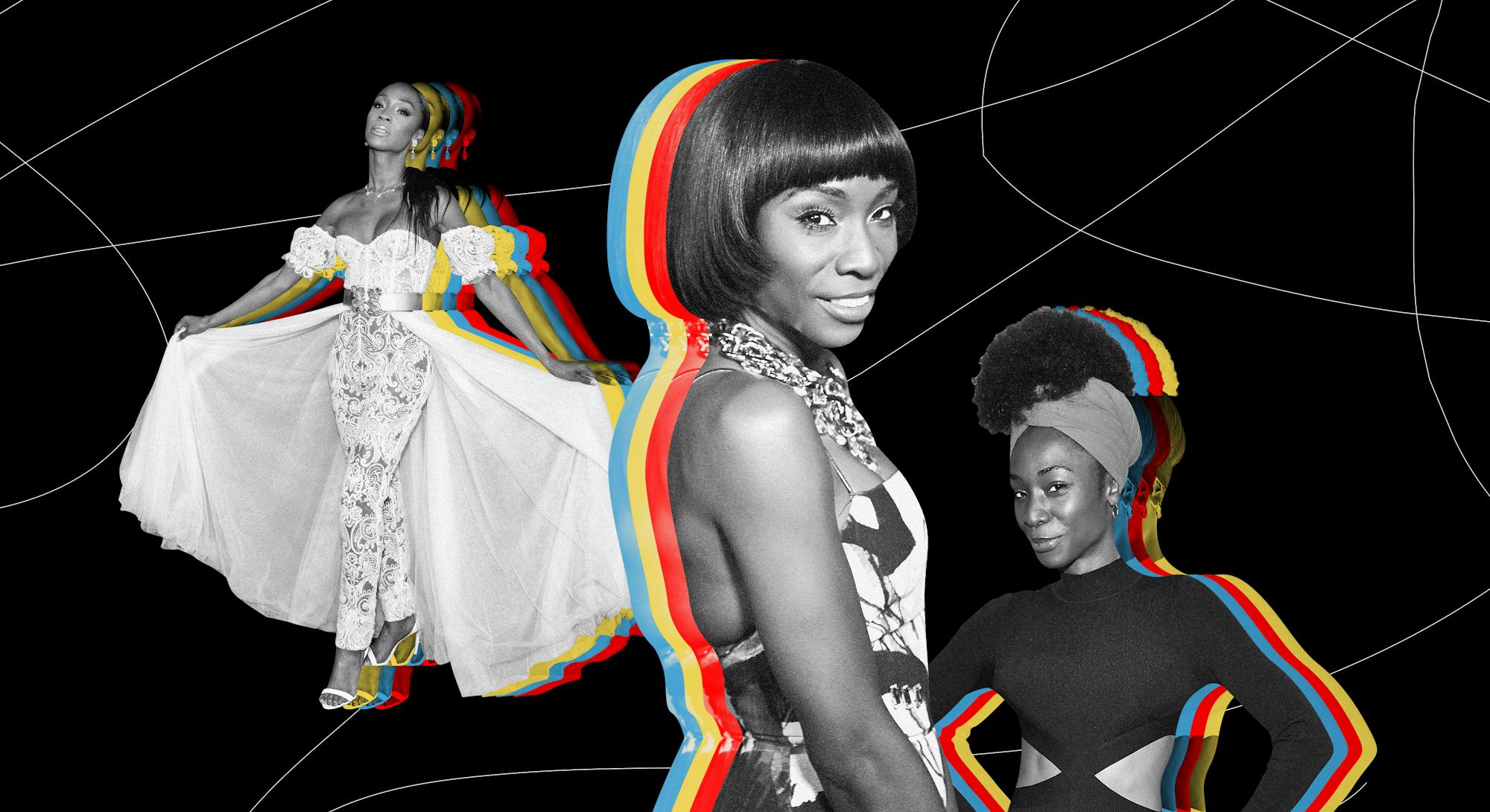 Angelica Ross is not here for rainbow washing of any sort. "I don't want to sound too blunt, but listen, during Pride season, you get a lot of lip service from a lot of companies who come in for Pride, and then they leave," Ross, who's currently filming Season 10 of American Horror Story, tells Bustle. "A lot of times, what they get out of that is just visibility. Through LGBTQ+ Pride and the parades, we see a lot of visibility from other companies, but we don't see a lot of lasting impacts."
The 40-year-old star of the groundbreaking show Pose, which just ended its three-season run, also wants to make sure transgender and nonbinary people can access the essentials they need all year long, not just during Pride season. "To be honest, I've been super frustrated," Ross says, "because I've been overwhelmed by the constant crowdfunding links I get, and seeing that people are trying to raise money for just the basic needs."
Those needs include chest binders for trans men, beauty tutorials for trans women, "or even books written by trans authors," Ross says. "I know firsthand that having Janet Mock's book or reading a book by a trans author helped me along my journey."
Matt Winkelmeyer/Roy Rochlin/Getty Images
Janet Mock and Angelica Ross.
It makes sense then that Ross would team up with Vizzy Hard Seltzer and its newly launched Vizzy Live Proudly Registry, where trans and nonbinary people can create a wish list of items for their allies and friends to purchase on their behalf. "I don't think folks understand the economic disparities trans people face," Ross explains. "I'm excited about encouraging folks who claim to be allies to basically put their money where their mouth is. Fill their Pride with some purpose and actually do something for a trans person directly." Vizzy is committing $25,000 to the National Center for Transgender Equality this year after donating $1 million to the Human Rights Campaign in 2020.
To build the registry, Vizzy partnered with four trans-owned and queer-owned businesses to develop a curated set of items, including chest binders for trans people by trans people from gc2b, Pride streetwear from FLAVNT, cosmetics for all gender expressions from We Are Fluide, and gender-neutral clothing from A Tribe Called Queer.
Who inspires me are the everyday trans women walking to the bus stop. Like the amount of courage, the amount of tenacity, and the audacity to live and exist in the face of everything they are challenged with, that inspires me ...
Looking to the future, Ross is hopeful that not only will trans and nonbinary people have access to the necessary resources, but that they won't have to continually confront bigoted and hateful policies that aim to legislate their bodies and existence. The way she sees it, white cishet men are "the only ones who seem to be able to live freely in society without laws governing their body."
"We have to finally understand that policies cannot govern our bodies like this," she says. "We have such an effort to control women's bodies and women's decisions on their bodies, [and so do] trans people. We need to get to a place of acceptance and autonomy for folks to develop and grow in whatever way feels natural for them."
Below, Ross opens up about her international goals, her favorite LGBTQ+ charities, and where she sees herself 16 years from now in 2037.
Angelica Ross Q&A
What advice would you give to your 16-year-old self?
"Don't give up on the music." Music is something that honestly has saved my life, but I almost gave up on it. When I transitioned, I did not know how to transition my music, my voice. I did not know how to keep the music going in a way. I actually started doing drag shows, and I was lip-syncing, knowing the whole time I had a voice; I just didn't know how to use it. So I would say, use your voice and hold on to the music because it's going to come in handy.
Now I have a hit single on the dance charts, "Fierce" with Ultra Naté and Mila Jam, a song that's going to be scoring Pride for so many people, calling them to be fierce and legendary. It's really a song that invites everyone to the ballroom floor to get their 10s and celebrate themselves.
Where do you see yourself 16 years from now?
Sixteen years from now, I will still be acting. I will also be directing, writing, and continually producing content. But also I will have firmly probably stepped into my role as a global leader, whatever that looks like or means. I just know that's the direction I'm headed. I'm already calling for help for the LGBTQ folks in Ghana. There were 21 folks arrested by not only the authorities, but the journalists and the media collaborated in creating this thing. They were just having a paralegal training for human rights. But they're being held without bail. I've been using my platform to try to get those folks released. Another 44 folks were arrested in Uganda. I'm also getting reports from Kenya. I also am in community with folks in Jamaica, South America, and Asia. I'm already well on my way. Obviously, I'm connected with a lot of global companies, but I just know there's more I can do, and I'm dedicated to doing that.
What are your proudest moments as a member of the LGBTQ+ community?
There's been several moments where I'm in front of another trans person. Oprah talks about an "aha moment." She loves that moment when she can see that someone gets it. For me, I love when a trans person looks at me, and I can see that they see themselves. I can see they stand up even that much taller. Or I can see they have more hope or they just feel inspired.
Where and how are you celebrating Pride this year?
I am currently on break from filming the current season of American Horror Story. I go back to work as soon as Pride Month is over. With that being known, I said yes as much as I possibly could to showing up for various Pride events. I know how much I mean to my community. I try to find every opportunity to show them exactly how much they mean to me as well by showing up in as many ways I can. And to be able to show up and to offer an opportunity like Vizzy Live Proudly Registry and say, "Hey and not only that, I've done a partnership with Vizzy where y'all can get some of the things you want and the things you need."
Who inspires you in the LGBTQ+ community?
To be honest, there are a lot of amazing Black trans folks out there doing amazing work. But to be clear, who inspires me are the everyday trans women walking to the bus stop. Like the amount of courage, the amount of tenacity, and the audacity to live and exist in the face of everything they are challenged with, that inspires me to keep doing what I'm doing — to make it that much easier.
Which LGBTQ+ charity do you love and why?
No. 1 on that list is TransTech, the organization I founded in 2014. We're an online/offline community of LGBTQ+ folks who center the most marginalized in our community. We create mentorship, networking, and job opportunities by creating pipelines of employment to companies. Every year we have a TransTech Summit, which is free to our members to be able to pick up a skill. There are workshops taught by people from our community from around the world. We're now virtual with it and last year, we had over 1,200 people log in from every continent. We had people from Africa logging in. We had Black trans women logging in from their phone in their cars, just so they can make the training.
TransTech is my heart, but there's also organizations like Brave Space in Chicago that is on the South Side of Chicago, where the girls really need the support. I believe they're the only LGBTQ+ organization and center there that provides everything from housing to food support and career support. We also have the Transgender Strategy Center, which I'm so proud of because it's led by a woman I spent years mentoring when she was homeless. [She] did not have a job and was doing sex work. I was so scared for her. Now she's managing over a million-dollar fund, and she's just so successful.