Cely & Johnny Had A Messy Breakup After Love Island
The two took shots at each other on social media.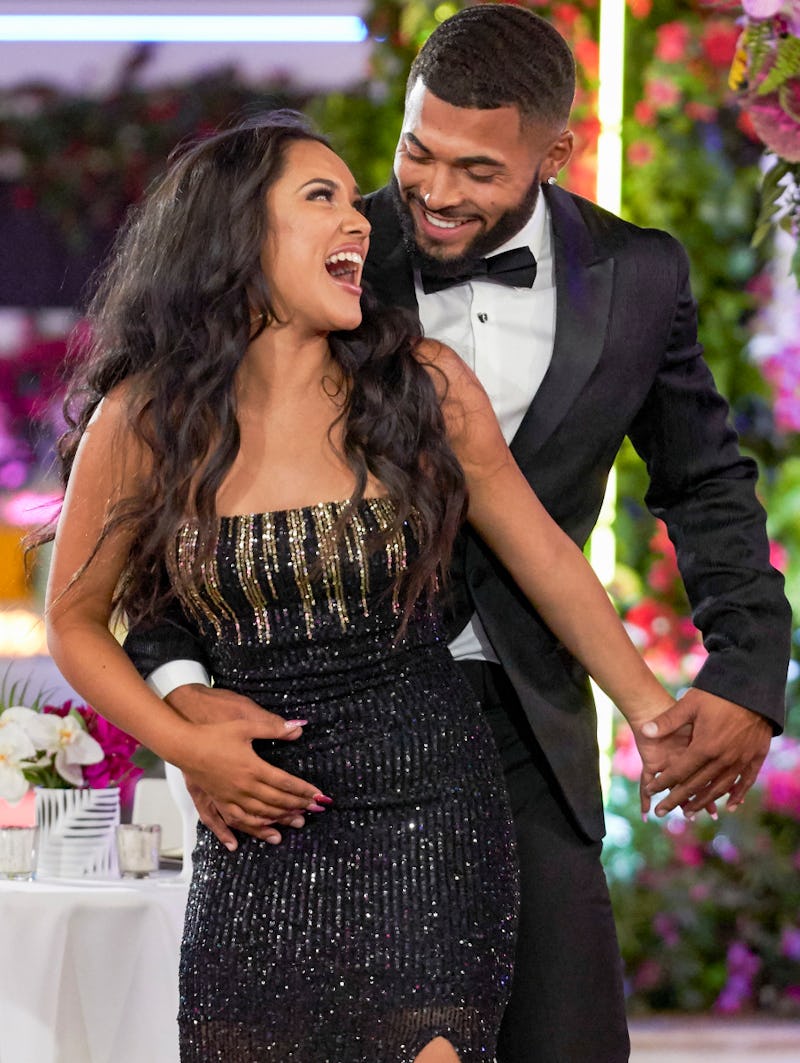 CBS
Love Island U.S. stars Cely Vazquez and Johnny Middlebrooks may have become a fan-favorite couple in Season 2, but they broke up not long after the show. "Because you've all been such a close part of our relationship, I wanted to share with you that Johnny and I are no longer together," Cely wrote in a Jan. 9 tweet, just over three months after the season finale aired. "While our relationship has been public from the start, I do ask that you respect this decision and our privacy during this time."
She added that there was "no reason" to speculate about what led to their split, writing that while she was thankful for her time with Johnny, it was "simply time" for them to each focus on their personal journeys. "I hope that you continue to support each of us individually as we move forward, heal and continue to follow our dreams," she concluded.
Per Entertainment Tonight, Johnny posted a similar message on his Instagram stories, writing to Cely that he was "appreciative of the time we spent together" and he will "forever cherish the fun we had, the laughs we shared, and the memories we created."
At the time, the breakup seemed amicable. But in the weeks that followed, Johnny took to social media to accuse Cely of misleading fans about how their relationship ended. Per ScreenRant, Johnny said in a since-deleted Instagram video that the decision to part ways was "a mutual agreement," and he was bothered that Cely was constantly implying that "something negative" happened between them. Johnny also called Cely "messy," explaining that she made a YouTube video "less than 24 hours [after mine] and the entire time she's throwing shots at me."
In a Feb. 17 YouTube video, Cely revealed when exactly the breakup happened. In December 2020, she bought both she and Johnny a trip to Hawaii for Christmas. Unfortunately, "it didn't work out. I came home early, and he stayed," she explained, laughing disbelievingly as she took a sip of wine. Still, Cely added that she was simply "trying my hardest to not be associated with that relationship anymore. I have honestly moved on, and I'm encouraging everybody else to move on with me."
This is a far cry from where the two left things in late September, when Cely told Bustle that she was "happy to have privacy with Johnny" and was "looking forward to just getting to be with him off camera," while Johnny added that leaving the Love Island villa was a "relief just because of how emotionally draining it was."
Though Cely lives in California and Johnny lives in Virginia, the two explained that they had "plans to not be away from each other for too long." Their initial idea was to "try and link up, meet up in LA," Johnny said. "Literally maybe like a week from now, two weeks from now, we're gonna be right back together."
But from the start, fellow islanders, family, and fans expressed concern about their relationship lasting long-term, given the trust issues created by Johnny's Casa Amor adventures with Mercades. Cely and Johnny insisted at the time that overcoming that obstacle made them stronger. "The challenges and everything, they were so stressful to get through, but every single time we got through them it's made me feel so much more confident in myself and in me and Cely," Johnny said. "I definitely feel really strong with her. We're definitely on the same page [about] everything moving forward, not really too worried about what people have to say."
In the end, that hurdle may have proved too hard to overcome.
This article was originally published on