Clare Crawley Was Just Spotted Wearing *Another* Engagement Ring
This one is even more massive.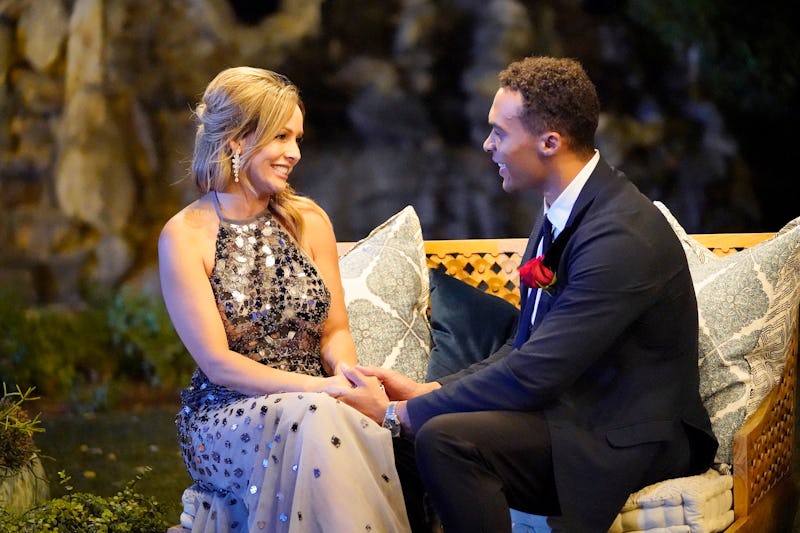 Craig Sjodin/ABC
Not only does Clare Crawley reportedly quit The Bachelorette to be with Dale Moss, she's now rumored to be engaged to him. Life & Style reported the news in August via an undisclosed source, while longtime Bachelor blogger Reality Steve wrote earlier this month that he thinks they're engaged but hasn't gotten any official confirmation.
Adding further fuel to the fire, Clare was spotted wearing a diamond ring on her wedding finger last month. She later took to Instagram with an explanation, writing that it's a "commitment to myself first and foremost, to embody self-love" and to make sure that "no matter what happened, I was committed to loving myself unconditionally, and that is something no man could take away from me." Which could very well be true...except that ahead of The Bachelorette's Nov. 5 episode, she was photographed wearing another, more massive diamond ring.
As pointed out by Entertainment Tonight, it's definitely a different ring than the one she was seen wearing before, which is a cluster of smaller jewels instead of one large one. Clare hasn't addressed the new pictures, but she's been pretty clear throughout her Bachelorette season that she's interested in Dale and Dale alone. "It was one of those intangible, goosebumps all over the body [things]. Like, what just happened?" she told ET of she and Dale's first meeting, after which she remarked that she'd just met her husband. "I had never felt it before, and I never even knew what to expect with those feelings. When you have not experienced it or felt it, you don't know if it exists, but when you feel it, you know exactly what that feeling is."
Clare declined to tell ET whether or not she's engaged after the show, but she did tease that she's "very happy," and she's continued to gush about her connection with Dale. If he doesn't pop the question on the show, he very well may have since filming ended.
This article was originally published on