Clare Crawley & Dale Moss Are Reportedly Engaged Again
"They decided to give their relationship another shot," a source revealed.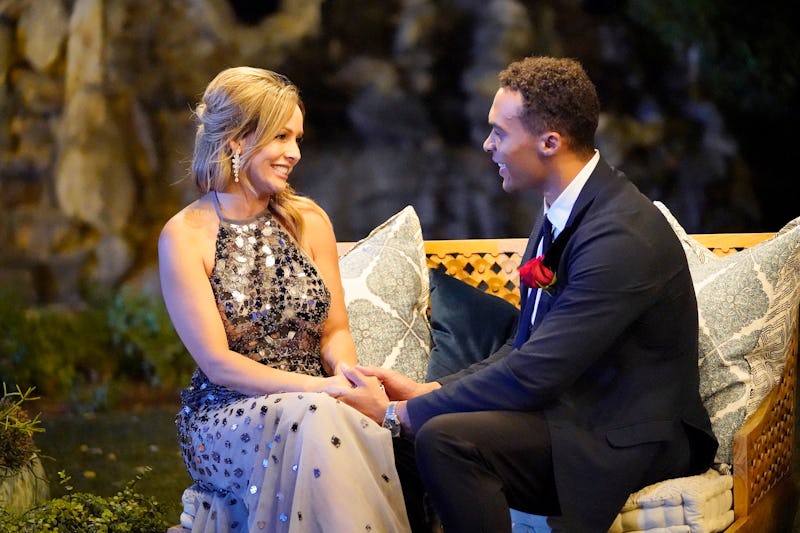 Craig Sjodin/ABC
Dale Moss and Clare Crawley's rocky relationship is officially no longer on the rocks — and there's a ring to prove it. According to E! News, the former Bachelorette couple's engagement is back on roughly six months after Moss took to Instagram to publicly announce their split. "They are engaged again, but a second proposal did not happen," a source close to Clare told the outlet. "Clare has been wearing her ring for months and put it back on once Dale stepped up and they decided to give their relationship another shot."
"It's more of a promise and commitment from Dale and there's no wedding planning at this time," the insider continued. The source added that the duo had a serious conversation about their future roughly a month ago and "decided they wanted to be engaged again," but there aren't any further details at this time. "They aren't rushing anything and aren't even living together permanently yet," the insider said. Bustle has reached out to Clare and Dale's reps for comment and will update this story if we hear back.
As die-hard fans of the hit reality series know, Clare and Dale fell for each other hard on Season 16 of The Bachelorette. In fact, they were so into each other that Dale proposed to the 40-year-old hairstylist on the fourth episode of the season. Franchise alum Tayshia Adams took over the season from there and got engaged to contestant Zac Clark on the season finale. But a few weeks after Clark and Adams' engagement aired, Moss revealed on social media that he and Crawley called off theirs.
"I wanted to share with you all that Clare and I have decided to go our separate ways," the former football player wrote on Instagram on Jan. 19. "We appreciate the love and support we've received from so many people, but this is the healthiest decision for both of us at this time. We strongly believe in leading with love and always remaining true to oneself — something our families have taught and instilled in us throughout our lives. We only hope the best things for one another."
Two days later, Clare claimed that she was totally blindsided by Dale's announcement. "I was made aware of a 'mutual' decision at the same time you all were, so I've needed some time to really digest this," she wrote in a lengthy post on Instagram. "Speaking for myself, my intentions for this relationship have always been very clear, so the truth is that I'm crushed." Unfortunately, the drama didn't end there; the 32-year-old athlete returned to Instagram a few days later to say that their broken engagement "didn't come out of nowhere."
"I know a lot y'all have seen me smile on social media and say I don't seem as hurt or burdened by this, but that's the farthest thing — like, this time sucked," the former reality TV contestant said on Monday, Jan. 25. And after thanking his family and friends for their unwavering support, Moss explained that the breakup was made even harder because of the media. "The media will take things and run with them," he said. "People will spread lies or always want to point fingers, but the fact of the matter is there's no one person to blame in this situation."
Despite all of the attention and negativity that followed the couple post-show, the pair sparked reconciliation rumors just one month later when they were spotted out and about together in Florida. "They were all smiles," an insider told E! News at the time. "They seemed like they were having a good time. It was just the two of them." Ever since, the two have been photographed looking quite cozy. Not to mention, they're all over each other's respective social media pages.
On July 4 weekend, Clare shared a patriotic photo of her and Dale to her Instagram feed and reflected on the ups and downs of the last year. "Happy 4th of July!!!" she wrote. "This exact day/time last year I was packing my car and heading out solo to Palm Springs… What a difference a year makes!" In the comments, Dale wrote, "Almost a year ago today I was able to hold you in my arms for the first time." "It was magic baby," Clare replied. Clearly, these two are still smitten a whole year later.
This article was originally published on