Jackie & Marshall Broke Up After Josh Returned To Love Is Blind
She doesn't "regret anything" that happened.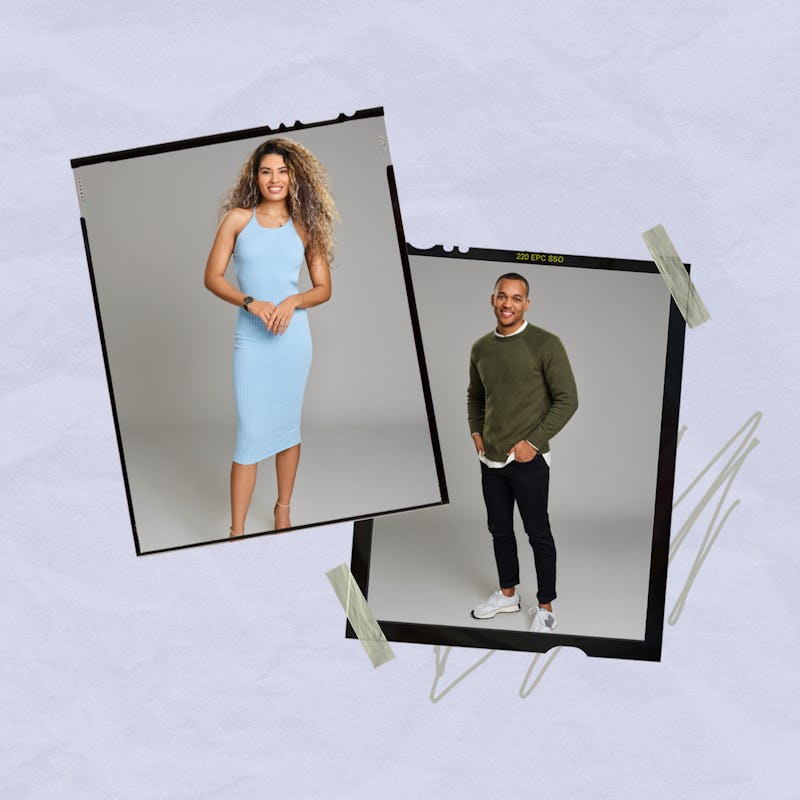 Netflix
At one point during her time in pods on Love Is Blind Season 4, Jackelina "Jackie" Bonds was "really conflicted" about choosing Marshall Glaze or Josh Demas. When Marshall refused to let the 27-year-old certified dental assistant go without a fight, though, her mind was made up. "I did not want to see Josh after that because Marshall is just the better choice for me," she explained on the show. "He's gonna help me grow. He is emotionally available. He's able to handle my spiciness, my attitude. He knows how to basically make sure that I'm feeling good and solid, and any single time there's doubt. So I'm gonna have to really boss up if I'm gonna be with Marshall."
After Jackie accepted his proposal and they met face-to-face for the first time, Marshall gushed that she was everything he could have imagined "and then some." The honeymoon continued in Mexico, where they decided to "seal it" and have sex for the first time. "It was good. That connection made it that much [deeper]," Jackie told her fellow engaged female cast members, joking that she was sore after being "put through the wringer." In fact, spending time with the 27-year-old marketing manager was the "best part of being in Mexico," she said.
Upon returning to Seattle, Jackie and Marshall's relationship shifted, however. She told Marshall he needed to "boss up" and be more "aggressive" in the bedroom, prompting him to leave for several days. Upon returning to their shared living space, Marshall found Jackie packing her belongings, but, after an intense argument the scene ended with them tearfully hugging it out. Still, the marketing manager didn't know where they stood when he arrived solo at co-star Chelsea Griffin's birthday party, which took place just 10 days before their wedding.
In a plot twist, Jackie's other pod love interest, Josh Demas, showed up at the party, where he confessed his feelings for Jackie and asked her to leave Marshall and choose him, instead. Though she didn't give him an answer then, her decision became clear when she didn't show up to the cast wedding dress fitting. Instead, Jackie and Josh met up, and she told him that her "biggest regret" was choosing Marshall over him, she could see herself marrying Josh, and wanted to "see where things go" with him.
In a final conversation with Marshall, Jackie explained that he was too emotional for her and that she couldn't love him because of her attraction to Josh. Though an emotional Marshall asked for her engagement ring back, she refused, and they had a cold parting. "Jackie, the woman that presented herself to me in the pods, that's the Jackie that I love," he told producers. "This Jackie, the deflecting, the gaslighting, the deceitful Jackie, I don't know who that is, and, apparently, that's the real Jackie. I wish her nothing but the best. And if that's with Josh, do your thing. Good luck."
Jackie, for her part, said she was "not sorry" she couldn't be with Marshall, and that she might need to "do some self-work." Though she teased in a pre-premiere interview with Bustle that viewers "need to just tune in and find out" if she and Josh got together after Love Is Blind, she felt she made the right decision in breaking up with Marshall.
"There were some things that were kind of rocky, but I don't regret anything with the relationship with Marshall at all," she said, explaining that the social dating experiment taught her a few things. "I learned that I need to just give myself grace. I am the type of woman that I have to know what all the steps are gonna look like and how I'm gonna get there. And that's not how life is. That's not the way the good lord wanted life to be. So I have to give myself grace and understand that things go one step at a time, and you can't rush that process."
On Instagram, Jackie hasn't offered many clues about her current relationship status, but some of her post-filming photo captions seemed to hint that she's single. "You know I got it if you ever need it," she wrote, along with a series of bikini photos in August 2022, adding, "Call me later when you all alone" to another post the same month. However, a TikTok user spotted Jackie and Josh together at a Seattle Mariners game in early April 2023, so there may be an update when the Love Is Blind live reunion airs on April 16.
Marshall, for his part, hasn't been particularly active on social media but seemed to have a bright outlook in June 2022, months after Love Is Blind wrapped. "Sunshine brings the best out of everyone," he captioned one Instagram post, crediting Brett as the photographer. While celebrating his 27th birthday in September, he also remained positive, writing, "Sometimes you just have to talk to that man in the mirror. 27 will be one for the books! Onward and upward."
This article was originally published on