BiP Couple Joe & Serena P. Are Reportedly Making A Big Move
The couple has been splitting time between Toronto and Chicago but have set their sights on the East Coast.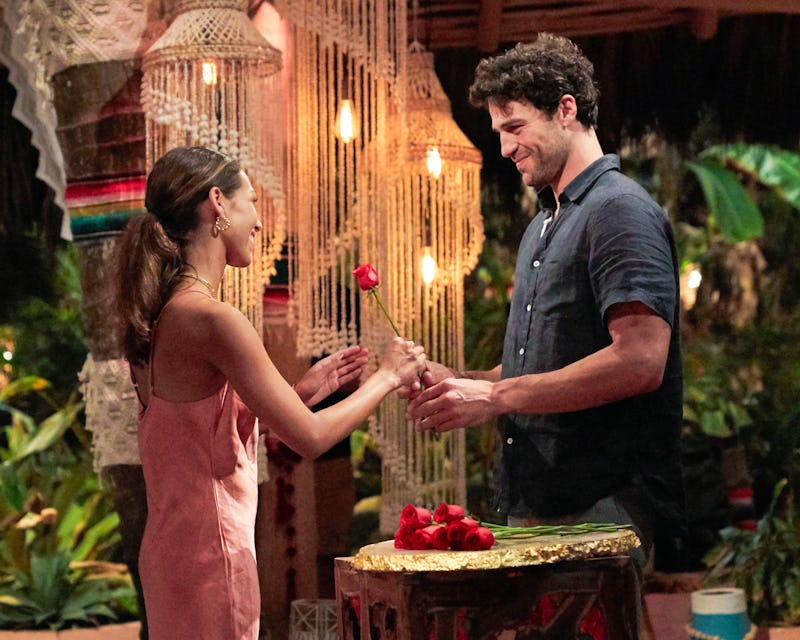 Craig Sjodin/ABC
Grocery Store Joe found love for a second time on Bachelor in Paradise. In the Season 7 finale, the 35-year-old Chicagoan — whose real name is Joe Amabile — got engaged to 23-year-old publicist Serena Pitt, a contestant from Matt James' season of The Bachelor.
"In all honesty, I really didn't think I'd find love again [when I came back to Paradise]. And then I met you," Joe said before proposing. "It happened fast, faster than I thought. But at this point, I don't see myself not wanting to wake up with you by my side. When I think about forever, it's scary. But when I think about it with you, it feels right."
Serena, in turn, said she'd been feeling skeptical about love heading into Paradise, but was now "head over heels" for Joe and falling more in love with him every day.
After the episode, both Joe and Serena posted sweet Instagram tributes to each other. Serena captioned two photos of them, "And it's only the beginning," while Joe simply wrote, "My everything."
Since then, the couple has continued to deepen their relationship. "We were in paradise and we still are. Honestly, it gets better and better every day," Joe told Stylecaster in early November, adding that he's relieved to be able to date Serena in public. "It's nice now to go to a restaurant and be a regular couple. When the show was going on, you're in your own little quarantine, so you don't want anyone to see that you're together. It was nice to watch the show together and go through the entire experience knowing that we did have a happy ending."
At the time, Joe and Serena were splitting time between Toronto and Chicago and still deciding where they wanted to settle down. "Serena and I talked about where we wanted to live at the beginning of Paradise and we kept having those conversations," he said. "We both want to be on the East Coast. We're on the same page." A fan later claimed they ran into Joe and that he confirmed he and Serena were moving to New York City next year, but the couple hasn't made any official announcements.
Location was a major factor in Joe's relationship with ex Kendall Long, who he met on Bachelor in Paradise in 2018. Though Joe moved to Los Angeles during their two-year relationship, he ultimately decided he want to go back to his hometown of Chicago, while Kendall wanted to stay in LA. This issue arose again when Kendall arrived in Paradise. She told Joe that it was difficult for her to not have him be a part of her life and reminded him that they only broke up because of "logistics," not because they fell out of love. It seemed for a moment that this could sway Joe away from Serena, but he actually pushed back and told Kendall she was skipping over crucial details. Kendall was just as unwilling to move to Chicago as Joe was to LA, and it became an insurmountable issue.
In the end, Kendall eliminated herself from the show in Week 6 after deciding it was too much for her to watch her ex fall in love again. Joe bid her farewell and said that though he "loved how [they] used to be," he now considers her just a friend. Kendall later returned right before Joe proposed to essentially give him her blessing, but Joe said on the Bachelor Happy Hour podcast that he didn't think it was necessary. "Her coming down at the end... I was like, 'OK, at this point, I don't really care what you have to say. In the nicest way possible, this is just not the time."
As far as wedding plans, Joe and Serena are taking it slow. They said on the Bachelor Happy Hour podcast that they expect to have a "mid-range" engagement and are in no rush to walk down the aisle, but are confident in the fact that they want to be together. "We want to just date, live together, and then marriage will come down the line," Serena said.
This article was originally published on