All The Proof That Kim Kardashian & Pete Davidson's Relationship Is Seriously Heating Up
The comedian was reportedly spotted walking out of the Skims founder's hotel after "spending the night"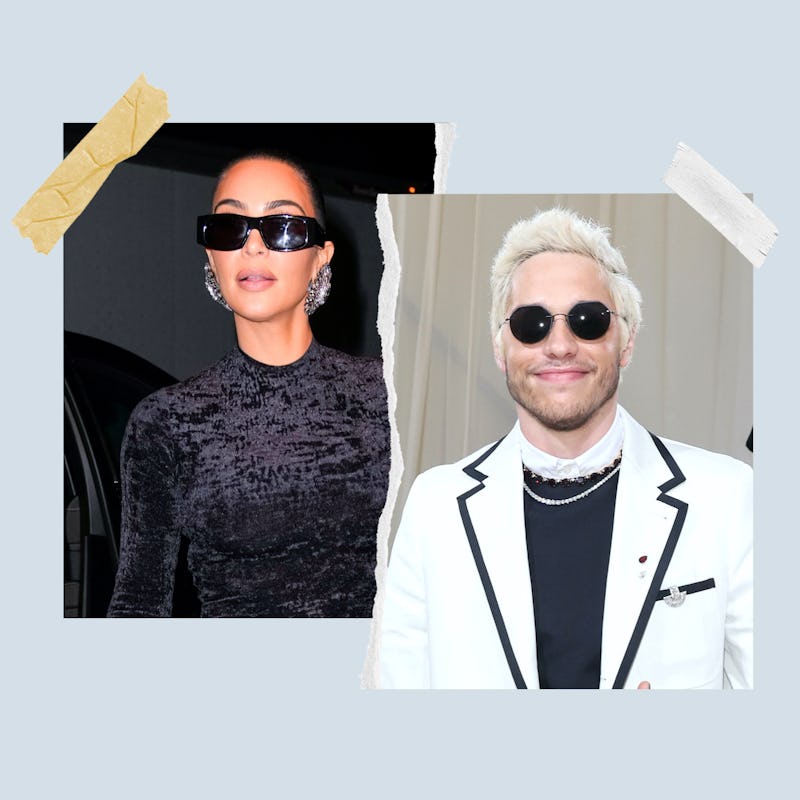 (Gotham/GC Images/Getty Images)/(Taylor Hill/WireImage/Getty Images)
If your relationship radar went off when Kim Kardashian and Pete Davidson were spotted holding hands on a roller coaster in October, your instincts were correct. After a visit to Knott's Berry Farm, several date nights in New York City, and a rooftop dinner in Davidson's hometown, it was reported that the reality star and the comedian are "casually dating." And the latest reports suggest that things are heating up rather quickly.
On Dec. 18, the duo reportedly hit up a Staten Island movie theater for a screening of Spider-Man: No Way Home with Scott Disick and a few other friends. A few days later, Daily Mail reported that the comedian walked out of Kardashian's hotel in New York with "an extra pep in his step" after reportedly "spending the night." Kardashian was also spotted exiting Davidson's Staten Island condo, proving that they've been spending a lot of time together.
In addition to time, it seems they may also be spending a lot of money on each other. After their weekend in New York, Kardashian and Davidson reportedly jetted back to Los Angeles and enjoyed an early morning breakfast at the Beverly Hills Hotel on Tuesday, Dec. 21. Later that day, the comedian was spotted leaving a jewelry store with several shopping bags before getting into the reality star's Rolls-Royce.
It seems that the Beverly Hills hotel might be one of their favorite spots. On Nov. 27, Dutch music journalist Paul Barewijk told People about his random run-in with the new couple at the hotel, which he documented on social media. "All of the sudden I looked to my right and saw Pete Davidson," he told then magazine. "I talked further with my mom and then I thought, 'Who is he talking with?' Because I know the latest dating rumors. And so, it was Kim Kardashian!"
Barewijk also managed to take photos with the couple, despite the pair's best efforts to keep their budding relationship low-key. "I asked her for a photo. She said, 'Okay, sure,' and I asked Pete to take the photo. So he did," the journalist revealed. "We took two photos." He also asked Davidson for a photo. "I told him that people in The Netherlands like him because of SNL, so.. selfie? He took it!" Barewijk recalled.
According to Daily Mail, Kardashian and Davidson enjoyed a romantic date night at the Italian restaurant Giorgio Baldi in Santa Monica, California, on Sunday, Nov. 21. Not only were they spotted holding hands and laughing in the Saturday Night Live star's Lamborghini, but Davidson also appeared to have a hickey on his neck as he walked Kardashian to the car. This update came roughly one week after People reported that the reality Skims founder threw the comedian a birthday party at Kris Jenner's Palm Spring home.
While it remains unclear who exactly was in attendance, rapper Flavor Flav shared a few photos from Davidson's 28th birthday celebration on Instagram. "Celebrating my adopted son Pete Davidson's birthday wit the legendz @kimkardashian and @krisjenner," he wrote alongside a photo of him posing with the trio, who matched in brown flannel pajamas. The photo marked Kardashian and Davidson's Instagram debut.
In case the hickey and the hand-holding weren't a dead giveaway, Kardashian and Davidson's relationship appears to be heading in the right direction. On Nov. 19, a Page Six source reported that the Keeping Up With the Kardashians star is "constantly giggling" whenever she's with Pete. "She's acting like a teenager," the insider continued. "Pete has made her feel like the clock has moved 20 years back. She seems happy."
A few days earlier, a source told People that "even when they are on different coasts, Kim and Pete stay in touch." "They are getting to know each other better and getting along great," the insider said. The source also revealed that Pete is good at lifting Kim's spirits. "Kim loves his spark," they added. "He is very funny, entertaining and makes Kim happy. They are still dating and enjoying it. He showers Kim with compliments and she loves it."
The magazine's report came less than two weeks after a source told Entertainment Tonight that the two were "casually dating and seeing where things go. Per ET's insider, "Pete is really into Kim and excited about her. Kim likes Pete as well, but isn't rushing into anything serious." On Nov. 10, however, a source told Us Weekly that the KKW Beauty founder "is falling for" Davidson and that they have "such an easy time" together. "He makes her feel good and she's excited to see what happens," the insider said.
Us Weekly's source also mentioned that Kim is always "smiling and excited" after spending time with Pete and that her family and friends are thrilled to see her so "fun and free" amid her divorce from Kanye West. But according to ET, West is a major concern. The KKW Beauty founder has reportedly "been protective of Kanye and has been trying to keep her hangouts with Pete low-key, because she doesn't know how he will react." Bustle reached out to Kardashian and Davidson's reps for comment and will update this story accordingly.
The relationship rumors first began on Friday, Oct. 29, several weeks after the former Keeping Up With the Kardashians star hosted Saturday Night Live. The two were reportedly spotted at Knott's Berry Farm in Buena Park, California, with a group of friends and they rode many of the attractions together. Kourtney Kardashian and her new fiancé Travis Barker were also in attendance, but the real thrill of the evening was that Kim was photographed holding hands with the SNL fave on one of the rides.
Kardashian and Davidson further fueled speculation when TMZ reported that they went for a "secret dinner" at Campania on Nov. 2, which is said to be the comedian's favorite restaurant in his hometown of Staten Island. "Pete arranged a dinner on the rooftop privately," a source told Page Six. "It was just the two of them." The following evening, they were spotted out to dinner again at Zero Bond in New York City and were joined by a few friends.
Before their multiple dinner dates, a source told Us Weekly that Kardashian and Davidson were "just friends." But alas, things have certainly changed. On Monday, Nov. 8, Davidson teased the relationship rumors during an appearance on Late Night With Seth Meyers. For a second, it seemed like he was going to confirm their romance on national TV.
"I've been wanting to talk about this because there's a lot of people I walk by, people are like whispering and making eyes at me. But it is true," the 27-year-old said. "I do have a show on Tubi coming out. The Tubi. A lot of people are shocked that I could get on a show like Tubi, but it's a real thing." His animated series, The Freak Brothers, premiered on the streaming platform on Nov. 14.
This article was originally published on