Love Island Couple Kyra & Will Have Called It Quits
"I am single and have been working through the stages of heartbreak and healing," Kyra wrote in an Instagram Story.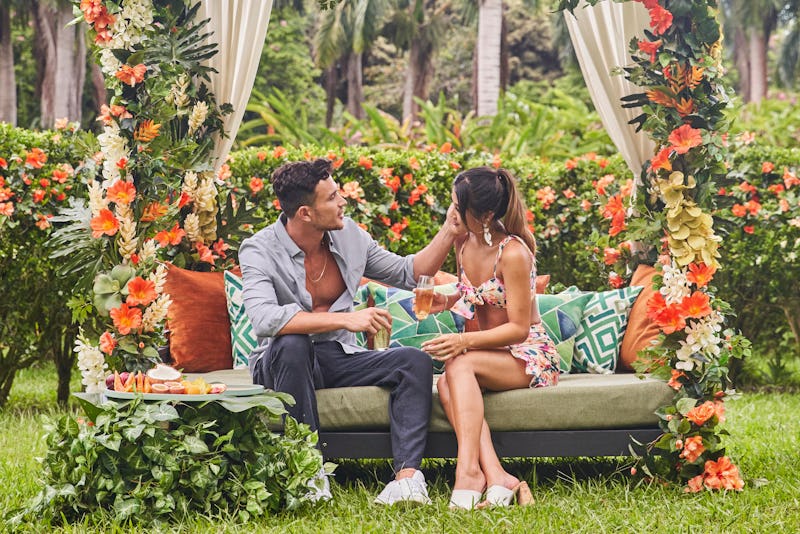 Sara Mally/CBS
Love Island US couple Kyra Lizama and Will Moncada have ended their relationship. "There has been a lot of speculation regarding my relationship status recently. I have been taking time for myself, until I was ready to make things public," Kyra wrote in an Instagram Story posted on Dec. 1, per People. "I feel that I owe you all an explanation because I would not be where I am without the Love Island supporters."
She then confirmed that she's single and has been "working through the stages of heartbreak and healing," adding, "There are no words to explain how grateful I am for the love and support I've received since certain instances have come to light. Love you all."
Will has yet to comment on the breakup, but it appears the split happened within the last month. Will posted photos of him and Kyra together as recently as Halloween, when he shared a series of pictures of them dressed up as Vincent Vega and Mia Wallace from Pulp Fiction alongside some of their Love Island castmates. Kyra also shared shots of her and Will together from the night on her own page.
Earlier in November, Will shot down rumors that they'd parted ways. "Yes, we're still together. We're just [in a] very chill relationship. We're not, like, on top of each other. We give ourselves time," he said during an Instagram Live for the dating app S'more Date. He later added that he and Kyra were, "100% exclusive."
Will and Kyra met during Season 3 of Love Island US and quickly paired up. For a time, they seemed like one of the strongest couples on the show, but they weren't without their problems. During Casa Amor, Will explored a connection with Florence "Flo" Mueller. He ultimately realized that he wanted to stay with Kyra and explained what had happened after choosing her in the recoupling ceremony, but the time away had only solidified Kyra's feelings for Will and she was hurt. She accepted his apology and swiftly moved on, but during a later game in which the cast read tweets from fans, one viewer suggested Kyra "forgave too quickly" and was going to "be embarrassed" once they left Hawaii and she watched the show back. "I wonder how long it'll take him to cheat once they're not in the villa…" another person tweeted.
Will defended himself, insisting he'd already told Kyra "100% everything that happened" and that there wouldn't be any surprises when she saw the footage. She obviously wasn't phased — at least significantly enough to break up with Will — as the two remained together after the show aired. However, it isn't clear what Kyra meant by the "certain instances" that "have come to light" she alluded to in her statement.
On the show, Kyra expressed having trust issues from past relationship, admitting that she "fully lost" herself while dating an ex. "I didn't even know who I was," she told co-stars Trina Njoroge and Olivia Kaiser. "But sharing all that with Will is how I know what we have is so strong because the way he connects with me on such a deep level that I'm able to share all of that with him."
Olivia and Trina saw it differently. When Olivia later noted that Kyra was "losing herself again" to another guy and not changing her past dating patterns, Trina agreed, adding that she was worried Kyra "might get her heart broken" and that it wasn't "looking good." During their frank chat, the women explained to Kyra why they were "skeptical" about Will and didn't trust him. Olivia also opined that Kyra was more into Will than he was into her, and that she wasn't even sure he wanted a girlfriend.
At the time, Kyra said, "All that matters is what we think of each other and what we have" and that they were "both very excited for what the outside has to hold." Unfortunately, what the outside world had to hold was a short-lived relationship.
This article was originally published on