Everything To Know About Love Island US Season 3
The cast includes a budtender, pandemic relief worker, and psychiatric nurse.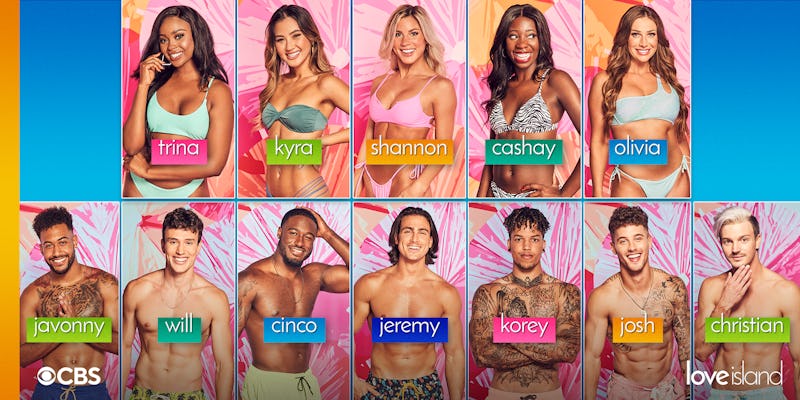 CBS
The latest season of the original Love Island UK just began airing this week, but if you simply can't get enough of the romance and drama, don't worry. Love Island US is about to return to CBS for Season 3, and the network has just announced the season's first 12 contestants. Just like previous rounds of the show, the Islanders of Season 3 will enter a villa where they're cut off from the outside world, can only contact each other, and are placed under constant video surveillance. Then, they'll have to couple up based on first impressions and must remain in pairs to survive the competition — or else they'll be replaced by a new contestant. At the end of the season, half of the winning couple will be given $100,000 and choose whether to keep or share it with their partner as a test of trust.
Host Arielle Vandenberg will return to Love Island US for Season 3, and Matthew Hoffman will also come back to provide voice-over narration. While Season 2's production schedule was hindered by the ongoing COVID-19 pandemic, which forced the show to forego its usual filming location in Fiji in favor of The Cromwell casino and hotel in Las Vegas, Season 3 will see the lovelorn singles competing once again on an actual island. Ahead of the premiere, here's everything we know about Season 3 of Love Island US.
Love Island Season 3 Cast
Cashay Proudfoot
Age: 25
Job: Waitress
Hometown: Brooklyn, New York
Javonny Vega
Age: 26
Job: Real Estate Investor
Hometown: Boca Raton, Florida
Trina Njoroge
Age: 24
Job: Psychiatric Nurse
Hometown: Hacienda Heights, California
Will Moncada
Age: 26
Job: Budtender
Hometown: Colombia
Kyra Lizama
Age: 23
Job: Covid Relief Worker
Hometown: Honolulu, Hawaii
Melvin "Cinco" Holland, Jr.
Age: 25
Job: Delivery Driver
Hometown: Ashburn, Virginia
Shannon St. Clair
Age: 24
Job: Controller at Construction Company
Hometown: Bucks County, Pennsylvania
Jeremy Hershberg
Age: 27
Job: Personal Trainer
Hometown: New York, New York
Olivia Kaiser
Age: 28
Job: Business Owner
Hometown: Anchorage, Alaska
Korey Gandy
Age: 28
Job: Rental Car Agent
Hometown: Virginia Beach, Virginia
Josh Goldstein
Age: 24
Job: College Athlete
Hometown: Haverhill, Massachusetts
Christian Longnecker
Age: 24
Job: Coffee Company Owner
Hometown: Oahu, Hawaii
Love Island US Season 3 Location
While Season 1 of Love Island US filmed at a villa in Fiji, production wasn't able to return to the location for Season 2 due to the pandemic. Instead, Season 2 found the Islanders competing for love at The Cromwell hotel and casino in Las Vegas, Nevada. For Season 3 of Love Island US, the contestants will be looking for love once again on an actual island in Hawaii, as announced alongside the series' renewal by CBS in January.
Love Island US Season 3 Trailer
The first official teaser clip for Season 3 of Love Island US dropped on June 29.
Love Island US Season 3 Premiere Date & Bonus Content
Season 2 of Love Island US premiered more than a month later than usual due to COVID-related production delays. However, fans of the show won't have to wait as long for Season 3, which is set to premiere with a 90-minute episode on Wednesday, July 7, at 9:30 p.m. ET/PT.
The following three episodes will air on Thursday, July 8, and Friday, July 9, from 9:00 to 10:00 p.m. ET/PT, and Sunday, July 10, from 9:00 to 11:00 p.m. ET/PT. For the remainder of the season, the show will air Tuesdays through Fridays from 9:00 to 10:00 p.m. ET/PT and Sundays from 9:00 to 11:00 p.m. ET/PT.
Additionally, Love Island US will offer bonus content for the first time ever through Paramount+. According to the Season 3 press release, the streaming service will host 15 hours of exclusive content, from episodes "too hot for broadcast" to raw peeks into the villa after-hours.