Are Yoong-jae & Seo-eun Together After Single's Inferno?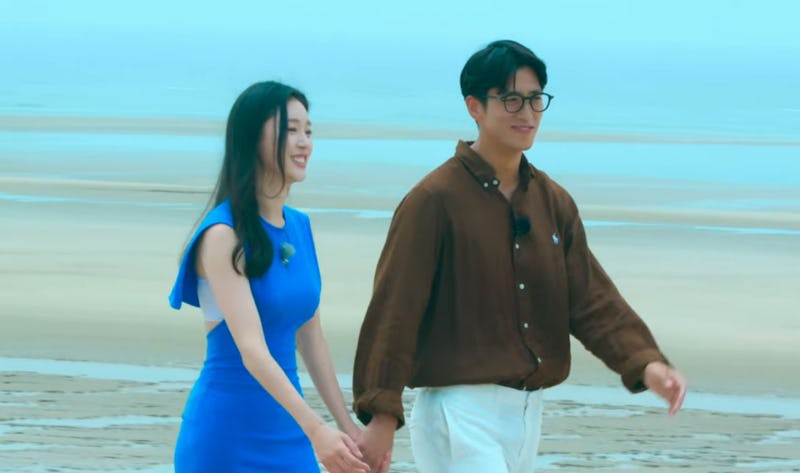 Netflix
Single's Inferno is prone to surprising connections and dramatic twists, but Choi Seo-eun and Jo Yoong-jae ending up together is not one of them. In fact, most viewers likely predicted the pairing from their earliest days on the beach. They forged a fast connection and went to Paradise together, where their conversation flowed well. And while they have very different career paths (Seo-eun's an artist, and Yoong-jae a baker), they both shared in their introduction videos that they enjoy being active outdoors.
They ended up going on another date to Paradise before Single's Inferno Season 2 came to an end — and by that point, they seemed even closer. One of the Netflix show's hosts remarked that they "really looked like a newlywed couple" leaving the beach for the second time, and Seo-eun acknowledged her strong connection with Yoong-jae while at the resort. "Apparently I look happy when I'm with you, Yoong-jae," she said. "The girls say it's heartwarming when they see us talk."
While Yoong-jae and Seo-eun seemed like a sure thing, there was one other connection to keep in mind: Seo-eun and Kim Han-bin. The latter pair went on a date to Paradise, too, but as the hosts observed, they didn't seem to click quite as well once Han-bin revealed he was four years younger than Seo-eun.
Still, both men expressed their desire to leave the show with Seo-eun. "No matter what you decide, it'll be the right choice, and I'll support your decision," Han-bin told Seo-eun. Yoong-jae, for his part, took a more active approach. "Seo-eun, leave Inferno with me," he said.
While Seo-eun thanked Han-bin for his "positive energy" and "always putting others first," she ultimately chose Yoong-jae. But are Seo-eun and Yoong-jae together after Single's Inferno?
Fortunately, it looks like one of the show's most solid couples is, indeed, together. They didn't outright confirm their relationship, but on Jan. 10 (the day of the finale), they did both repost the same photo to their respective Instagram stories: a golden-hour photo of them on their second Paradise date. Oh, and the posts have the same timestamp, too. The coordination!
Yoong-jae and Seo-eun don't follow each other on Instagram, but it's definitely possible this was a means of spoiler-proofing their social media, and not necessarily a clue about whether they are (or aren't) together anymore.
Both Yoong-jae and Seo-eun also posted New Year's messages on their respective accounts, and there's a blue heart in both of them.
The emoji doesn't frequently appear in their other posts — and as several commenters noted, it might be a nod to their Single's Inferno love story. During one of the early conversations in Episode 2, they both wore the same shade of blue. Later, during their first night at Paradise, they had fun looking back at the uncanny coincidence.